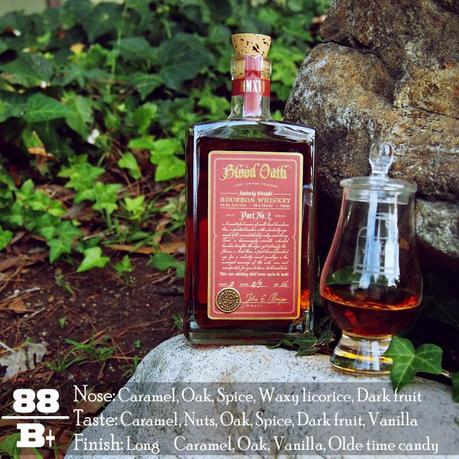 Blood Oath Pact 2 is a mix of a high-rye bourbon, a wheated bourbon and a port-finished high-rye bourbon. When it comes to amalgamations like this I always like to give some thought towards what the component parts are.
The wheater in any Luxco product, whichBlood Oath Pact 2 is, has to be Rebel Yell and if it didn't say "Kentucky Straight Bourbon Whiskey" on the label I'd guess MGP for the high-rye bourbon. But since it's there I'm thinking the source is actually Barton 1792 who also just happens to have a port-finished high-rye bourbon in their line-up. Rather convenient don't you think?
Blood Oath Pact 2 in their own words:

"A masterful union of well-bred bourbons. One, a spirited bourbon with a decidedly rye mash bill, unmistakably oaky and strong. Two, a disarmingly-smooth, wheated bourbon to soften the edges, yet intensify the flavor. And three, a port-barrel finished rye for a velvety sweet goodbye. An arranged marriage of the rich, rare and unexpected, for you to have, hold and hide."
Blood Oath Pact 2 Info
Region: Kentucky, USA
Distiller: Various
Bottler: Luxco
Mashbill: Corn, Rye, Wheat and Malted Barley
Cask: New Charred Oak and ex-Port cask
Age: NAS
ABV: 49.3%
Batch: 2
Price: $100*
Blood Oath Pact 2 Review
EYE
Auburn
NOSE
Caramel, oak, spice, waxy licorice, cherry heavy dark fruit, olde time candy with light bits of strawberry taffy, nuts and cocoa. It's wonderfully aromatic and more complex than BO1.
PALATE
Caramel, nuts, oak, spice, dark fruit, vanilla and necco wafers with light bits of citrus peels, dried fruit, biscuits and a touch of soap as it dives towards the finish. Again, a nice improvement over the BO1.
FINISH
Long winding fade of caramel, oak, vanilla, spice, olde time candy.
BALANCE, BODY & FEEL
Well balanced, medium body and a soft easy feel.
OVERALL
Blood Oath Pact 2 has a solid bourbon aroma, intriguing palate and a long lovely finish – which just might be the best part of this whiskey. The palate is nice, but the aroma and finish have me really looking forward to seeing what they manage to pull off with Pact 3 if there is one.
A marked improvement over Blood Oath Pact 1, Blood Oath Pact 2 is deeper and more robust. You get a sense that some older, more mature, bourbon has gone into the blend this time. It's now something that I'm happy to drink on a regular basis.
SCORE: 88/100 (B+)
*Disclosure: This Blood Oath Pact 2 was graciously sent to me by the company for the purposes of this review. The views, opinions, and tasting notes are 100% my own.