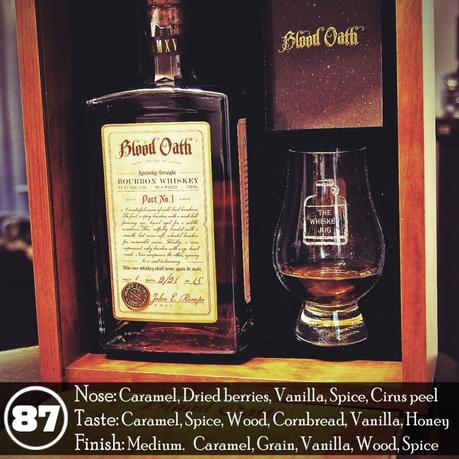 Blood Oath Bourbon Pact No.1 is a blend of a 3 different bourbons with 3 different characteristics. The brain child of John Rempe, Director of Corporate Research and Development at Luxco, Blood Oath 1 is a blend of a 6 year wheated bourbon, a 7 year high rye bourbon and a 12 year "traditional" bourbon that resulted in a 15,000 bottle release. It comes in a beautiful bottle with great labeling and is bottled at 98.6 proof (body temp).
Pact No. 2 will be out in 2016 and while blending bourbons isn't a unique approach (High West has been blending whiskeys for years) it is an interesting execution, carrying elements of each of the whiskeys mentioned. There's the sweetness of a wheater, spice of a high-rye bourbon and the nice oaky character of an overaged 12 yr standard bourbon, making this a bourbon with 4 grains at play (corn, wheat, rye, barley).
It would be nice to know exactly where the whiskey was sourced from, but I commend them on at least telling us A) that it's a sourced bourbon and B) what & how old the individual components are. Though just because they won't tell us doesn't mean I can't make some wild guesses after tasting through a bunch of whiskeys in my own collection and my guess is that Blood Oath 1 is a 6 yr Rebel Yell, 7 yr Four Roses (OBSV) and a 12 yr Jim Beam. I could be right, I could be wrong, but Either way it's new, looks cool, tastes decent and with the way LEs sell these days won't be around long.
Blood Oath Bourbon Pact No.1 Info
Region: Kentucky, USA
Bottler: Blood Oath Bourbon (Luxco)
Age: 6 years (blend of 6 yr wheater, 7 yr high-rye and 12 year standard bourbon)
ABV: 49.3%
Price: $90*
Blood Oath Bourbon Pact No.1 Review
EYE
Well polished, and lightly stained, oak
NOSE
Caramel rich nose with notes of dried berries, vanilla, spice and citrus peel. There are some lighter notes of butterscotch, pit fruit, acetone and a creamy sorbet-like sweetness undertone.
PALATE
Like the nose, the palate is caramel rich but this time accompanied by rack of savory spices, wood and a cornbread-like sweetness. Mild notes of vanilla, honey, dried berries and citrus peel move about and kick up a bit more towards the end.
FINISH
Medium fadeout of caramel, grains, vanilla, wood and spice.
BALANCE, BODY & FEEL
Decent balance with a medium body and a warm smooth texture.
OVERALL
Blood Oath Bourbon Pact No.1 is an interesting whiskey and is, essentially, no different of a product than just about anything High West puts out, though it does cost more than anything they're putting out. It has a nice flavor and I enjoy the caramel heavy element to it along with the range of spice and fruit that comes along to balance it out. My only complaint is I wish it were a bit fuller. It feels like it needs more of the older whiskey in it, a bit more of the wooded element to really push this thing to the next level. Still, it's a far cry from being bad.
SCORE: 87/100
*Disclosure: This was graciously sent to me by the company for the purposes of this review. The views, opinions, and tasting notes are 100% my own