Hey guys, So if you follow me on twitter or facebook you may have seen I've been pondering hair colours this week. I'm no stranger to hair dye, I've even had my whole barnett pink before but this time I'm being boring & just considering brown.   I dyed my hair dark a few years ago, back when I was 18 & Mama absolutely hated it. I've always been a strawberry blonde (with the exception of age 7-12 where I was a carrot top ging) but theres part of me that's just totally bored with it. I've finally let my hair go its natural color which is a pretty nice mix of blonde and red. & to be fair as a result from the hair dye ban, I've actually helped my hair grow massively! - Its currently half way down my back, but I need my layers to grow out now.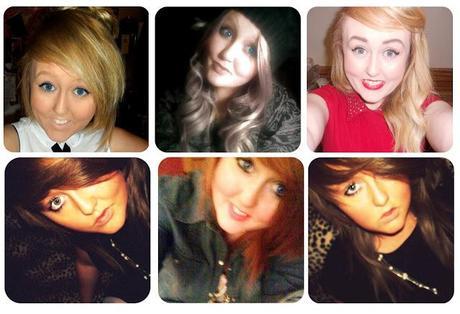 So I was just wondering what you guys think, honestly. I'm probably just gearing myself up for trollers here (bloomin' nasty pastys) but I really want an honest opinion.   I'm on a fake tan ban too. I've been dared by a friend to don the fake tan for 6 months. Currently 2 months in & I'm not too bothered about being pale, but if I dye my hair brown I fear I may have to slap on the tan again. As you can see from two of the brown hair photos above, fake tan was my best friend in those days!  
So which is your favourite?
Have you ever dyed your hair a crazy colour?