This Christmas will be a first for everyone.. us with having a puppy running around and Piper for experiencing Christmas for the first time! I'm not sure what she's going to make of it although I am sure she will get involved as she is always so excited about everything else. I wasn't going to get her any presents or anything but when I was out shopping the other day I saw some cute bits and just couldn't resist!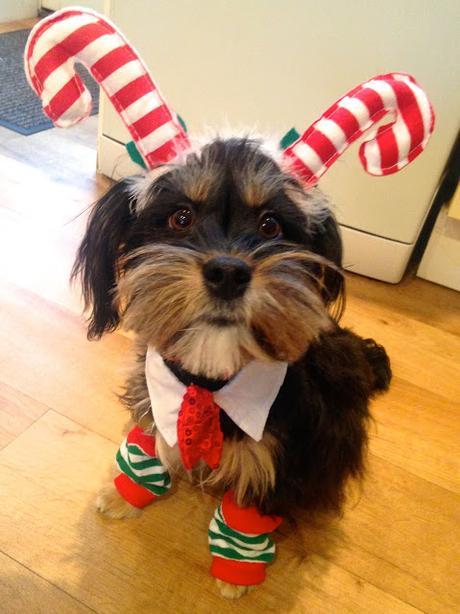 Yes.. I got her a little outfit for Christmas day, so funny! The collar my mom got for her ages ago from Peacocks for £3 as she thought it would be cute and then I saw the headband for £2 and leg warmers for £3 in Peacocks the other day and couldn't resist. I kind of wish I'd got a little jumper for her though as she'd probably keep that on better than the leg warmers and head band but never mind.. I think the leg warmers are actually too big they are more like full on trousers and just fall down haha! But it's only for fun really I'm not going to make her keep them on all day, haha. She doesn't look very impressed does she!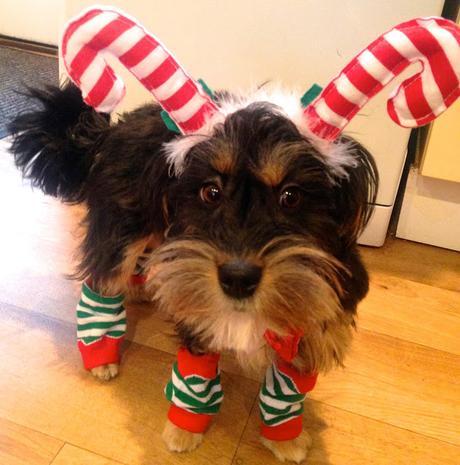 I'm actually going to use these pics to enter her into the Santa's Little Selfies competition that Argos dog insurance are currently running. It's just a bit of fun but would be nice if she won the £100 to spend in Argos. Pet insurance is really important, it's something we will always have for Piper and so I love to support companies that offer it and what better way than entering a competition! If you'd like to enter your pet, it's really easy. Just upload a picture of your pet looking festive to Facebook or Twitter and tag Argos. To read all the terms and conditions on entering, click here.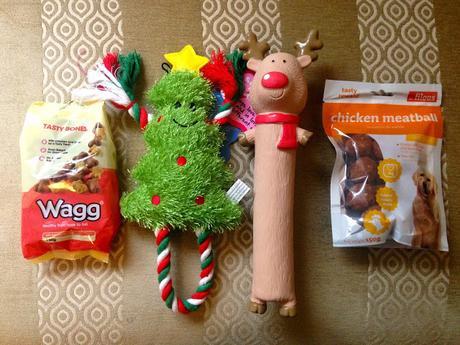 As I said, Piper is always excited so I thought it was only fair we got her some presents to open as I know she'll go crazy when Sienna is ripping open presents left, right and centre! I didn't get her much and so far don't even have a stocking for her (not sure if I'l get one of not) but I did get her 2 toys from Aldi because they were so cute. The treats I actually already had in the cupboard unopened so I'm just going to wrap them up.. she'll never know! haha! I'm not sure how she'll open the presents.. I have heard a trick of rubbing treats or food on the outside of the paper so they tear it open so I might try that! I can't wait to see what she does!
We are at my mum's for Christmas day and then Warren's mum's for boxing day so she will be coming with us of course! I'm sure she'll have a great first Christmas although I do feel like I have 2 kids already ;)
Follow me: 

BlogLovin'

 // 

Twitter

 // 

Facebook

 // 

Google+

 // 

Pinterest

 // 

Instagram