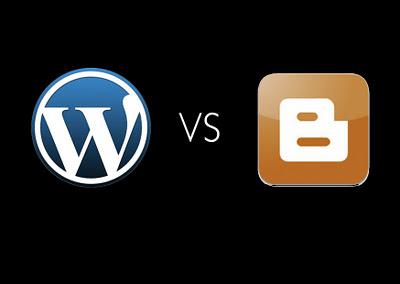 Blogger vs. WordPress
One of the most important decisions when starting a blog is choosing what blog platform to use. The two most common ones are Blogger and Wordpress right now. I'm always seeing the question "Which blogging platform is best"? and to be honest one is not better than the other. The question should be "Which blogging platform is best for me and my blog"? I say that because what a blogger needs varies and you should do some research before choosing because you're probably not going to want to go to the trouble of switching your blog over to another platform if you change your mind. I started my blog in May 2011 using wordpress and decided a few months later that blogger had more of the features I wanted. Thankfully I was able to transfer everything over without a problem but some people have difficulties.  Having used both WordPress and Blogger I wanted to make a post comparing the different features of both to at least give you an idea. 
Blogger
Is a free google service that is intended to make it easy for beginners and attracts people that don't want to spend money on a blog. Blog Spot is a web log hosting service run by the people at blogger
Pros
It is totally free
You can use the Template Designer to customize fonts, colors, layouts etc, without having knowledge of HTML or CSS
You can monetize your blog with google AdSense or another ad services very easily
Integrates with all google services, i.g google friend connect, feedburner, google reader, etc.
Add a variety of gadgets or make your own, while being able to arrange them in your sidebar(s)
You can use the HTML editor for advanced editing and customizing. 
Cons
The comment system they use is horrible (but you can install Disqus or Instense Debate to fix that problem) 
There aren't a lot of templates to choose from 
You can only create a maximum of 10 static pages
WordPress
There are actually two versions, wordpress.com and wordpress.org. They are both very different from each other and very different from blogger. I only used Wordpress.com but Im going to share what I know about Wordpress.org so you can compare the differences.
Wordpress.com
Pros
You can choose from over 100 different themes
Free web hosting
You can choose from a variety of widgets to add
Their comment system is a lot better than bloggers. 
More control over blog authors' capabilities than Blogger
You have can use categories and labels for each post which helps to organize your posts better
Cons
You are not allowed to monetize your blog 
You cant use Java Script
The widgets you can use are limited, google friend connect is not an option
You cant upload your own theme
Followers of your blog have to sign up by email only (if you're not also using wordpress)
You have to pay to use a custom domain 
You cant customize your blogs source code unless you pay for an upgrade that enables CSS customizing. 
No plug ins allowed
Wordpress.org
This version is best for the more experienced tech savvy people. You have complete control over your blog because your paying for the web hosting. A lot of people use it to create sites for their business but it's also good for the everyday blogger.
Pros
You can create websites 
You can choose from a wide variety of themes or upload your own
You can monetize ads
You have full control over the way you want your blog to look
You can install a variety of different plug-ins
More control over blog authors capabilities than blogger
Choose from lots of different widgets, you can add google friend connect. 
Cons
You have to pay monthly for a web host
When new versions are released you have to update them manually
It's your responsibility to keep your own backups
By figuring out which features in a blogging platform are most important to you, you can then choose the platform thats best for you. For example, I was looking for something that didn't involve a lot of HTML (bc I'm horrible at it), I didn't really want to spend too much money or any at all, so that narrowed my choices down to WordPress.com or Blogger. I ended up picking WordPress than switching over to blogger bc I didn't do enough research. If you are deciding between wordpress.com or blogger than my advice would be to go with blogger. That's only my advice though, I say this bc even though wordpress does have a large amount of themes, you're limited to those themes since only some allow certain customizations and others don't. Blogger lets you upload a bunch of different third party templates or customize your own using the template designer.  So there's no restrictions with blogger.
Hopefully this post helped you to see some of the main differences between blogger and wordpress so you can choose. Blogging is so much fun, but you dont want to pick the wrong platform and be unhappy with it. So do what I wish I did and really look at both options first and pick the right one for you and your blog.
HAPPY BLOGGING!!
Click the links below :)
Follow my blog via GFC
Follow me on Twitter