It's no secret that I love to shop. In fact my love for that activity has gotten me into trouble in the past (overloaded closets and a strapped credit card). As I've evolved in my style and thinking, I'm much more discerning about how and where I spend my dollars. I value quality over quantity (at a good price, of course). Remixing, upcycling and DIY have become mantras and I relish purchases that contribute to good causes.  That is why, when there is a Goodwill event, I jump at the chance to attend. You all know how much I love Goodwill and purchases from their stores. I always find great items and brands (Coach, Talbots, and Ferragamo). Did you also know that when a new Goodwill store opens, 25 - 30 new jobs are created? Did you know that Goodwill has offered workforce training programs to people with disabilities and disadvantages for over 75 years? Did you know that your purchases and donations to Goodwill contribute directly to those programs? The DC Metro area unemployment rate is 5% (as of March 2014) and the national unemployment rate is 6.3% (April 2014), down from a high of 10% in October of 2009. These programs and services are vital and assist people who have little to no means or skills to search for a job. Your shopping is a great way to contribute to those programs.

This post is part of Goodwill's #blog4good effort. Goodwill is on a mission to end unemployment. If you'd like to learn more about the programs that Goodwill offers, just click here. Last week, during our crazy east coast storms, I attended the #EditedforGoodwill, spring trunk show. My friends at Goodwill collect great items from the stores in the DC area, during the year and bring them to DC for a pop-up shop at the Pepco Edison Place Gallery. Goodwill prices in a boutique setting, genius! I had a blast, chatting with fellow fashion lovers and I even scored two great items. I considered a few other things but decided to leave them for someone else. I'm working at purging my closet of items that I don't wear. I was trying to be smart about my purchases.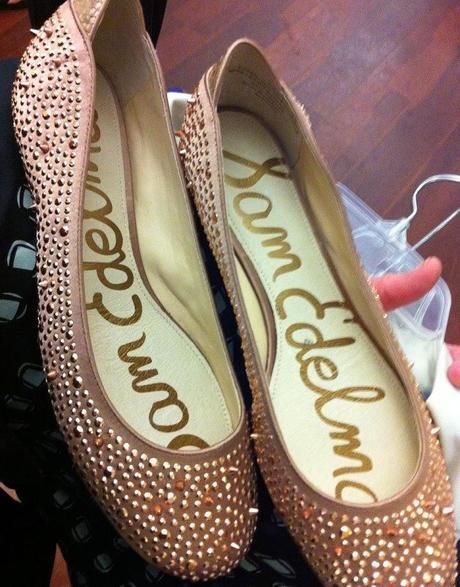 I posted these beauties on Instagram. As soon as I spotted them on the table, I snatched them up. They are perfect. They're sparkly, flats with spikes and they were only $5.98. They are still selling on a major discount store site for over $80! Another amazing buy from Goodwill.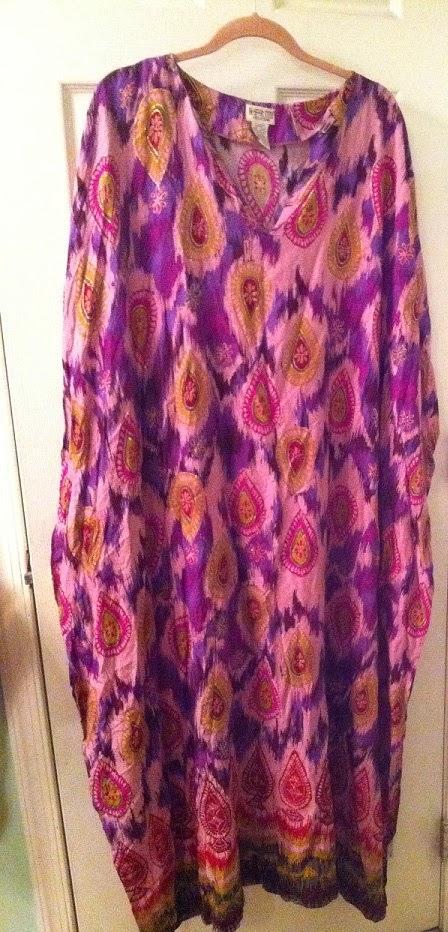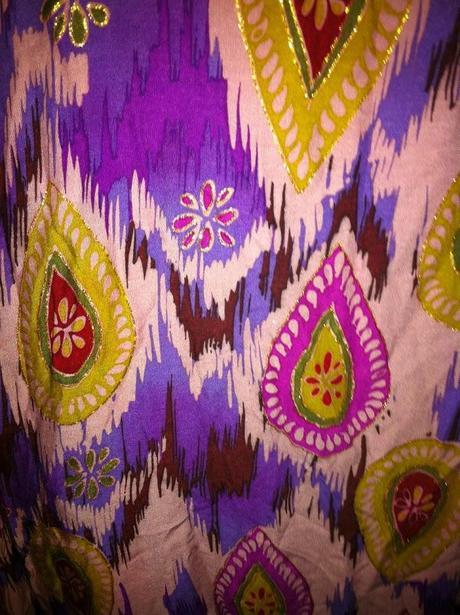 I was so excited when I found this caftan. If you follow me on
Pinterest
I'm sure you've noticed that I've been pinning lots of summer maxi dresses in shades of pinks, purples and blues. The photos don't do this print justice. It's purple, pink, and green with accents in gold. Fantastic! It will be a welcome addition to my pool and beach wardrobe. This beaty was mine for less than $6!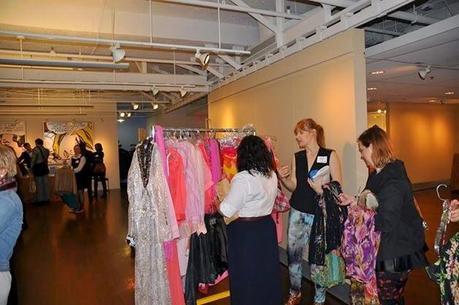 Alison of Wardrobe Oxygen, Alison of DC Celine and I purusing the racks and talking fashion.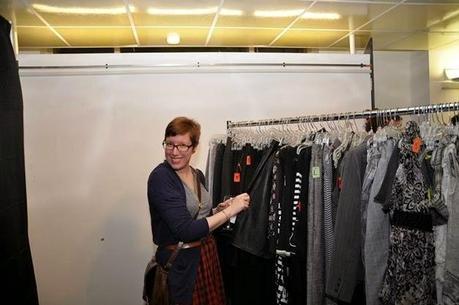 Lisa, The DC Goodwill Fashionista, checking out all of the great buys.
Despite the nasty weather, it was a great evening of fun, fashion and giving back. I got some great buys and over the course of the trunk show, Goodwill raised lots of money for their work to end unemployment. If you're doing spring cleaning, drop of your gently used clothes at your local Goodwill donation center. Your donations will help Goodwill raise money for employment programs and help those who need it. While you're there, check out the great summer fashion.