Well I finally finished a dress for my daughter that I have been working on all summer and for that reason I am ready to party!! It seems that this summer has been so filled with other things that I have not been able to do a lot of the things I wanted to do and now it is almost time for school to start and for me to go back to work.  UGH!
Now that I have finished the dress I can stop feeling like I have unfinished business to tend to and relax these next ten days or so! Come on and join in my Bring your own 'Blog Party Celebration!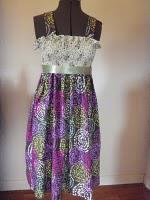 Add your blog to the list below and I will check out your blog!  All I ask is that you Like me on my Facebook link and if you use google please follow me!  Thanks, and let's get this party started!