Hellooo!

So I have decided to take on the 'Blog Everyday In May Challenge' this month as I have really been loving my blog and how my blog looks now. However I know that there are set questions and topic you are meant to write about but I didn't really find of the topic interesting and I new that I would get very bored, very quick. So I have decided that I am going to blog everyday about the thing I am passionate about; mainly fashion and some beauty posts. As my first post I though it would be a great time to fit in my favourites for April, so here goes!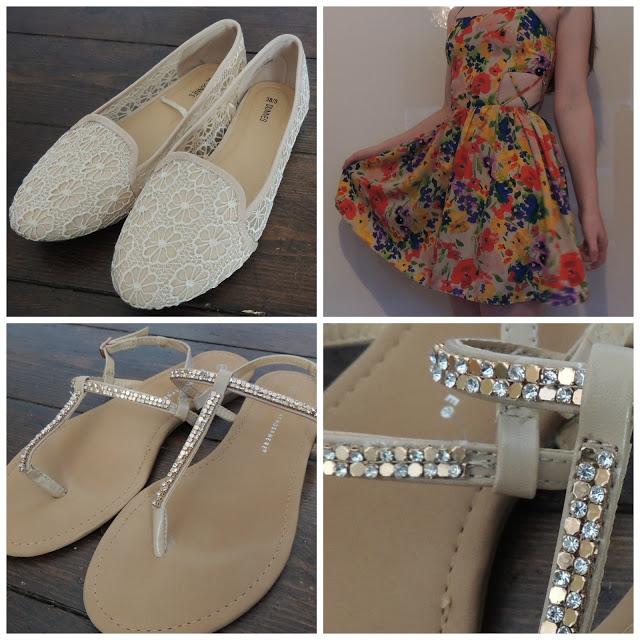 First of all my favorite... favourites FASHION! (From left to right)

1) My favorite shoes that I brought this month are these gorgeous espadrille style slipper shoes with cream-y white lace flower detailing. My favorite thing about these shoes are that they are so comfortable and they aren't to flat because they have a standard heel (that might sound weird but I find that on Dunnes shoes they are just completely flat and usually very uncomfortable.) Also on the side there is only lace so you can see the sides of your feet when you have them on -such a cute detail- Dunnes Stores £122) I am totally in love with this dress! At first I was like put off because of the bright colours but now it's actually my favorite thing about the dress! I never choose any other color apart from black and white but I am definitely glad I choose to buy this. Also the criss-cross cut-out detailing on the dress is so unique and really pretty for the spring/summer - Primark £133) My last fashion favorite are these T bar, rhinestone and gold studded sandals. These are so gorgeous on and bring that extra 'pizzazz' to any outfit. Also I think these would look fabulous when I go to Turkey for my holiday in May - yes, I just added that last sentence so I could say I'm going to Turkey, ahh! I'm so excited!    





Beauty Favourites (from left to right)

1) I have been LOVING simples 'kind to skin' and 'clear skin' collections this month. I have been trying for so long to find a inexpensive, high street brand skin care product that actually works, doesn't break me out and actually helps minimise the amount of imperfections and controls oil.2) As well as hunting and finding a skin care line that works for me, I have been on the never ending mission to find a high street (drugstore) foundation, power and concealer that not only looks nice, natural and doesn't look cake-y but doesn't make me look orange. This is always so hard me as I am so pale, I know everyone says that but I really am very fair and I find that every foundation just doesn't look nice at all on me. Luckily I have now found a holy grail product; Maybelline's Fit Me collection. I wear the color 115 for foundation, 120 for power and light for concealer.3) To be honest I have never liked wearing lipstick, lip gloss or really anything on my lips as I find it horrid, however recently I have been loving lipsticks. And this lipstick by Est

é

e Lauder in 26 Nectarine is so stunning! It is a gorgeous red/orange color with very subtle hints of gold shimmer flakes.
Don't forget to come by my blog tomorrow for day 2 for 'Blog Everyday In May'!