It's no secret that we love all things sparkly. And on Wedding Wednesday we simply give in to our every glittering whim. Blame it on our GIA certified engagement rings. While we ensure that your bling's taken care of in the jewelry department (your fabulous engagement ring does need a wedding band to keep it company!) we love checking out what the other moving parts of your wedding day are offering. From perfectly glittering shoes (Kate Spade and Jimmy Choo are some of our favorites), to the sparkling sashes our brides-to-be show us when they come in for engagement ring cleaning, we love seeing how you make your wedding sparkle! And while pretty much anything is fair game for bedazzling, there's something about blinged out wedding cakes that – well, takes the cake!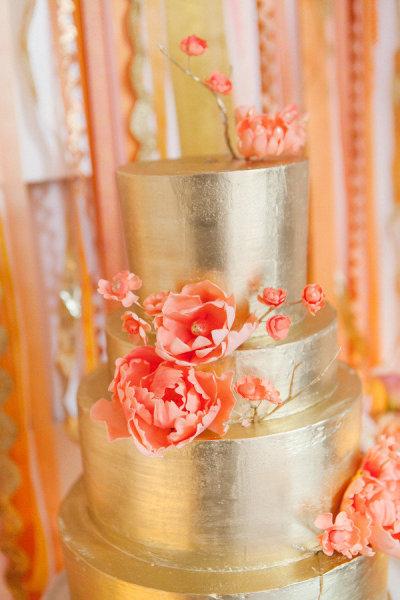 via Style Me Pretty
This fabulous peach and gold wedding cake by 9 cakes is our favorite type of carat cake – 24kt.
This pearl wedding cake reminds us of the pearl caviar manicure we featured earlier. Clustered elegant and edible pearls make this cake girly and glamorous, but still understated.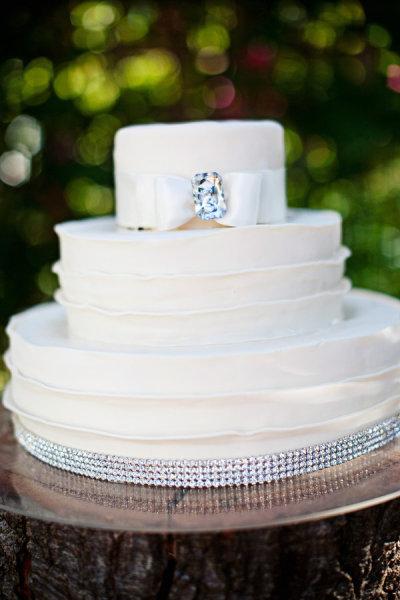 via Style Me Pretty
We like this white bow wedding cake by Satura for the same reason we like our important diamond engagement rings – it's got a big old diamond. We love a wedding cake with a bow detail, whether it's a nod to the bride's dress or a dapper groom's bow tie. When you add a fabulous rectangular diamond, we're sold. In fact, it reminds us of one of our favorite emerald cut engagement rings:
4 Carat Emerald Cut Diamond Platinum Engagement Ring in Halo Setting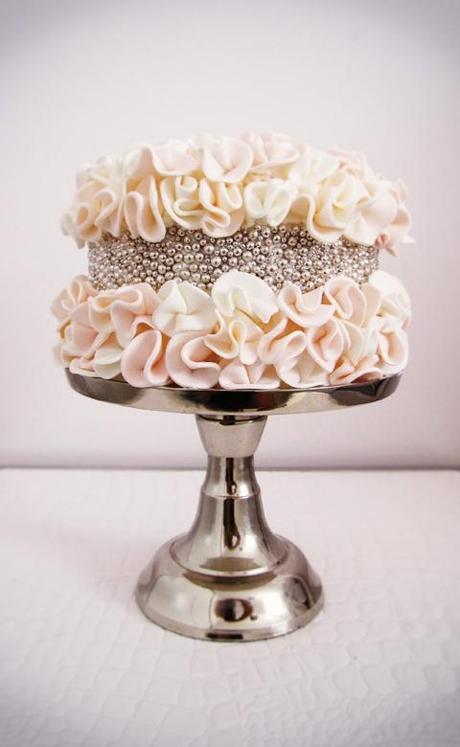 via Connie Cupcake
This gorgeous Connie Cupcake ruffle wedding cake also reminds us of another one of our pieces (this Officina Bernardi necklace). We love the silver pearls paired with the ruffled frosting!