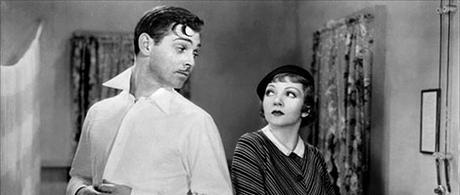 The importance of seeing movies from centuries before our times is definitely high. We are used, and perhaps tired with formulas in stories today that are usually up for money, and not for the story itself. We are used with twists and surprises, that it doesn't shocked us anymore. More importantly, filmmakers today are so focused with money that they don't want to risk things. As the result, some movies have stories with similar flow and gets predictable.
Where am I going? Well, I am basically a girl who enjoy romance movies. I watch lots of them and one that I did not see much is the classics. But I was wowed with Some Like it Hot and The Apartment. Why? Surprisingly, it was because they just don't expose too much romance, gooey stuff and sexy stuff, but they can bring the stories last for centuries.
The most recent I saw It Happened One Night (1934) by Frank Capra for my Blind Spot entry this month. It did wowed me on how little the romantic element or kisses or anything dramatic. In fact, Clark Gable and Claudette Colbert was arguing most of the time. But it managed to magnify what should every couple have : chemistry. If a couple aren't being sweet to one another, they argue. But then that's when we see their passion to one another, their spark.
"Any guy that'd fall in love with your daughter ought to have his head examined."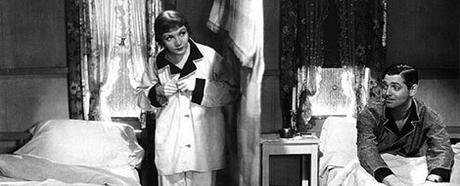 Fortunately, the difference social status of these two individuals was not the case. In fact, the only annoying Ellie (Claudette Colbert) does was overspend but she wasn't the too much spoiled kind of a wealthy man's daughter. Fortunately, Peter's (Clark Gable) drunk habit did not get in the way in his profession as a journalist trying to get a story of a socialite (Ellie) running away from her father. Also, Peter was very honest from the start of his intention taking care of Ellie in her 'lost' journey just to make his story being the headline news.
The story was never boring because of Ellie's clumsiness or naive personality and Peter's shrewd but proud personality, also much of an outspoken kind of man. Added with some twist in the road, like an annoying passenger in the bus and how the bus managed to fall to a large puddle. The dialog and performances have made me laugh several times.
Funny thing is that I read that both Clark Gable and Claudette Colbert initially turned down the role and the part was never first offered for them. After the shooting, Clark Gable said that it was the worst picture for him. Perhaps the practical jokes Clark Gable made in the movie saved the bad script both actor complained. With many heated situations, of course it was such a shock when this movie won 5 Academy Awards. Sometimes these things do happen when you least expected it.
What surprised me was the ending was very, very effective. It did not show both actors. And there's no lovey dovey or all romance usual endings. Which is maybe perfect for men to see. It justify just how important chemistry is in a romance story, and perhaps the actor's brilliant improvisation. This is one romance classic that I treasure.
Score :