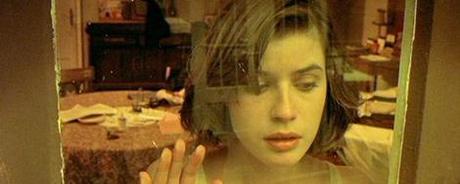 For this year's Blind Spot, I tend to pick movies that not necessarily popular in modern culture, or in the Top 250 IMDB, but said to be 'great' and 'different'. For some reason, I chose The Double Life of Veronique (1991). It might be one movie that I enjoyed in terms of the 'weird' or mystical atmosphere, but I did not quite get the essence or the purpose of the story. Well, I might be trapped with my own choice, considering I chose a film out of ordinary. Even so, this is a film that will be wondering in my mind for a while.
The story starts with Veronique (Irène Jacob), a young attractive French woman with a beautiful voice, wanting to be a singer. One day, her voice is spotted by a choir teacher and she quickly become an obvious choice for the next singing event. At one hectic day on the street, Veronique sees a woman looks just like her entering a bus. The woman carries a camera and takes a picture of her. The woman is Weronika (also Irène Jacob), a music teacher who lives in Poland. Weronika started an unusual way of a romantic relationship with a puppeteer, Alexandre (Philippe Volter). To Alexandre, Weronika admits that she sometimes felt like she's in two places at the same time.

"All my life I've felt I was in two places at the same time. Here and somewhere else."
There's always a theory that there's someone else who looks like us who lives in another place. As for me, I have some people (even myself) who said I look like someone. It was pretty scary though, seeing someone looks (and behave) and dresses similar like us. I can't even begin to think if there's someone with another nationality looks exactly like us. I know from How I Met Your Mother series, a person who looks like us (but can behave differently) called Doppelganger. But to feel in two places at the same time? I can't relate to Veronique and Weronika.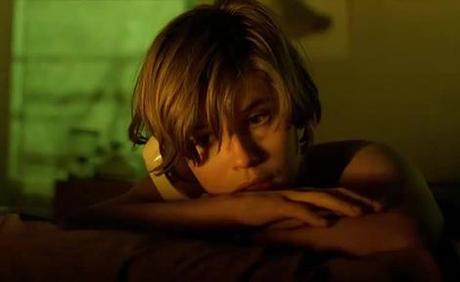 I admire Krzysztof Kieślowski for not making this story to be a cliche one, like we have seen several times in movies, how two people like twins discovered themselves and feel bizarre with the other's existence. Even worse, they are twins separated at birth. No, The Double Life of Veronique is not like that. I might have seen too many commercial movies before watching it, but you have to appreciate this movie as a form of art.
I loved the yellow-ish and gloomy colors of the frames, even perfect blended with Irène Jacob's naive and beautiful expressions. Her face expressions was like a blank canvas (like I said with Adèle Exarchopoulos in Blue is The Warmest Colour), so pure and untainted with world's corruption. Added with the mystical silence of the atmosphere, it's an authentic feeling. Even though it lacks narration or explanation, you can never get enough seeing Irène Jacob's lovely (and unaware with her enticing) look. I think I'll be open to the idea of re-watching this movie again, just to absorb more or maybe find hidden symbols. Considering I also have Krzysztof Kieślowski movie on my BS list, this is a good 'dip' before the next one.
If you ask me what is this movie about, it is simply a movie about two women unaware with their connection and another's presence, and unable to understand their own feeling of being two places at once. Don't expect an explanation or a purpose, because it's more about feeling 'the feeling'.
Score :