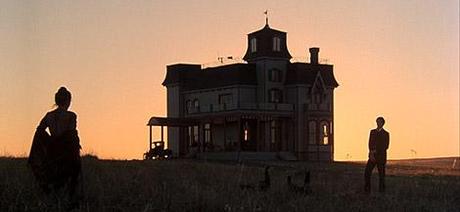 At last we've reached the very last Blind Spot of mine. From all of my BS picks this year, Days of Heaven might be the ones that I wasn't particularly quite eager to see. Malick might not be my favorite director, though he has established himself to be one of the great director now. Half of the movies he directed never made me fully in love, but the cinematography always were perfect. However, the title itself, Days of Heaven, and the atmosphere seem to attract my pacifist side.
Though living in a less sufficient life, Bill (Richard Gere), Abby (Brooke Adams) and Linda (Linda Manz) run their days effortlessly happy. The story narrated by Linda, Bill's little sister, through her innocence and simple eyes. She said Bill claims Abby is her sister, but she's his lover. They moved to Texas Panhandle to work for a wealthy farmer, Sam Shepard.
Harvesting everyday and the threat to be fired makes them work everyday, makes Abby exhausted. The girl caught Sam's eye. Knowing this and overheard the doctor said to Sam that he's not going to live for more than one year, Bill encourage Abby to respond Sam's attention positively. Abby and Sam got married, and automatically change their status to be a wealthy little family. But Sam might be the only person who don't know Abby and Bill's intimate relationship.
Nobody's perfect. There was never a perfect person around. You just have half-angel and half-devil in you.
If you paid attention to the center of the triangle love story between Bill, Abby and Sam, it has a potential to be a corny romance story. But through Linda's simple-minded angle and Malick's style, voila, it's not like that at all. Without being over-dramatize, without being soap-opera-like, Days of Heaven is simply a tragic love story. Every girl could be like Abby, who fall in love with a gorgeous man who never settles but have a good-on-paper guy asks her to be his wife. Abby is indeed a simple girl, maybe easily influenced but she's simply a woman in love. The story makes a good case of how love is blind and there's no prediction of what could happen next.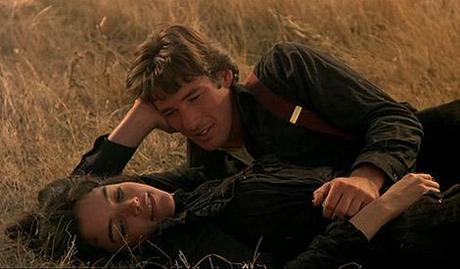 I thoroughly enjoyed the cinematography (earned Malick an Oscar for it) and began to understand his fascination with women and children playing and dancing in the nature, also lovers being affectionate while enjoying outdoors. Seeing it and the natural sound and movement of nature made it quite peaceful to see. Knowing that this movie purposely using natural light (how sometimes they use the shots with lack of lighting) is pretty genius and adds value.
Brooke Adams might not be the most beautiful girl in Hollywood back in the '70s, but her witty personality makes her character and showing her effortless beauty. Richard Gere is in his youth prime, charming and gorgeous. But he's not as simple as most men there. In fact, he's hard, smart but crafty. While Linda just tag along with them and smokes tobacco like her brother.
Knowing that Malick spent more than two years to process this movie in post production, shows that he's indeed a perfectionist and sees every of his film a work of art rather a commercialize money scraper. He totally have my respect for that. But in terms of content of story, I did not found this movie the best. It didn't move me much, except the fortunate feeling of Abby and Bill have for each other.
Even so, Days of Heaven somehow brought me to a zen place, far from hatred and twisted world. The same place I've been when I watched To The Wonder and peaceful shots of Tree of Life. It's got its own color and impression.
Score :