SHAUNTEE
Blast from the Past: When Your Ex-Boyfriend Resurfaces
Last week, I had a huge blast from the past when an old boyfriend sent me a message on Facebook. Needless to say, we've been chatting on the phone every day. Years ago, a psychic told me I already knew the love of my life. He would resurface in my life someday when the time was right. I know what you're thinking, psychics are full of ish! They tell people what they want to hear; who doesn't want wealth and love in their life? However, Madame Ruby words stuck with me. Every time an ex-flame digs from underneath the earth's core, I can't help but to think is he the love of my life that Madame Ruby mentioned. When your ex-boyfriend resurfaces, a lot of things go through your mind.
I haven't seen or talked to him in 20 years. We ended on good terms after he decided to go to the military. 20 years is a long time not to see or talk to a person. We both moved on to marriages, careers, and different states. You change over the years; at least I hope most people do. You develop your identity and sense of self, and you learn lessons about life & love. The same person you are at 20 is an entirely different person by the time they hit 40. Life kicks you in the ass a few times and honestly, I remember very little from that time in my life.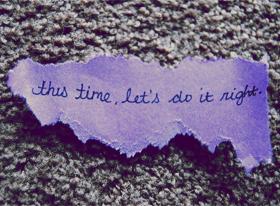 Photo Credit: searchquotes.com
It's like starting from scratch. You have to get to know that person again. You have to find out how the person you knew then differs from who you're getting to know now. Most importantly, you have to know if it's even worth your time. It's like, I know you, but I don't. A part of you is cautious, but then there's that part of you that wonders if this could somehow work.
I'll be the first to admit that I'm bitchier now than I was at 20. I demand a lot more now than I did then, and I'm an entirely different person. But, I'm remaining optimistic that I won't encounter bull crap or waste my time. He didn't treat me bad, nor was there any drama involved, but that was then and this is now. You can collect a whole lot of baggage and get into a lot of ish within 20 years.
To be continued……….