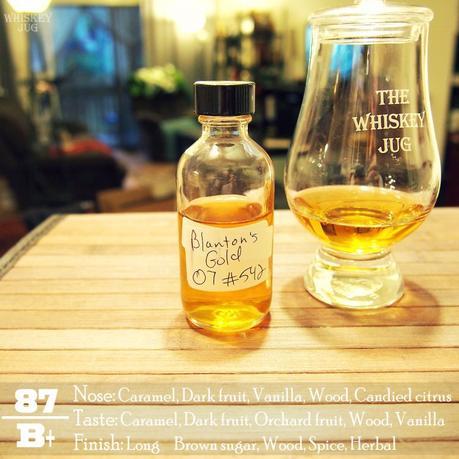 Blanton's Gold is one of Blanton's (Buffalo Trace) international single barrel offerings. Aside from the regular Blanton's Bourbon available here in the USA there's three other international offerings available in the global market. This, the Blanton's Gold Edition, a green label Special Reserve (40%) and a Straight from the Barrel which is un-cut and minimally filtered.
In Buffalo Trace's Words: Blanton's Gold
"Blanton's Gold Edition was created for discerning connoisseurs who appreciate exceptional smoothness and clean finish in their bourbon whiskey. The rich taste of dark fudge, citrus, oak and cream combined with the spiciness of white pepper and rye lead to a long finish that challenges the world's finest single malts and rarest cognacs in complexity and character. Best served neat or with a splash of water. Bottled at 51.5% alcohol by volume."
I don't care too much about trying the Reserve, but now that I've had the Blanton's Gold I'm definitely going to be trying to track down a sample, or preferably a bottle, of the SFB and taste this beauty at full cask strength; I bet it's awesome.
Blanton's Gold Info
Region: Kentucky, USA
Distiller: Buffalo Trace
Mashbill: Buffalo Trace Mashbill #2 ("high" rye ~ 12-15% rye)
Cask: New charred oak
Age: NAS ('07)
ABV: 51.5%
Non-Chill Filtered | Natural Color
Barrel: 542
Price: ~$70 (Duty Free / Intl Only)
Blanton's Gold Review
EYE
Leather
NOSE
Caramel, dark fruit, vanilla, wood, candied citrus, a spice that slowly builds to prominence and a bit of gourmet red licorice.
PALATE
Caramel, dark fruit, orchard fruit, oak, vanilla, that same spice that starts low and builds (cinnamon-bergamot hybrid), molasses and a slight touch of an herbal character.
FINISH
Long slow dissolve of brown sugar, oak, spice and that herbal character from the palate.
BALANCE, BODY & FEEL
A nice sense of balance, a medium body and a slick almost syrupy feel.
OVERALL
Being a single barrel product the Blanton's Gold will change from barrel to barrel, but like the original Blanton's it would easily make a tasty daily drinker. This particular barrel was lacking the depth that could have ratcheted it up into the As and came across a bit muted, but by no means would I kick it out of bed.
It was a fun tasty whiskey and if it wasn't a travel retail / international markets only whiskey I'd heavily consider picking up a bottle of my own and try another barrel. It would be fun to see how much variance there is in Blanton's Gold releases. Are they like Four Roses SiBs that have a fairly narrow range of variance in quality or will they be like Jack Daniel's and have a huge range? Guess I'll need to do some traveling and find out.
SCORE: 87/100 (B+)