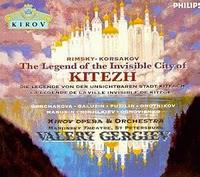 The original album cover of
The Legend of the Invisible City of Kitezh.
© Universal Music Group
The Age of the Nondescript Megabox
So I finally knuckled under to temptation and got myself one of the new boxed sets of opera re-issues that have come out from the good folks at Universal Classics.
The box is from the Mariinsky Opera Orchestra under the baton of Valery Gergiev: a set of five operas by Nikolai Rimsky-Korsakov. I remember the release of these sets on the now defunct Philips label, beautifully packaged in the Mariinsky's trademark eggshell blue, with baroque, painted covers or exotic photographs of the artists.
Now the CDs come in envelopes (which is good) but they're bundled in a cheap black cardboard box with a stock photo of the composer, some kind of painting behind it, and the clever new title:
"5 Operas"
.
5 Operas?
Did the marketing department get paid for that one?
Rimsky (best known in the West for his tone poem
Scheherezade)
was a master colorist, an expert at infusing his orchestrations with the smoky tang of Russian folktales. He is an important opera composer, and stands as the bridge between his friend Mussorgsky (a fellow member of the informal group of composers known as the "Russian Five" or the "Mighty Handful") and his pupil, Igor Stravinsky.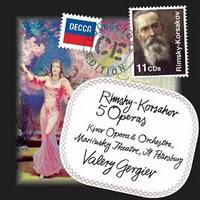 Yeah. This is a much better title.
Especially the number "5" instead of "Five."
These are wonderful recordings, essential listening if you want to take your interest in Russian opera beyond Tchaikovky and
Boris Godunov.
. These are fairy tales come to life.
Sadko
is a series of gorgeous tableaux and is set, like the opening scene of
Das Rheingold
, entirely underwater.
The most important opera in the set is the improbably titled
The Legend of the Invisible city of Kitezh and the Maiden Fevronaya
(yes, that's the whole title--the opera is also known as "the Russian
Parsifal
"). Rimsky's harmonies rise to meet the ear, seducing the listener with visions of mythological Russia.
And then there's the casts. These sets feature Russian singers who have become househould names in the last two decades. Dmitri Hvorostovsky, Olga Borodina and of course Mr. Gergiev himself, who has risen to become one of the most-demanded and highest paid conductors in the world.
These are the only major recordings of these works in the catalogue. But with this kind of packaging, no-one will hear them--or want to.