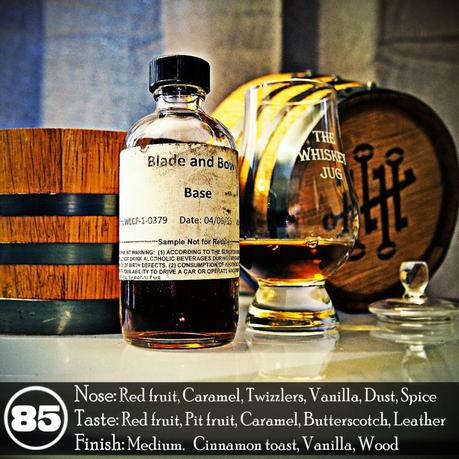 Blade and Bow bourbon is kind of a unique animal in the bourbon world because it's created using a solera system where liquid is mixed in large vats that are never fully emptied so that some of the first liquid in the vats is always in the vats (but less and less every cycle). This is how Glenfiddich 15 is made and isn't an unusual practice in Scotch, beer, wine, sherry, port, vinegar, rum, brandy, and so on, but the only other solera aged bourbon I know of is Hillrock.For Blade and Bow's particular solera setup they do a 5 barrel system where the 5th barrel is the one that was aging some Stitzel made juice and are the barrels they bottle from.
The workflow for this tiered system goes something like this. The #5 barrels are 1/2 emptied to make a batch for bottling which are refilled by barrel 4 which is then refilled by barrel 3 which is refilled by barrel 2 which is refilled by barrel 1. Barrel 1 is then refilled by a new bourbon that isn't in the solera setup and introduces a new element which will arrive in the bottling phase 5 batches in the future. How long the whiskey is allowed to marry and mature between each bottling is a mystery, Diageo hasn't released those details, but what we do know is that due to the nature of this setup this a whiskey that will change with each consecutive batch.
Blade and Bow Bourbon Info
Region: Kentucky, USA
Bottler: Diageo
Age: NAS
ABV: 45.5%
Batch: WLCF-1-0379
Bottled Date: 04-06-15
Price: $50*
Blade and Bow Bourbon Review
EYE
Caramel
NOSE
Red fruit, caramel, Twizzlers, vanilla and dust fill the nasal passages with lighter notes of spice, bittersweet cocoa powder, wood and cough syrup. There is an underlying waxy sweetness that makes me think of an "olde time" candy store.
PALATE
Nice notes of red fruit and pit fruit along with notes of caramel, butterscotch, leather, grains and baking spices (anise, clove, cinnamon and nutmeg). Light vegetal underpinning.
FINISH
Medium paced with notes of cinnamon toast, vanilla and wood.
BALANCE, BODY & FEEL
Good balance, a medium body and a smooth flaxen texture.
OVERALL
Blade and Bow bourbon is a good bourbon. It's not an exciting bourbon, but it is a good bourbon. This is something I could easily sip on after a long day at work. Sit on my porch and enjoy the fruit, dark caramely sweets and spices. I didn't get enough in the sample to really experiment with cocktails, but the flavor profile seems like it would do very well in an Old Fashioned or a Sazerac. A fairly well rounded bourbon.
SCORE: 85/100
*Disclosure: This sample of Blade and Bow bourbon was graciously sent to me by the company for the purposes of this review. The views, opinions, and tasting notes are 100% my own.