This Blackberry + Blueberry Cobbler is healthy enough for breakfast, but sweet + delicious enough to be dessert! These gluten-free, Paleo, and vegan cobblers have a crisp and gooey topping.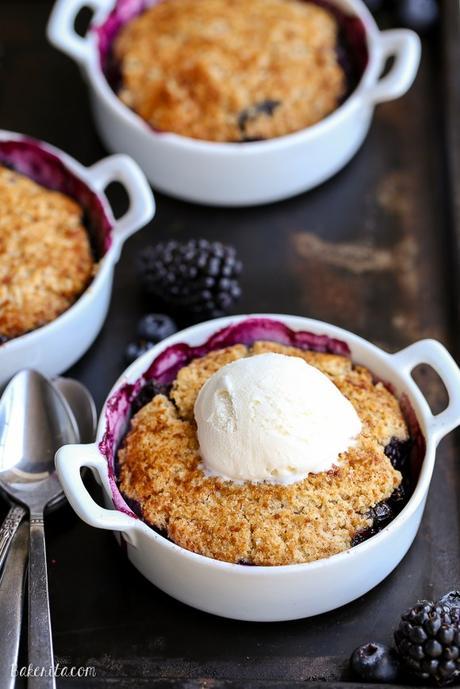 I haven't dabbled in cobblers too much. In fact, this is somehow the 
first 
time I've ever posted a cobbler recipe on this site. What I have been doing for the past five years?!
I think for a while I just assumed cobbler was similar enough to a crisp or crumble and never needed too much individual exploring, because crisps had already earned top spot on my favorite dessert list. And logically, that should have earned it a place on my list of things to try long ago.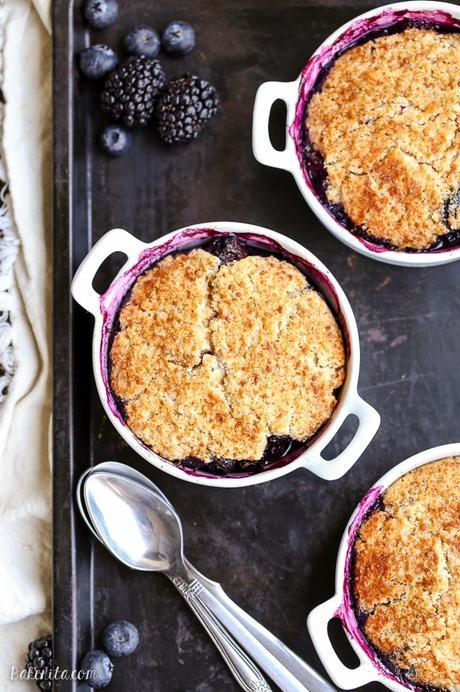 Finally, recently, I started seeing some swoon-worthy, beautiful fruit-filled cobbler recipes floating around the internet. Totally intruiged by the more biscuit-y, cakey top – way more unlike a crisp than I had realized – I set out to create my own perfect (and healthier) cobbler topping.
Playing around with a mix of almond flour, tapioca flour, and baking powder for a bit of fluffiness, I created a pretty bomb (if I do say so myself) cobbler topping. Even better? By using non-dairy milk and coconut oil, it's kept totally gluten-free, grain-free, Paleo-friendly, and vegan.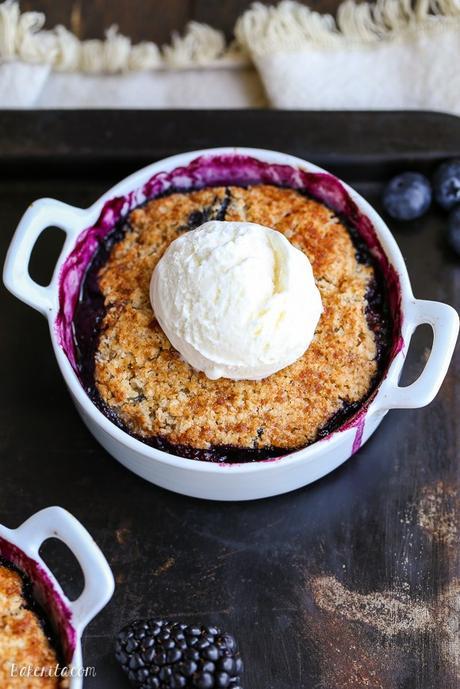 A bit of coconut sugar and a splash of vanilla extract are used for flavor. These ingredients create a thick batter, which tops off the filling: a combination of fresh blueberries and fresh blackberries. The berries are tossed with maple syrup, tapioca flour, and cinnamon. The simple approach to the filling creates a lightly sweetened berry filling with a thick sauce and fresh flavor.
The entire cobbler recipe can baked in a small baking dish, but I recommend splitting it up into three or four small ramekins and baking the cobblers individually. By dividing up the filling and batter, everyone can devour their own cobbler and enjoy the perfect filling to cobbler topping ratio.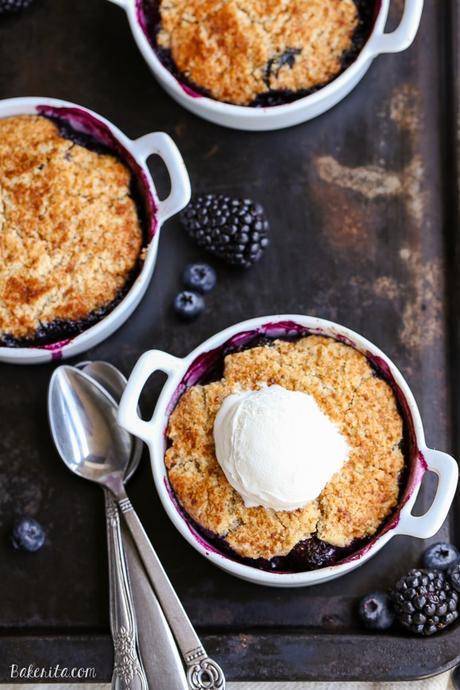 The blueberries and blackberries work together super well. The blueberries are high in pectin and break down a lot, providing thickness and sweetness, while the blackberries add a burst of tartness. The batter on top puffs up in the oven, becoming a fluffy, biscuit-y top with a crunchy crust made from a sprinkle of coconut sugar and cinnamon right on top.
I recommend devouring one of these warm – add a scoop of dairy-free ice cream or a dollop of coconut cream on top for the ultimate treat! Enjoy :)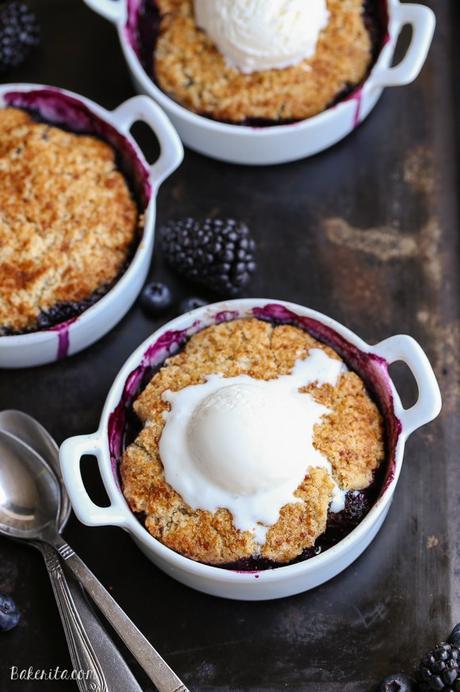 Remember to #bakerita if you try the recipe!
Blackberry + Blueberry Cobbler (Gluten Free, Paleo + Vegan)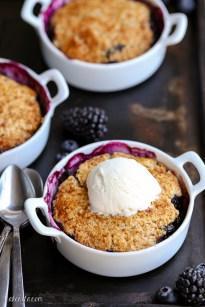 Save
Print
Prep time 10 mins Cook time 30 mins Total time 40 mins   Author:
Rachel Conners
Serves:
3 servings
Ingredients
1½ cups fresh blueberries
1½ cups fresh blackberries
3 tablespoons maple syrup
1 teaspoon tapioca flour
1 teaspoon cinnamon
For the cobbler topping
⅓ cup almond flour
⅓ cup tapioca flour
1½ teaspoon baking powder
3 tablespoons unsweetened non-dairy milk (I used almond)
3 tablespoons coconut oil, melted
1 teaspoon vanilla extract
1 tablespoon coconut sugar
1 tablespoon coconut sugar + ½ tablespoon cinnamon, to sprinkle on top
Directions
Prepare a small baking dish or three small ramekins by greasing with a bit of coconut oil and setting on a baking sheet.
In a bowl, combine the blackberries, blueberries, maple syrup, tapioca flour, and cinnamon. Stir to combine. Pour the fruit into the prepared pans, dividing evenly if using more than one ramekin.
In a different bowl, combine the almond flour, tapioca flour, baking powder, coconut oil, non-dairy milk, vanilla, and 1 tablespoon coconut sugar. Mix until smooth and then dollop over the berry mixture.
Combine the remaining tablespoon coconut sugar with the cinnamon and sprinkle over the batter.
Bake for 25 - 35 minutes until a toothpick inserted into the pastry comes out clean. Serve with dairy-free ice cream!
3.5.3208

There's more where that came from!
Strawberry Rhubarb Crisp (Paleo, GF + Vegan)

Blackberry Crisp Tart (GF + Vegan)

Blueberry Crisp Tart with Oatmeal Crust (GF, Vegan)

Paleo Banana Blueberry Swirl Cake

Raspberry Coconut Crumble Tart (Paleo, GF + Vegan)

Small Serving Apple Crisp (GF, Vegan)