Black Powder Customs, creator of insanely limited edition and fully custom designed snowboards launched a new Facebook contest. To win insanely limited edition and fully custom designed snowboards, Snowboarders must "like" Black Powder Customs' Facebook page.
The amazing limited edition Black Powder Customs snowboard look so awsome because you can choose one of their "1 of 1″ board designs, or have your own custom designed with your branding, artwork, pictures, ideas, etc.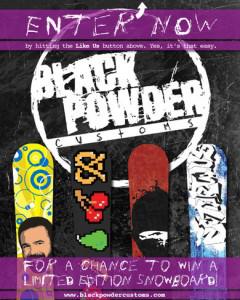 Come in a variety of shapes and sizes from the M Series for park and downhill riding, to their Pro Series Blunt suited best for riding the pipe, Black Powder Customs' snowboards are made in the USA and rideable right out of the bag.
Their snowboards utilize a full wrap and a high carbon steel edge that provides superior strength and durability. The boards also contain 24 inserts for maximum stance options. These lightweight, supremely strong boards include a two-year manufacturer's warranty and come in several limited edition options, as well as fully custom designed options to be uniquely you.
Getting a one-of-a-kind snowboard designed and built is quite an endeavor – akin to cleaning an AK-47 while rocking a baby and cooking an omelette – but we've simplified the process for you. We make it easy to get that one of a kind board you're looking for – once you buy it, we'll manufacture no more of that board design in any size. Period. No joke. No, really.