11/09/2011 – by Cynthia Wright
UCLA sociologist Mignon Moore has recently released a study on black lesbian families, a thorough examination on a topic that is often swept under the rug, when it comes gender identity and sexual orientation. The piece titled,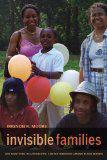 Invisible Families
"Invisible Families: Gay Identities, Relationships, and Motherhood among Black Women" provides data and case studies involving the stigmas surrounding the black lesbian family structure and how that influences relationships.
Some key insights from the study:
Gender presentation and how it's influenced by race and class. While 1970′s white lesbian-feminists rejected the butch-femme presentations, that didn't happen in the black lesbian community with many choosing to adopt their own ways to emulate that model.
Middle class black lesbians tend to shy away from the butch-femme model, while working class lesbians seem to be more comfortable with it.
When it come to motherhood she sought out examples from different black lesbian perspectives. Whether the women had children before coming out, decided to adopt or pursue artificial insemination after coming out. She pulls from all different backgrounds to give a more comprehensive picture of what it is like to be a part of a black lesbian family.
The study took three years to complete and is composed of interviews, personal observations and surveys with over 100 black women in New York City.
[Source]