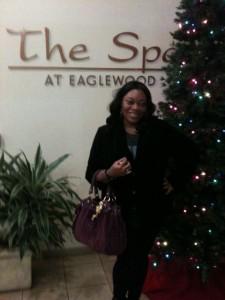 I spent black Friday relatively close to home in Itasca, Illinois which is about a 40 minute drive from Chicago. On Thanksgiving night we ate a wonderful dinner and then got a feel for what stores were around us. We spotted a Best Buy and at 6:00pm people were camped out in tents waiting for them to open at midnight. I asked myself a question, would I ever camp out for a deal? The answer is yes, but only if my ass lived in Florida. I would have no problem camping out in warm weather for a 46" Sharp Flat screen for $199. Read below and view my first video to see how I spent my Black Friday.
At 9:30 pm we headed to Wal-Mart and of course people were everywhere. I had 2 items that I specifically wanted from there. The limited edition blue Nintendo Wii and an LG Wi-Fi Blu Ray player. A few years ago I purchased a Wii and it cost me almost $400.00 not to mention the extra $89.00 I paid for the Wii Fit system.  Well I purchased the Wii for a friend for $99.99 plus $6.00 for a one year replacement plan. Now ain't that some shit! Obtaining the Wii once I got in the store was not an easy task because people had pretty much taken all of the consoles available. I found a teenage girl walking around with one and knocked her over her head took it and ran! Just Kidding! I went to a sales associate and asked him for it, when we were talking a woman walked up to him and gave him one and he gave it to me. Talk about being in the right place at the right time. I also got the Blu Ray by standing next to it along with some teenage boy who became my blu ray buddy as we waited until the sale started at midnight. Wal-Mart took everything that was going on sale at midnight and stacked it up in the deli section. People were forming lines around the store to get to the TV's that were going on sale. One of the security officers told me that about 50 people fell trying to get in the store. I held on to that Wii for dear life!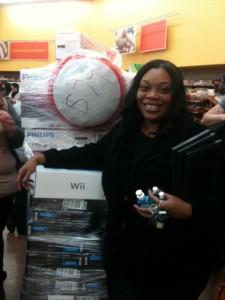 Next I headed to Target; the line was wrapped completely around the store to get in. People were waiting for the door buster special. I didn't have anything specifically I wanted from Target but my sister is Target's biggest fan and she wanted to go in and see what she could get. I ended up with some decorations for my tree in a long ass check –out line that wrapped around the store. When the associate came around and said the cash registers went down. I happily left and left my cart right there in line. My cart is probably still in line right now as I type this post.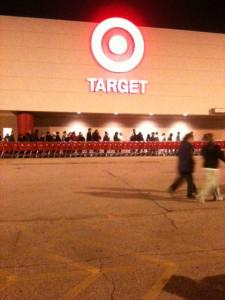 Yes, This is the line for Target, wrapped completely around the store!
Gurnee Mills opened up at 4am and I made the 40 mile drive from Itasca to Gurnee at about 2:30am. The mall is huge and when we got there parking was easy to find. Once inside, we were disappointed that Marshalls didn't bother to open with the other stores. I went to Lane Bryant and got 5 items for $100.00. I got 2 pairs of shoes from Nine West for $30.00 and pretty much just darted from store to store but ended up not buying too much from the mall. I arrived back at Eaglewood Resort at about 8:00am and ordered room service and then immediately passed out! I woke up at 1:30pm and was ready to hit the stores again. I drove to Ross Dress for Less which is similar to a Marshalls and I walked out with 3 sweaters and a bunch of cute stuff for my house. I bought 12 items for $72.38 now that's a steal! I then went to another Target in the area and grabbed all of my tree decorations it will be a pink and silver Christmas this year. We then headed back to the resort and went to the bowling alley. I bowled a 65, I suck big time! We ate dinner at Home Run Inn Pizza and then went to see Twilight Breaking Dawn. I arrived back at the resort at 1am Saturday morning!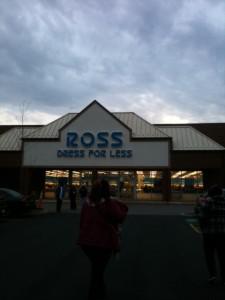 Ross Dress For Less is quickly becoming one of my favorite department stores..Name Brands for Less!!!
Eaglewood Resort and Spa is a wonderful place for a weekend get –away, especially if you or your partner likes golf. The Golf Course is Huge and the rooms have a spacious balcony that features several views of the course. I would imagine that it's even more beautiful in the summer. The spa is expensive but what spa isn't, but very beautifully decorated and inviting. On Thanksgiving, everything closed down in the hotel after 6pm. I found myself desiring a glass of wine the front desk clerk found me a bottle and a glass and I was able to enjoy it as the comfortably sat in the lobby by the cozy fireplace. I'm officially worn out but as I stated before the life of a shopper is not easy. Next year, I think my black Friday shopping will be done online…..but you never know where the wind may blow me, I may end up at a mall near you soon so keep a look out