Truth be told, i had no intention to make this chiffon cake at all.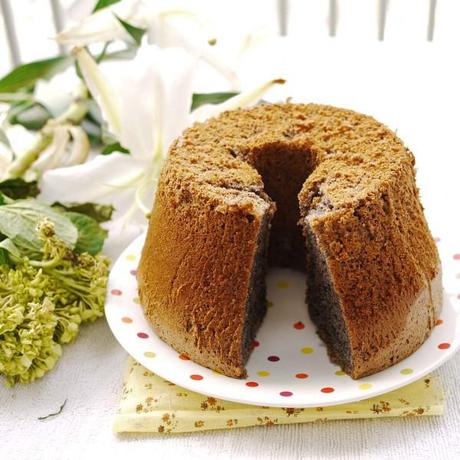 It all started when i was too lazy to head to the grocery store to buy some WHITE glutinous rice flour. And i happened to know that a friend was going to do her groceries anyway. I decided to take advantage of the situation, and asked her if she could pick it up for me.
Being a doll that she is, she came back with my glutinous rice flour.
But the black one, instead of the white.
I suppose, i could have gone to the grocery store and asked for an exchange.
But like what i said, i was too lazy to go  to the grocery store.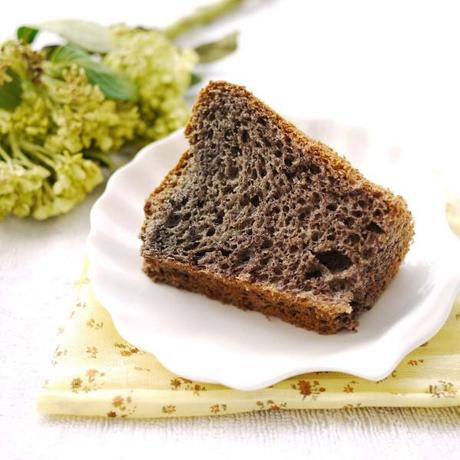 So i made this black glutinous rice flour chiffon cake instead.
 This chiffon cake is really popular in the Asian countries. It is soft, airy with bits of aromatic grits from the black flour.
That saved me a trip for the exchange.
But i still needed my white glutinous rice flour.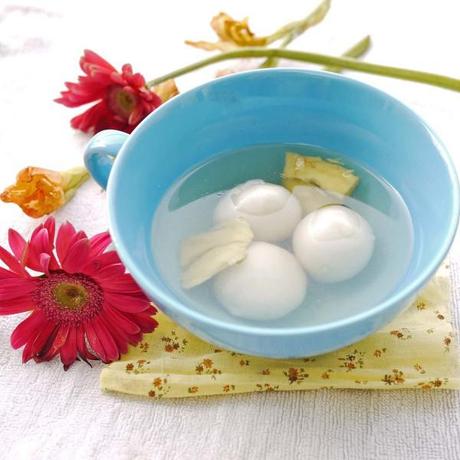 Because i wanted to make this.
This chinese dessert is known as tang yuan. They are balls of white glutinous rice dumpling boiled in a sugar syrup infused with ginger.
You can fill these dumplings as you want. But the popular ones revolve around red bean paste, ground peanut and black sesame paste.
I decided with the black sesame paste for this.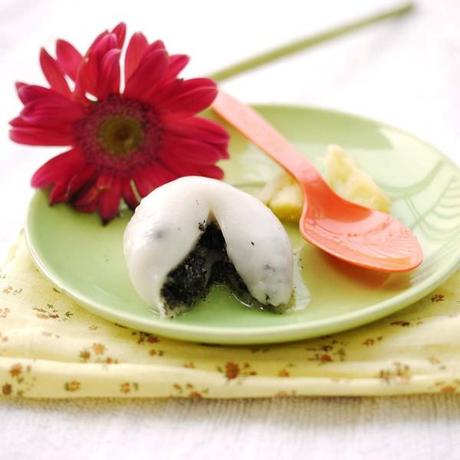 Black sesame seeds <not the afore mentioned black glutinous rice flour>, were toasted and ground, mixed with sugar and butter to form this filling.
While encasing the filling with the dumpling dough, you might want to make sure that the surface is smooth and is crack free, or they will burst open while cooking.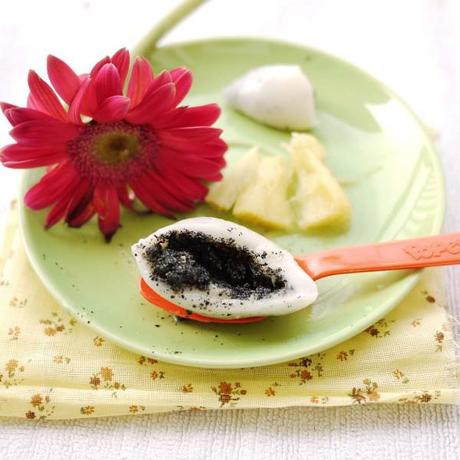 Hmm, black specks of  deliciously messy, ground sesame against white dough balls…
Black Glutinous Rice Flour Chiffon Cake
Taken from Ancoo Journal
4 Egg yolks
20g Sugar
1/4 tsp Salt
50g Coconut cream (Kara brand)
2 tbsp Corn oil
30g Plain flour
55g Black Glutinous rice flour
1/4 tsp DA Baking powder
4 Egg whites
1/4 tsp Cream of tartar
50g Sugar
Method:
Sift plain flour, black glutinous rice flour and DA baking powder together and set aside.
Whisk egg yolks, salt and sugar together until sugar dissolved.
Mix corn oil and coconut together till combined and add to the egg yolks mixture, mix well and add flour ingredients into it and stir batter until smooth.
Whisk egg whites and cream of tartar till frothy. Gradually add in the 50g sugar and whisk till peak form.
Lower speed and slowly pour the egg yolks mixture into it. Stop machine and use a rubber spatula to fold mixture until well combined.
Pour batter into two mini moulds.
Bake at preheated oven at 160C for 25 mins and 150C for another 15 minutes.
Then switch temperature to lower grill and bake chiffon cake for another 5 minutes.
Remove chiffon cake from oven, invert mould onto table.
Allow the cake to cool completely before removing the cake from the mould.
Taken from Rasa Malaysia
Ingredients:
8 oz. glutinous rice (sticky rice) flour
180 ml water (3/4 cup water)
1/4 cup black sesame seeds
1/4 cup sugar
1/2 stick unsalted butter (1/4 cup or 4 tablespoons)
Ginger Syrup (姜茶):
5 cups water (reduced to 4 cups after boiling)
1 cup sugar
4 oz. old ginger (skin peeled and then lightly pounded with the flat side of a cleaver)
1/2 teaspoon sweet osmanthus (optional)
2 screwpine leaves or pandan leaves (tie them into a knot, optional)
Method:
Lightly toast the black sesame seeds over medium fire until you smell the aroma of the black sesame seeds. Please take note that the sesame seeds will start popping when they are heated, so use your lid to cover. Don't burn the black sesame seeds; transfer them out and let cool as soon as they smell aromatic.
Use a mini food processor to grind the black sesame seeds until they become fine. Transfer the ground black sesame into a wok, add sugar and butter and stir well to form a thick paste. If they are too dry, add more butter. Dish out and let cool in the fridge. (This will make the filling easier.)
In a big bowl, mix the glutinous rice flour with water until it forms a smooth paste and no longer sticks to your hands. Divide it equally into 16-20 balls (depends how you like the size, the bigger the size, the easier it is to do the filling). Flatten each ball in your palm, and then use a pair of chopsticks to pick up some black sesame paste and lay it in the middle of the flatten ball. Fold the edge to seal the dumpling. Lightly roll it into a ball shape using both palms, very gently and delicately. Set aside.
Prepare the ginger syrup by boiling the water. Add the ginger and screwpine/pandan leaves (optional) into the water and boil for 10-15 minutes with medium heat. Add sugar and sweet osmanthus and boil for another 5 minutes. Lower heat to simmer and reduce to about 4 cups of water. Add more sugar to taste if you like.
Heat up another pot of boiling water. Drop the dumplings into the hot boiling water. As soon as they float to the top, transfer them out and into the ginger syrup. Turn off heat and serve the black sesame dumplings in a bowl immediately.