In 12 days, yes my birthday is on Valentines Day, I will turn the big two-five. Holy moly I'm getting older! And loving every second of it mind you. I have simple birthday wishes just like any girl.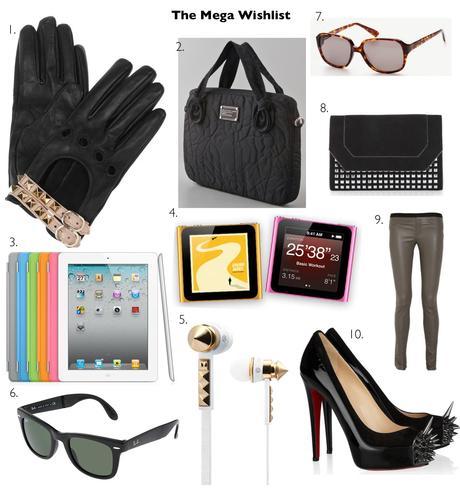 1. Valentino Studded Driving Gloves2. Marc Jacobs Laptop Bag3. iPad 24. iPod Nano5. Gold Studded Lady Gaga ear phones6. Ray Ban Wayfarer Sunglasses7. Tortoise BonLook Sunglasses8. BCBG Maxazria Crystie Studded Clutch9. Helmut Lang Stretch-leather skinny pants10. Christin Louboutin Asteroid 140 Suede patent leather pumps
Ok, ok. Not all of these items are outlandish gifts but the majority of these items are things I would love to add to my wardrobe but would never, ever, ever, spend that kind of money on. That being said, here is my realistic list!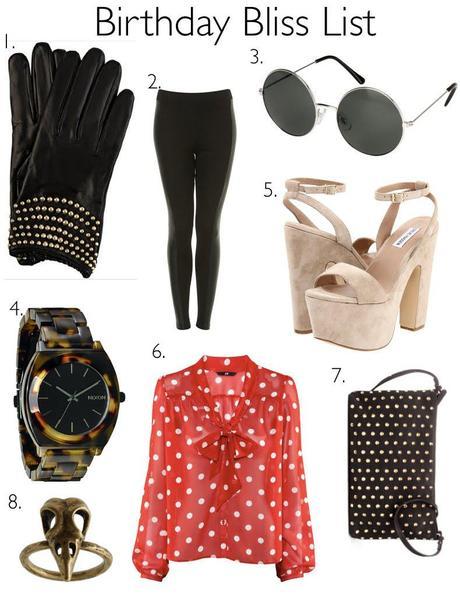 1. Portolano Black Leather Studded Driving Gloves
2. Faux Leather Leggings
3. H&M Sunnies
4. Nixon 'The Time Teller' Watch
5. Steve Madden Wedges
6. H&M Blouse
7. Zara Clutch Bag with Tacks
8. Bird Skull Ring


Lets be honest, this stuff rules but all I really want for my birthday is to hear from my friends and family back in UT and some quality snuggle time with my amazing/ridiculously good looking boyfriend.