it's my birthday! we started off the day by having a sumptuous shrekfast :)
shrekfast is the breakfast buffet offered by the holiday inn. what makes it different is that you have a chance to interact and mingle with some of the dreamworks characters. also there are themed food. :) they have a wide selection of asian and western food so whatever you might want for breakfast, there is a good chance you will find it.
while eating, dreamworks characters will appear per movie, do a little dance number, and then they will go down to the audience and you can take your photos with them. exception to this is the how to train your dragon gang. since toothless is too big to move around, they stayed at the stage and we lined up to meet them there.
after breakfast, we got ready for our trip for that day. we boarded the shuttle bus going to sands macau, and from there we took a taxi to macau tower for my birthday skyjump. :D
from the aj hackett website:
Designed and invented in New Zealand, Skyjump is a controlled decent experience and you jump from the same platform as Bungy at 233m/764ft.

SkyJump can be described as Base Jumping, while attached to a wire cable - just like a movie stuntman! Your descent takes around 17 seconds before you come to a very smooth landing (on your feet) at the ground floor plaza at the base of the tower.

Skyjump is different from Bungy jumping as you don't free fall or rebound and you jump in a standing position and stay that way all the way to the ground.

It's a one way vertical drop - Hang on!
so i signed up, paid the fee, geared up, and waited for my turn at the platform.
as i have told many who asked, the only fear you have to conquer is that of getting off that platform. once you have jumped, it is just an amazing, freeing feeling. probably somewhat like flying. it was one of the best 17 seconds of my life.
i would gladly do that again.
after the jump, we had snacks at a cafe at the ground floor of the tower, then we went to wynn macau to watch the golden dragon and the tree of prosperity.
after this, we rode a shuttle back to the ferry terminal. and there we got a shuttle which took us to the galaxy hotel. there we watched the fortune diamond and the wishing crystals. we also were able to catch the signature peacock performance.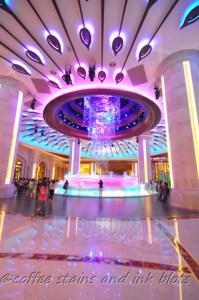 again, we bought dinner from mcdonald's (i think we bought at the mcdonald's branch at every hotel) and went back to our hotel to eat and rest.
it was a super fun day and i enjoyed spending my birthday with my loved ones, and of course crossing something off my bucket list. :)