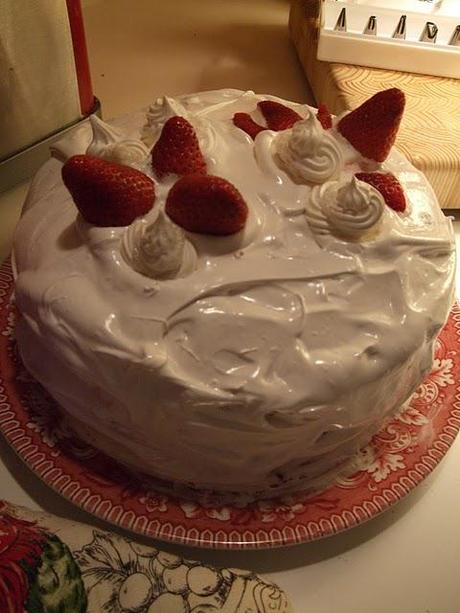 I made this for my son's birthday. He wanted a strawberry cake and strawberry it was. This is a pretty simple
recipe and easily found on the web. Now I know the secret of J.E.L.L.O the possibilities are endless. Could a grape cake be next..or lime?
I topped it off with Seven Minute Frosting and cooked the left-over frosting into little tiny meringues. Some sliced berries went between the layers.  
 Stawberry Cake
2 cups sugar
1 package strawberry Jello
1 cup soft butter
4 eggs
2 ¾
cups  flour
2
½
 tsp baking powder
1 cup whole milk 
1 tb vanilla 
½
cup strawberry puree made from frozen strawberries. 
Preheat oven to 350o.Butter and flour 2 9-inch round pans. 
In a large bowl cream butter and sugar together with the Jello powder until unified and fluffy. Beat in the eggs one at a time. 
In another bowl, combine the flour and baking powder. Stir in the dry ingredients into the pink batter alternately with the milk. Blend in the vanilla and strawberry puree. Bake for 30 minutes.