Disclosure: Thanks to
CASOLARE DC
for making this post possible.
Can't believe it's been a week since I turned 34..... It was exactly a week ago when this happened and when I was treated to a day full of surprises and goodies. I don't remember mentioning in my
Birthday post
that I am a complete foodie and food and fashion go hand in hand for me....at least the aesthetics side of it, if that makes more sense to you.  Just as fab fashion lures me,  good food is like a mousetrap----
whomp whomp
!!
After this birthday I have been feeling more zealous about blogging, which definitely meant a new something was coming.... for if you know me well!!  I had been contemplating this new series wherein I could review local eateries and restaurants. This would definitely mean more blogging-hours and traveling, but the idea of being able to share my
F&F ( food and fashion )
passion with you all affirmed my decision and hence this exciting post.
Having said that I would like to introduce you to this Coastal Italian restaurant named
CASOLARE
, that opened literally two weeks ago. Located in the heart of Georgetown, this restaurant, a part of Hotel Glover Park, is sure to cheer all your taste buds. With it's extensive food and bar menu, and options like '
giant chicken parm
', '
polpette
( meatless meatballs )' and '
slow cooked salmon
', you are sure to get blown away with the medley of flavors.  
So without any further ado, let me take you around the restaurant and my yummy culinary experience  ....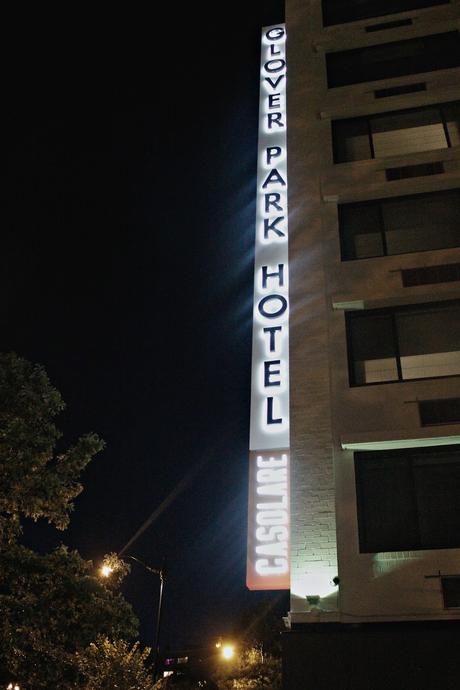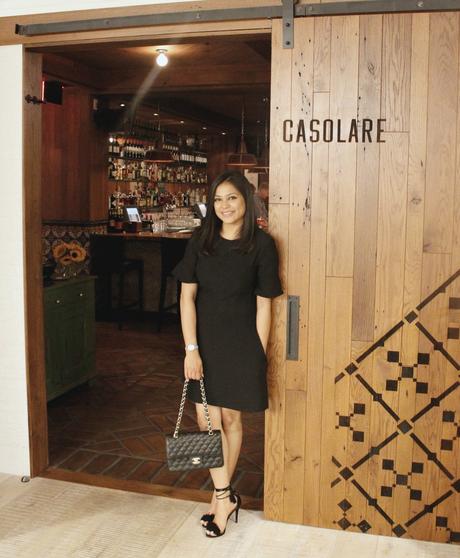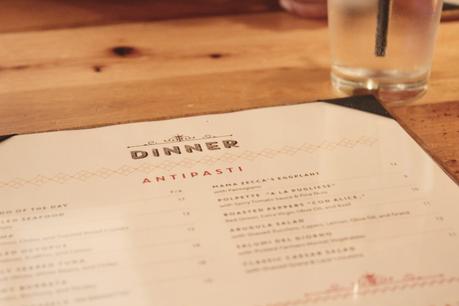 Our tete-a-tete began with the
mandatory
his and hers cocktail : I ordered the 
The Big Night 
and Hubby got
The Offer. The big night 
was a more fruit-blend cocktail, perfect for peeps looking for a mild-on-alcohol drink. Hubby's was a high-on-liquor bourbon blend.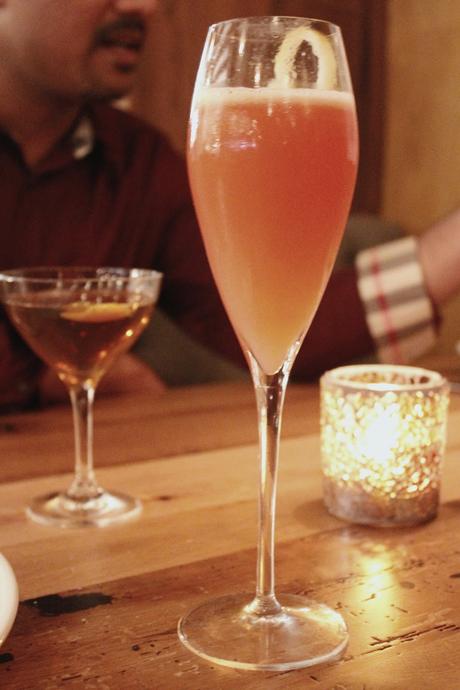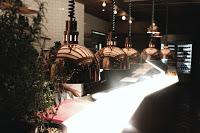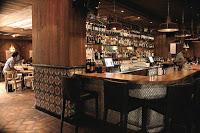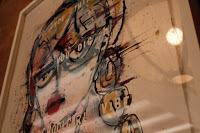 Thereafter came the complimentary samplers: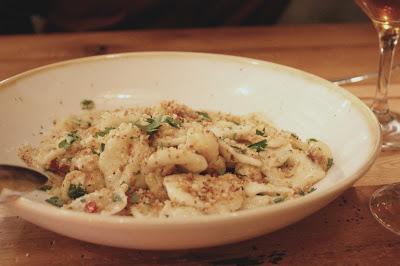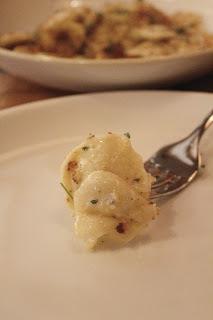 ORECCHIETTE
( pasta with roasted cauliflower )- this lip-smacking pasta dish was creamy, crunchy ( thanks to the cauliflower ) and high on taste. I would have liked the paste more al-dente as opposed to being fully-cooked in this. Other than that, all was good.
POLPETTE " A LA PUGLIESE
"- the perfect meat free dish for vegetarians. This meatless meatballs, strong-on-mint,  preparation is sure to strike the right note with the taste buds that are vegetarian but don't want any compromise on taste. Definitely a must try for all those food-enthusiasts.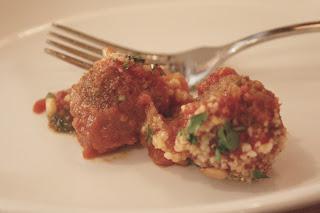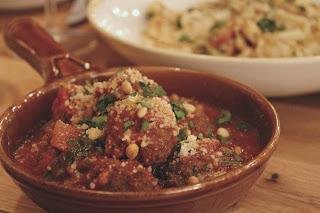 The mesmerizing decor and the wine cellar.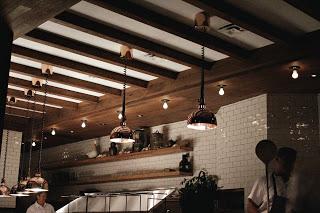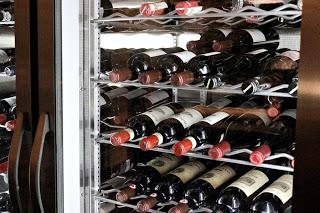 As if the full-serving samplers weren't enough for us, we ordered the
LAMB
and
GIANT CHICKEN PARM
. For people with big appetite and small stomach, the entree portions were ginormous,  but we had to sample the main course.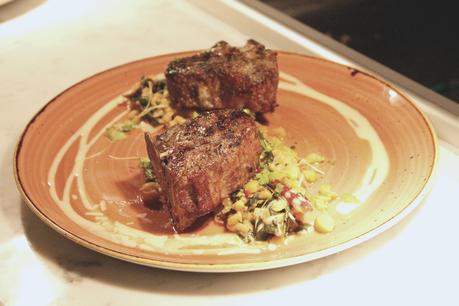 This lamb dish is by far the best I've had in so many years. I have never tasted lamb as tender, succulent and yummy as this one. Served on a bed of white beans and Caribbean chillies, this dish was a complete hit with the hubby. Cooked to perfection, we couldn't have asked for a more flavorful meat preparation.
Not the most appetizing presentation, this GIANT CHICKEN PARM thoroughly lives up to it's name. Giant, both in appearance and flavor, every bite of this chicken dish unfolded the culinary expertism behind this dish. The gently sautéed broccolini served the right pairing with this otherwise robust dish.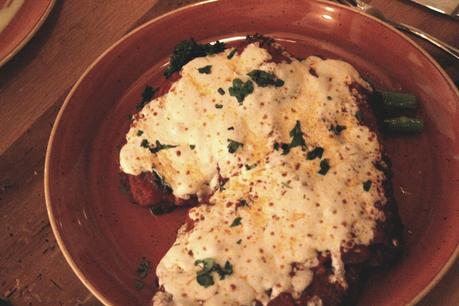 This quartet of sorbet, unfortunately wasn't ours. But it's presentation simplicity lured me to taking this shot.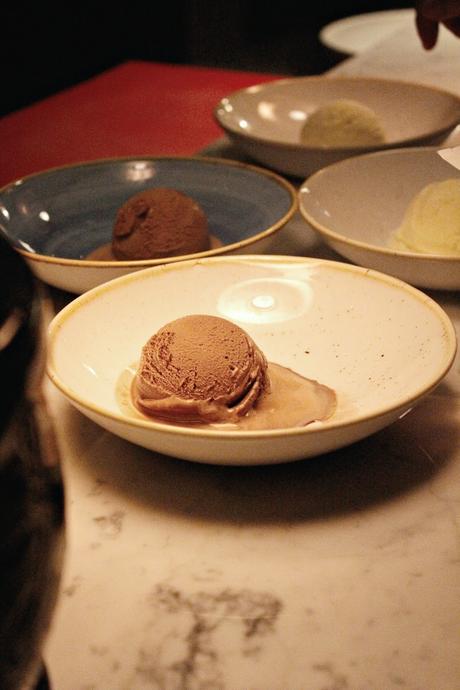 Now this dessert was mine. Another treat courtesy of the Manager, this ice-cream pastry served the sweetest end to my special day. Presented over a dollop of lemon butter, it was an ode to all the desserts. The tartness from the butter and the sweetness of the ice-cream was a like a match made in  
heaven
Chef Michaels Kitchen ....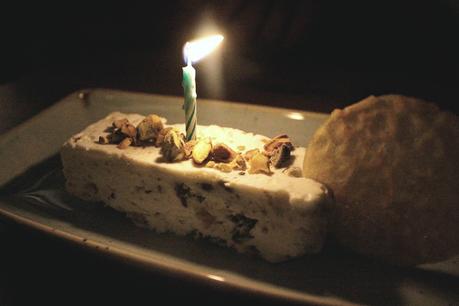 Can't wait for this patio to open for summer dining. You got to be there too...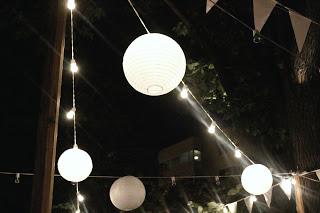 Last but not the least - my outfit....a simple LBD.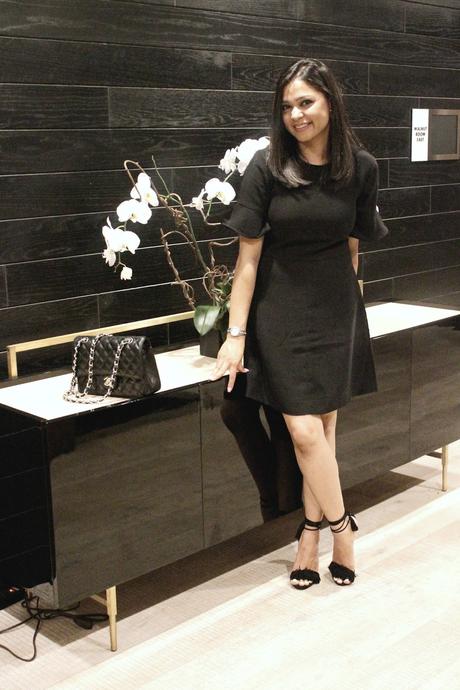 SHOP MY LOOK :
Have a great day loves......