What is a Pride weekend to you? Pride festivals started out as political marches before the acronym LGBT was widely known today. I attended Birmingham Pride for the first time on the 24th and 25th of May 2014 to experience an amazing weekend of enjoyment even though my Bank Holiday Monday didn't feel so pretty! 
I was at Birmingham Pride 2014 to simply have a great time and to be a part of the University College LGBT Society. The appalling weather didn't stop us for through the rain, we all danced on!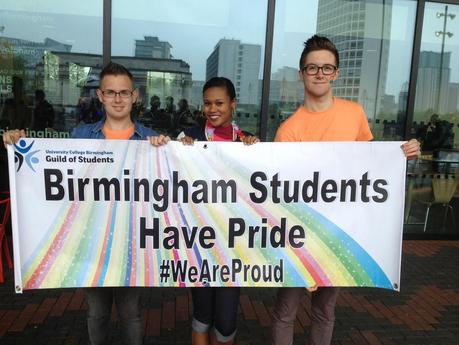 Birmingham Pride 2014 had been building to the end of my final year at University College Birmingham and the time spent as a member of the UCB LGBT Society, we had a parade to work out so along with several other Birmingham Uni's we were decked out in the colours of the Rainbow flag of freedom for the Pride March 2014. The weather wasn't exactly sunshine and bright skies but we donned our face paints and made our way to the beginning of the march outside the Council House in Birmingham's city center. Remembering that being fabulous is all well and good it was great to hear LGBT Activist and Pride Ambassador, Peter Tatchell make his opening speech to initiate the beginning of the March and the Birmingham Pride 2014 weekend. 'Equality and Freedom All Around The World' happened to be the mantra for the 2014 event to reach out to our LGBT neighbours in Russia, Uganda and Brunei for its not legal to be yourselves everywhere! Let the Pride March commence! 
Almost every part of the LGBT community of Birmingham marched proudly through streets, lets not forget the Straights!? The rain pelted down and I mean it pelted down! With our banners we served our motto and hastag that as UCB students #WeAreProud to be a part of this event. From the floats that were filled with the muscle men and go-go boys to a gaggle of fabulous drag queens anyone who was anyone was out to celebrate Birmingham Pride 2014! Being behind the Nightingale and Village Inn floats we danced along in the pouring rain to some of today's tunes and to a perfectly suitable anthem by 'The Weather Girls' for yes we did sing 'It's Raining Men!' A song that was aptly named for the theme and forecast of the day! It felt like a family affair because being a part of the UCB LGBT Society gave us a valid purpose to march! But the only religious reference welcome was Madonna's 'Light A Prayer' for I noticed a number of outspoken onlookers who tried to make their feelings known about the march. Papa Don't Preach!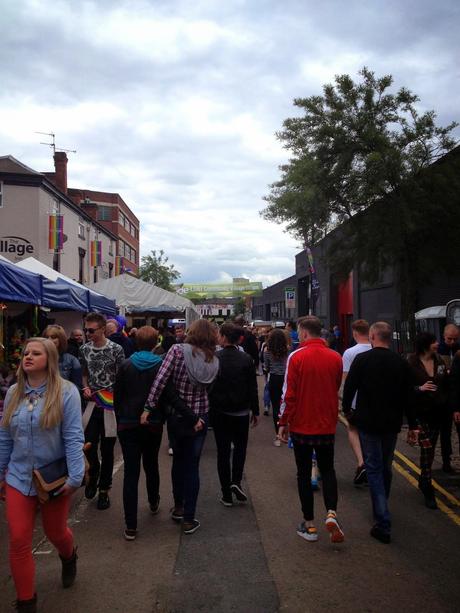 Birmingham's Gay Village has played host since 1997 for Birmingham Pride has been around for 17 years! From Missing Bar on Hurst Street right through to Eden Bar on Sherlock Street the vicinity of the 'Village' was a hype of energy for two days through the rain and through the shine, believe me the sun did make an appearance after Saturday's monsoon conditions it was a relief to see some blue skies, maybe somewhere there was a rainbow? Now that's wishful thinking. Captured to the right is one of the main streets alongside the line of community stalls that lay close to the Village Inn Cabaret Marquee, a certain sense of togetherness could be felt in the air! Don't we live in the age of modern love? I must not forget the areas surrounding Kent Street, Bromsgrove Street and Inge Street for the Nightingale Club had lots to do during light of day and night. Now Work! 
Now throughout my final year at university I wrote and researched my Dissertation that had the theme surrounding the development of Gay Tourism in Manchester to find a nationwide trend with most other Pride events in England. I experienced a great Pride in New York City back in 2012 but through research and understanding the theme and working of Pride events have changed it's game. To cut a phrase the 'Pink Pound' numerous authors contested that Gay orientated events attract visitors that have a higher level of disposable income compared to our Heterosexual counterparts leading to a lucrative market to invest in. Birmingham Pride being a young event has seen a surge in popularity leading to a 65% rise in attendance for the 2014 Pride event. I would have to be honest down to the bone that a 'Gay Glastonbury' vibe was about the air with the wristbands and stringent security, I'm not throwing any Shade! It's just the T! Okurr?!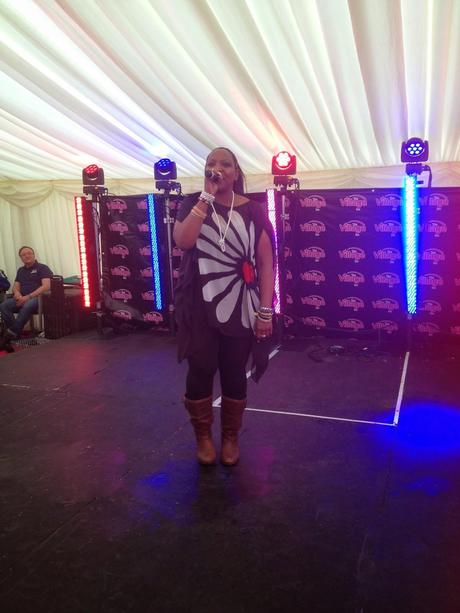 Gay Pride is all about the Drag for me! I just could not get enough of the Village Inn Cabaret Marquee, I'll be honest I preferred it to the main stage but we're all different aren't we?! I caught Stooshe on Saturday 24th and Radio 1 DJ Sara Cox on Sunday 25th so I paid my dues to the mainstream talent that was on offer at Birmingham Pride. Back to the Drag, I saw a wide array of Queens strut their fabulous stuff, making everybody laugh and gasp at their razor sharp sense of humor. Hangovers aren't allowed so I made my way back to the Village Inn Cabaret Marquee as soon as I could on Sunday 25th for Saturday had served up some good times! Sandra served as compare, she had everybody in stitches of laughter with her unapologetic jokes and slaying! I loved it! Those ciders were going down way to nicely! I had my drink on! Don't judge me Birmingham! Hunties!
I'm going get you real good! Yes I am! It had to be the one and only Angie Brown the soul diva of the 90's! Returning to the stage at Birmingham Pride 2014 made my day! Bless one lady in the audience for she got right into the 'Gonna Get You' groove for she didn't waste anytime. I loved every second of the the performance, I said Birmingham Pride 2014 'I'm Gonna Get You!' So none of us wasted our time for the Marquee of the Village Inn was jumping right back to the 90's! Don't tell anyone because I'm a child of the 1990's! I honestly loved the Village Inn Marquee for there were two bars so getting another drink didn't take to long, plus a healthy number of my fellow pride-goers were quite handsome. Back to the formidably shameless Sandra, well she sure knows how to stir some controversy! Birmingham Pride 2014, my final weekend in Birmingham as a student was turning out to be a moment in time that even I wouldn't forget! DJ pumped that party!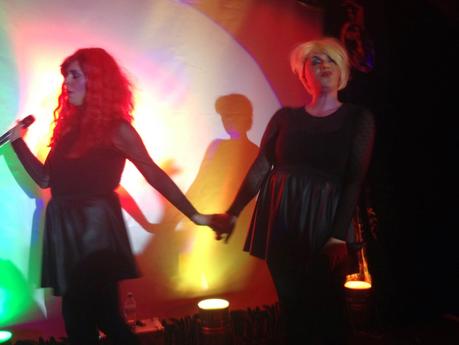 Dressed to kill I returned back to Birmingham's Gay Village for my final slice of Pride 2014 for I had two more Queens to see that Bank Holiday Weekend! Choosing Eden Bar to conclude my Birmingham Pride 2014 experience I found an amazing night! I had not previously been to Eden Bar so I was doubly excited to see The Queens Of Pop there! The party was turned up and everyone was having a brilliant time, I was advised about the joys of Botox and was told I looked 18! The clock stroke 1am it was time for Manchester's hottest duo to take to the stage! I had cleverly found my way to the foot of the stage to get the best view of the fabulously honest duo, The Queens Of Pop! Beginning with their Cheryl Cole and Nadine Girls Aloud set it was all go go back to Belfast! Go go! The Queens served a little Taylor Swift blending into a dab of Kylie and Dannii Minogue for Kylie is the Princess of Pop! I have to say I was loving my life, both seeing the Queens Of Pop and also by being in a new club in the village! I bet you're well jel?!
But where's Kerry?! C'mon Girl Wobble Yer Head! I shouted that line with pride because I have to say that the Queens Of Pop do a great Shak and RiRi but their Atomic Kitten reigns supreme! Donning their trademark wigs for their 'Whole Again' finale it was such a great place to be standing amongst the crazy crowd! Now what the hell is that Kerry?! Natasha put Kez in her place with a suggestive little white bag of something! Above all its great to begin something with a smile and finish it with a smile no matter how many ciders and G&T's were consumed for the Spring Bank Holiday of May 2014 was out of this world! So from my moment marching through the parade to taking a few close looks at the operation inline with my Dissertation I would not of changed a single thing! With the all the Drag Queens to the sensational Angie Brown I enjoyed my first British Pride event in Birmingham! Sandra stay fierce! I can say that my final weekend as a Birmingham uni student ended with a bang! 

C'mon Birmingham Wobble Yer Head!
Joseph Harrison