This year's Birmingham Literature Festival features a host of notable current names from the shelves of the book world, taking part in events, readings and workshops. Digging deeper and judging beyond the cover, Birmingham has a rich literary heritage in terms of authors residing there; four of whom are mentioned below – although none would actually be able to appear in person. But their creations live on!
Jane C. Webb Loudon
If you're planning on really dressing up for Halloween later in October, then maybe you are considering which horror theme to pursue? If gothic horror is your "Thing", 'The Mummy!' by Birmingham-born author Jane C. Webb Loudon (August 19th, 1807 – July 13th 1858) might be an inspiration. This novel mixed ancient and modern – being set in the 22nd century – and contained fascinating insights into future technologies that now have some strange degree of accuracy. References to steam power and even a concept suspiciously similar to the internet are features. Jane's other literary vein was that of horticulture – though there is no mention of her even digging up a Mummy.
Arthur Conan Doyle
Not born in Birmingham (May 22nd 1859 – July 7th 1930), Arthur Conan Doyle regularly spent time working there whilst completing his medical studies in Edinburgh. Another science fiction and fantasy writer, making use of his medical and scientific education, Sherlock Holmes in his creation, as is 'The Lost World'.
J. R. R. Tolkien
The author of 'The Hobbit' and 'The Lord of the Rings', J. R. R. Tolkien spent his childhood in Birmingham and surrounding areas. Born January 3rd 1892, he lived to the age of 81 – September 2nd 1973 – and although witness to the age of cinema, he probably would not have imaged the spectacle that the interpretation of his works created on-screen in the 21st Century. The popularity of his works is reflected in the number of English Heritage Blue Plaques that reference Tolkien and mark the places with which he had a connection; his residence during the time he lived in Oxford, hotels where he regularly stayed and five Birmingham locations marking where he lived.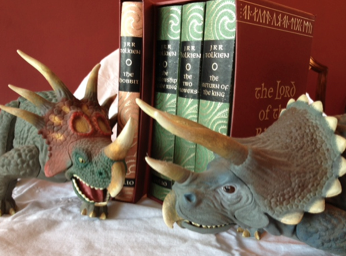 Middle Earth is a Lost World
W. H. Auden
From novels to poetry, our last chapter covers W. H. Auden (February 21st 1907 – September 29th 1973). Auden grew up in Birmingham, but later in life became an American citizen and now that he is no longer with us, his works are more well-known through their inclusion in modern media. This poem, 'Funeral Blues', was the touching eulogy delivered by John Hannah's character in Four Weddings and a Funeral:

Dry your eyes – you won't be able to read if the words are all blurry!