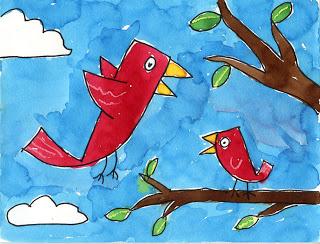 My watercolor project for today was inspired by a stock art drawing, simplified again and again until it felt doable for even kinders.
1. Draw the mother bird, then the baby, then the tree branches, leaves and finally clouds.
2. Trace the pencil drawing with a black Sharpie marker.
3. Add some details with a crayon, such as yellow lines to the leaves and pink feather lines to the birds.
4. Paint with liquid watercolors.