Alright love. Remember ages ago how I was saying I'd always wanted to sign up for a monthly subscription box but never did? Well (clearly) now I have! I took a snap of last months goodies and shared on my Instagram (come be my chum!) and I had planned to do the same thing this month, but unbeknown to me not everyone gets exactly the same… I'm new to this okay?!

I'm not going to review any of my products (not right now anyway) or go indepth as I know there are a ton of BirchBox unboxing posts out there – it's just interesting to see how our boxes differ!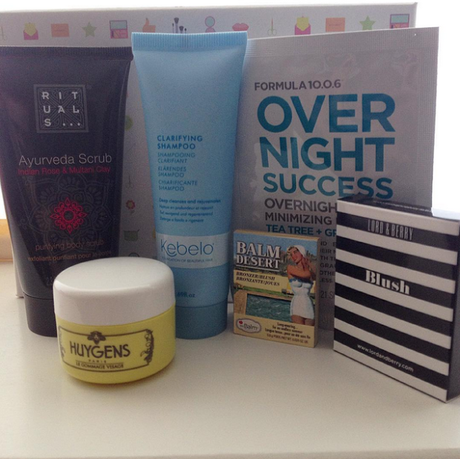 Rituals – Ayurveda Scrub – Sample
(Full size £10) To keep our skin smooth, we often find ourselves choosing between an effective-yet-rough scrub and a smoothing cleanser that does nothing to get rid of dead, dry skin. This formula does the gritty work of an exfoliator in the softening formula of a body wash, both sloughing away dull skin and soothing the fresh skin beneath.
Lord & Berry Blush in Lotus – Sample
(Full size £18) Despite our fine-tuned skincare regime, drinking 8 glasses of water a day (well, sometimes!), and a fairly healthy lifestyle, sometimes we still wake up to find our complexion looking a little lacklustre. Our quick fix? A sweep of this beautifully silky powder blush from Lord & Berry. Available in a rainbow of suits-all-complexion hue, the sheer formulation blends seamlessly into skin for a healthy pop of color – or build it up for a more impactful appearance.
Huygens Exfoliating Cream – Sample
(Full size £17.90) Packed with skin-friendly ingredients like nourishing sesame oil and antioxidant-boosting green tea, this gentle face scrub from Huygens is perfect for all skin types. Rice powder particles work to purify and lift away dead skin cells without irritation, while the creamy formula leaves skin soft and hydrated. Effectively, its healthy skin in a jar!
Kebelo Clarifying Shampoo – Sample
(Full size £13.95) Let's face it, sometimes our hair could do with a fresh start, but rather than shaving it off and starting again this clarifying shampoo from Kebelo will help things get back to basics. Wave goodbye to product build-up and stressed strands, this detoxifying formula will leave your tresses feeling super soft, perfectly purified, and ready for whatever you're going to throw at it next.
theBalm Balm Desert Bronzer – Sample
(Full size £15.00) Lounging poolside in Palm Springs with the cast of Mad Men may be a fantasy, but we can still snag some of that warm desert glow with this silky shimmer powder from theBalm® cosmetics. The fade-resistant formula works as a blush and bronzer in one to give skin that fresh, sun-kissed look – even when our late-night antics leave us feeling otherwise.
Formula 10.0.6 Overnight Success Spot Minimizing Patches – Full Size
(Full size £2.95) Nothing cramps our style like a breakout, so when pesky blemishes show up, we like to banish them – and fast. Packed with natural antibacterial and antiseptic ingredients like tea tree and grape seed, these fast-acting cleansing patches work their magic overnight to reduce redness, irritation, and inflammation. Let's just say, it definitely hits the spot!

I was quite impressed I must admit! I've already tried the bronzer which I looooove – I haven't tried anything from theBalm before! This is only my second month signed up to BirchBox, and I will confess that last months wasn't so great… there was nothing that interested me! I was quite disappointed as I wanted to sign up for Boxy Charm but they don't ship to the UK! Apparently they're working on it, so I'll stay subscribed to BirchBox until then! ;)