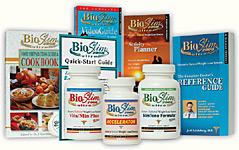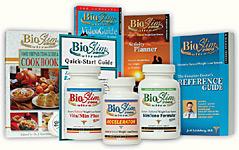 BioSlim is a Medicus product touted as a complete weight loss solution. The package can be broken down into basically two different products (though they push high-margin books as well):
BioSlim Ultra Vita/Min Plus.
BioSlim Ultra SlimTone Formula.
BioSlim Accelerator.
Well work through these products as they relate to weight loss.
BioSlims Ultra Vita/Min Plus
This is basically a bit of pyruvate, some Green Tea (see my Green Tea review) and some Chromium (see my Chromium review).
Green Tea is an effective thermogenic, but things are still up in the air with chromium.
Some of the studies about chromium support it, others dont support it at all. Im not opposed to chromium being present in a diet pill, but dont like see it as the only primary active ingredient (such as seen in Thermocerin, Lipocerin, or Phenocerin).
BioSlims other ingredients such as CoQ10, and Vitamins B6 and C can be found in virtually every multivitamin (at a much cheaper price).
Pyruvate, another one of its popular ingredients, is said to promote the activity of cells, thus increasing your metabolic rate.
One study looked at the effects of obese women over a three week period. The women were divided into two groups. Each group adhered to a 1000-calorie liquid diet. One group supplemented with 36g of pyruvate, while the other took a placebo.
At the end of the study, the group that had taken pyruvate lost 13 lb. while the placebo group lost only 9.5 lb. a difference of 3.5 lb or 37%.
So Pyruvates great, right? Well, did you catch the dosage? The pyruvate group took 36 grams of pyruvate.
That would mean you would be taking anywhere from 36-72 capsules of BioSlims stuff just to get the pyruvate dosage.
Ginseng can be bought cheap at any health food store, and the same goes for the rest of the herbs theyre mainly just eye candy.
BioSlim will use words like optimized, maximized, and titles like Accelerator but the fact of the matter is that BioSlim isnt offering anything new.
Their three ingredient combination is redundant in many ingredients and the pricing is overly expensive for the ingredients youre getting.
Supplement Facts
They dont put them anywhere on the site. At the end of the day you have no idea how much of any of these ingredients (even though we only care about the good ones) is in a BioSlim pill. This makes evaluation of BioSlims products especially tough.
BioSlim Marketing Approach
BioSlim has done a great job of really trying to build a community around their products. They also really push the doctor aspect of their program.
They state in the BioSlim about us page that BioSlim began as a health program in a medical office in 1990.
I dont know exactly what that program looked like verses what BioSlim is now, but I can be fairly certain that things have changed significantly especially considering the fact that many of these ingredients werent even readily available in 1990.
BioSlim offers a whole slew of information in their Doctors Corner discrediting the Atkins diet (as well they shoud) and letting you know that a doctor is behind all of this.
I cant stand when diet pill companies throw doctors endorsements at you. To me, as soon as a doctor endorses a diet pill that doctor has lost all credibility. Why?
Because the doctor is always paid to do those types of diet pill endorsements and objectivity goes out the window.
Complete Kit
What they really try and push is the BioSlim 2000 Complete Kit, which comes with their three BioSlim products mentioned above along with some videos and books.
This is a plain vanilla upsell. They knew they could throw some books and videos into the mix and instantly charge twice as much for their product with very little attached variable cost to bring down their margin.
Im certain theres a lot of great information in the BioSlim books and videos, but the information will simply attempt to reenforce into your mind that you need to order their products againand againand again.
You can find plenty of helpful weight loss articles on the internet for free without forking over $90 for another sales pitch.
BioSlim Review Conclusion
Overall, BioSlim is simply a subpar diet pill, split into three pills with only slight variations, and packaged with a bundle of books so the company can boost revenue.
There isnt anything that makes BioSlim even remotely stand out from the crowd.
There is, however, a good option for people wanting to lose weight, and that is a diet product called Phen375, which is our current top reviewed pill.