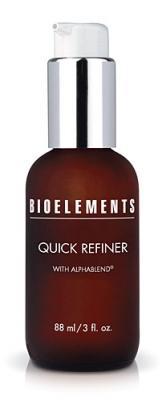 Are you looking for a product that will make a visible difference for you skin, immediately? Bioelements' Quick Refiner is a leave-on gel exfoliator with Alpha and Beta Hydroxy Acids that sweep away dead skin cells, unclog the pores, and reduce fine lines. The company claims that you will see visible results after just one application. I did not see a difference after one application, however by day 3 or 4, there was quite a noticeable difference in the texture of my skin. After a week, I noticed an improvement in my skin tone, and by the time I finished the bottle (almost 4 months later), my skin was looking fantastic!
Note:  As with most leave-on exfoliating products, I recommend that this product be used at night, before going to bed.  Making exfoliation a nighttime activity is a skin care best practice. The exfoliant is able to work its magic uninterrupted, and without having to compete with sunscreens for that oh-so-important oxygen.
 My Experience
It works. I really did see a difference quickly.
The combination of ingredients is designed to exfoliate, strengthen, and repair the skin at the same time.
Although it is filled with powerful ingredients, I did not find it to be sensitizing.
It is sanitary: The container is a bottle with a pump that greatly reduced the potential for contamination.
Each pump of the product is a perfect measure so that your entire face and neck can receive equal coverage.
Manufacturer's Product Description
Liquid gel exfoliant that eliminates dead surface cells and smoothes skin texture. Results can be seen after just one day of use.
Manufacturer's Product Profile
Name: Bioelements Quick Refiner
Size:   3 oz.
Color: Clear gel
Price: $46. 00 (suggested retail)
Features
Eliminates dead surface cells
Uncovers smoother, softer skin
Reduces clogged pores
Evens complexion color and tone
Manufacturer's Directions for Use
After cleansing skin, apply a thin layer over face and neck. Follow with a Bioelements sunscreen.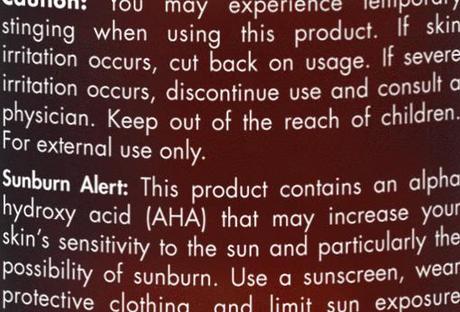 SUNBURN ALERT! 
This product contains an alpha hydroxyl acid (AHA) that may increase your skin's sensitivity to the sun and particularly the possibility of sunburn.
Use a sunscreen, wear protective clothing, and limit sun exposure while using this product and for one week afterwards
Ingredients
Water (Aqua) (Eau), SD Alcohol 40-A, Aloe Barbadensis (Aloe Vera) Gel, Glycerin, Glycolic Acid, Hydroxyethyl Cellulose, Salicylic Acid, Vaccinium Myrtillus (Bilberry) Extract, Saccharum Officinarum (Sugar Cane) Extract (Extrait de canne a sucre), Acer Saccharum  (Sugar Maple) Extract, Citrus Aurantium Dulcis (Orange) Extract, Citrus Medica (Lemon) Extract, Angelica Polymorpha Sinensis (Dong Quai) Root Extract, Rhus Glabra (Sumac) Extract, Panax Ginseng (Ginseng) Root Extract, Nasturtium Officinale (Watercress) Extract, Centella Asiatica (Gotu Kola) Extract, Phenoxyethanol, Sodium Hydroxide, Disodium EDTA, Methylisothiazolinone
Note: This product review is based on product that I purchased, at full price, from a spa.
Where to Purchase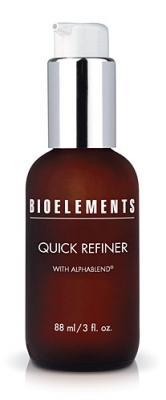 Affiliate Links