Bingo Online game, called Avatingo, is on beta phase development on facebook apps platform. but I believe that Avatingo is going to be a hit amongst the bingo players!
This facebook apps was created by beJig and requires access to your basic information, email, and permission to post to your wall and access to your profile information in order to play. Once you have done this you are taken into the app where you need to choose a username and decide whether you are male or female by clicking the appropriate icon.
Avatingo is the first ever virtual world of bingo online game, slots and multiplayer games where players get to play, pick their funny avatar, win and celebrate together.
Avatingo is a free online games for bingo online players
What makes Avatingo special is the whole 3D gaming experience that it offers and also the fact that you have to be over 18 to actually play it.
Now you can design your avatar; dress them up, change their eye colour, face shape, eyebrows – there are many different options. Once this is done you are taken into Avatingo where you'll find a number of places to visit.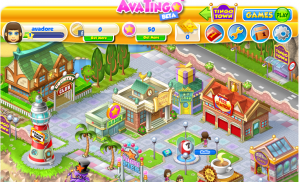 This application really does look like it has some serious potential. The only downside at the moment is there is only a few places as it has only just been released. Why not give it a try over the weekend as no doubt word will have got around the millions of Facebook users of this great game.
I think Avatingo will be the bingo best online games ever.