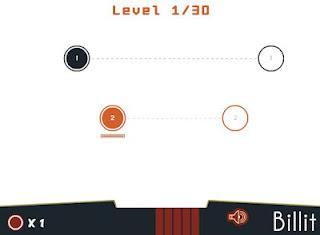 Billit


When you don't know what to do, when you don't know how to entertain yourself, when you are bored, you can always sit by your computer and start looking for a fun. The computer is offering different types of fun. One of the ways to fulfill your free time and have some fun is to play games. There are lots of fun games on the net that can keep your attention. But, my favorite game genre is puzzle games. There are many fun and terrific puzzle games, but lately I enjoy playing one very fun puzzle game named

Billit

.

Billit is

one of the best free online puzzle

game

that can keep my attention for a long time. The point of this fun game is to

slow down the balls

, if you want

to rank them before they reach their destination.

All

this

balls

have to

reach the exits in the right sequence

This game has

30 levels

to play. Try not to lose all your lives, but if you do you have to

go back one level and

get

1 life.

You have to

end the game with the highest life.

It is not as hard as it looks. Play this stunning game and enjoy in your free time!