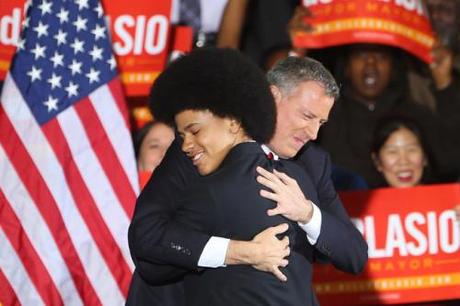 Bill de Blasio celebrating his victory with son, Dante
Photo Credit: NYT
In August,  we suggested you learn more about Bill de Blasio, showing our support for the once little known mayoral candidate!  Well… we're not saying the stamp of approval from MKB made all the difference but every little bit helps!
Last night, Mr. de Blasio, the city's public advocate, defeated Joseph J. Lhota, a former chairman of the Metropolitan Transportation Authority, by a margin of about 49 percentage points, with 99 percent of the vote counted.
It was the most sweeping victory in a mayor's race since 1985, when Edward I. Koch won by 68 points, and it gave Mr. de Blasio what he said was an unmistakable mandate to pursue his liberal agenda.
"My fellow New Yorkers, today, you spoke out loudly and clearly for a new direction for our city," Mr. de Blasio, a 52-year-old Democrat, said at a raucous party in Park Slope, Brooklyn, at which his teenage children danced onstage and the candidate greeted the crowd in English, Spanish and even a few words of Italian.
"Make no mistake: The people of this city have chosen a progressive path, and tonight we set forth on it, together."  Continue reading about Mr. de Blasio's sweeping victory via The New York Times. 
Congratulations Bill de Blasio!