Last Updated on by Jeremy
Disclaimers: Living the Dream uses demographic data, email opt-ins, display advertising, and affiliate links to operate this site. Please review our Terms and Conditions for more information. Listed prices and attraction details may have changed since our visit and initial publication.
We've been fans of Managed WordPress hosting for many years now and finally decided to change our host to BigScoots as a cost-saving measure. We had heard about this one for quite some time (all good things, naturally), and finally took the leap in early 2020 in order to see what they were all about.
As it turned out, it ended up being a great decision!
What is Managed WordPress Hosting?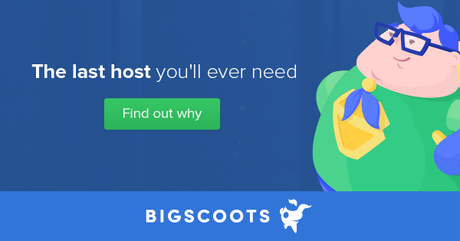 As its name implies, Managed WordPress Hosting is a bit more involved than simply getting server space and calling it a day (this is common with more basic hosting plans like at Bluehost). The managed aspect means that employees from your host take more of a hands-on approach to running your site from initial optimization to up-time guarantees, security, backups, and more, and this often coincides with more powerful servers and overall better site performance.
The list of inclusions often varies from host to host, which makes comparing services more like apples to oranges in a discussion like this. Some may stick to offering the above while others may manage all your plug-ins for you and even include development time as part of the price (as was the case with our previous host, Performance Foundry).
While I would not say that BigScoots is on the lightest end of the spectrum mentioned above, they are closer to that end. You do have some freedom in control over updating plug-ins and developmental work which is typically not included in your package but is also a great cost saver at the same time and was a perfect balance for our needs.
But aside from the performance increase, which we'll talk about more below, we utilize Managed WordPress Hosting purely for the peace of mind it brings us.
For many years, we were incredibly stressed being on a basic host. Any weird code break (often of our own doing), plug-in misconfiguration, or security concern would've taken our site down, and then it was 20, 30, or 60 minute waits on the phone in order to speak to a human in order to get walkthrough assistance on how to resolve it. This was lost time, lost revenue, and caused many grey hairs and sleepless nights.
With Managed WordPress Hosting we just put in a ticket on Big Scoot's platform and go to bed. In many cases, they already know about the problem, and if not we received responses back within minutes (from a real person) saying they were looking into it.
Now that is money well spent!
Site Speed Improvement with BigScoots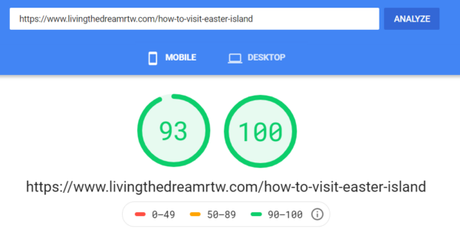 As we migrated to BigScoots from another Managed WordPress host, we weren't sure what kind of speed improvements we'd get. I had spent the previous year redesigning and optimizing our sites to the best performance possible (partly due to our theme, GeneratePress, and associated settings) and was hitting about two second load times and Google PageSpeed scores of 88+ on mobile and 99 or 100 on desktop- stellar scores no matter how you look at it.
But after the initial migration to BigScoots and re-optimization of our WordPress plug-ins (check the list at the previous link for what we use), something pretty incredible happened- they shaved over a half-second off of our load time! Now our sites load anywhere from 1.2 to 1.4 seconds, and our Google PageSpeed scores are anywhere from 92-95 on mobile and 99 or 100 on desktop.
Call us impressed.
But how much of this is due to the host and how much is from our own settings? I did a few tests to find out.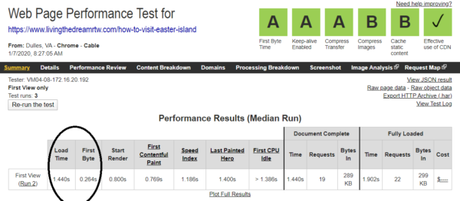 First, I checked out the first-byte time for BigScoots (often considered to be server response time) and found my site was often at generally around 0.25 to 0.3 seconds. This is slightly slower from my previous host (about 0.2 seconds) but significantly faster than most budget hosts which are 1-2 seconds. I'll call that a win. Check yours at WebpageTest to compare.
Second, I started a new site and optimized it with all my standard plug-ins mentioned above to see what the load on a text-only site would be based on my own configurations. This ended up being about 0.5 to 0.6 seconds. I have no reference point to compare this to, but I think it is pretty impressive to be somewhat resource-heavy and still load a site in < 1 second.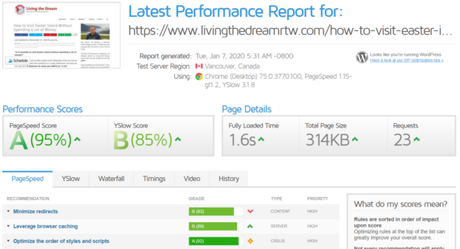 Finally, I compared test results based on past performance on my old host. Metrics that I had previously failed were a few page caching and image optimization settings, which were now passed on BigScoots (all A and B scores on WebpageTest and GTMetrix). I attribute this to effective use of the WP Rocket Pro plug-in for caching and lazy load as this was something I was unable to run on my previous host due to their own custom plug-in (which conflicted and was not as effective).
While the above may have been a bit of a long-winded explanation of the site speed improvements I saw after switching to BigScoots, the simple explanation is that this one offers a great optimization service upfront when you join the site- but may need to do some theme or plug-in work yourself to really take full advantage of things.
If you are switching from a basic host, odds are good you'll see an improvement from server response time alone. If you are switching from another managed host, you may get a benefit from some plug-in optimizations or the ability to add on new ones that you previously were restricted from.
In any case, initial speed optimizations may only go so far and you may have to perform additional optimizations around images, premium plug-ins, or switching themes if you want to go at it hard as we did. Some of these are outside of the scope of BigScoots hosting but are certainly worth the effort to pursue (especially for image optimizations).
BigScoots is a Win on Price
When it comes down to it, apart from the peace of mind that Managed WordPress hosting provides, the real reason why we switched to BigScoots is the price.
To read more about how we optimized our site speed with GeneratePress, check out our GeneratePress review. And don't forget to check out our curated list of WordPress plug-ins we use to help with site speed!
Due to various inclusions, pricing structures for managed services can run the gamut from reasonable to extraordinarily expensive. On our prior host, we were paying $100 per month, per site (inclusive of a grandfathered discount of $25/mo). We ultimately moved away from this purely from an economic point of view as we simply were not using the included development time effectively.
At the time of us switching, BigScoots, on the other hand, offered managed services without this feature for $35 per month for one site and a premium package for $100 per month for up to 10 sites!
This solved a few problems for us in big ways:
First, it cut our hosting fees in half. We went from paying $2,400 per year to just over $1,100 (we pay yearly to get a slight discount).
Second, it allowed us to start a third site. Expanding into new websites was always on our radar, but instead of using a basic Bluehost server to get started we are now optimized on a managed host at no extra charge.
Third, we canceled our cheap Bluehost plan too. My previous host did not include hosted email, which BigScoots does, and I had to purchase a cheap Bluehost package in order to have email space (likewise, we hosted our LLC's non-trafficked website on that server as well). Moving these over to Bigscoots let us get rid of that ~$100+/year plan too!
If you have one site, the $35/month plan on BigScoots will do you quite well for only a nominal increase in spending compared to cheap servers. We know of a site that was hitting up to 600,000 page views a month on this plan and had no noticeable performance changes- even with several hundred people on-page at any given time. To call this a steal is an understatement and is very much worth the price.
For those with multiple sites, the $100/month plan is about as cost-effective as they come, even if you do need ~3 sites to really make it cheaper than the individual plan above (although those with two should consider it as you get 3x the SSD storage at the start).
Now we'll be taking our $1,400 in savings and re-investing it in other aspects of our website for future growth!
Overall, we're quite pleased with BigScoots. Cutting out the development time from our previous host resulted in a huge cost savings for us, and the performance increase was still notable despite being fairly optimized to begin with at the time of our migration. We'll call that a win and look forward to hosting with this one for many years to come!
Have an existing blog that is in need of an upgrade? Check out the following services we personally use!
Looking for tips? Read our Blog Your Trip series!
To purchase hosting on BigScoots, click here.