Hot on the heels of my big Russian Zil III Limousine which I recently blogged about here, an even longer limousine, the Mercedes 600 Pullman, has taken up quite a bit of room in my 1:43 diecast cabinet. And so I just had to do them justice with a diorama photo. Gleneagles in Scotland seemed the right setting, and a Strategic Arms Limitation Conference attended by world leaders the right scenario.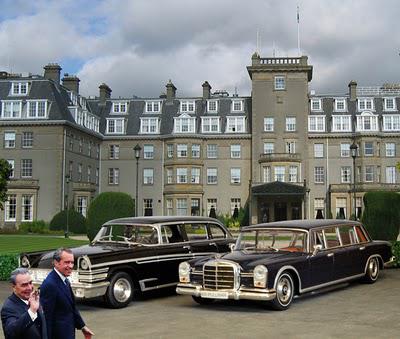 Two media tarts named Brezhnev and Nixon managed to walk in front of the cars just as
our photographer took his snap. But, being world leaders in the late 60s, who's going
to tell them to buzz off? As long as they promise not to blow up the world with nuclear
weapons, they can walk where they like. (Edit: and as Kashgar216 has pointed
out, the Merc isn't Nixon's car. His ride is a stretched Lincoln, a suitable 1:43 model
of which I am still looking for.)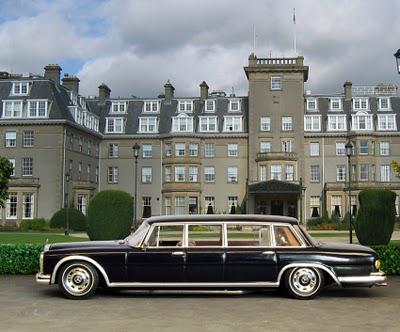 The Mercedes Pullman and its VIP arrived first at Gleneagles, and here it is in all its magnificentlength. In reality, the Merc is about an inch (25mm) longer than the Zil, and in 1:43 mode,that remains true to scale. The low-slung Mercedes just looks incredibly long in everyway, but as the Zil is a fair bit taller than the Merc, its considerable length is deceptive. 
Now, I'm always interested in the technical details of each diecast car I own, and I like to know what engine it had, its suspension and any other notable mechanical features. Fortunately, this time I found a You Tube video which does all that for me. Here it is.
To finish off this little posting on a very big car, we might as well have a bit of fun and watch Top Gear's comedians compare James May's Park Ward Rolls Royce with Jeremy Clarkson's Mercedes 600 (which is actually the shorter-wheelbase model 600, not the long-wheelbase Pullman
).