If you're a peat head, and c'mon… you know who you are, then the Big Peat Whisky is for you. It's a tasty blended malt put out by the Douglas Lang folks. Blended malt meaning there is no grain whisky used in this blend, it's a 100% malt blend and specifically, it's a blend of 100% Islay whiskies.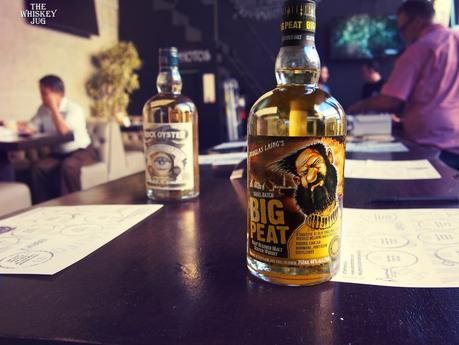 The company blurb below gets into all the pertinent details so I'm gonna cut this section a bit short and let you get on with it in the review below.
Big Peat Whisky Review: Details and Tasting Notes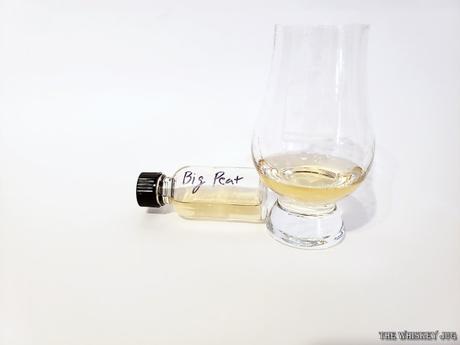 In Douglas Lang's Words: Big Peat Whisky
Big Peat is a remarkable marriage of Malt Whiskies only from the island of Islay. He is, of course, proudly without colouring or chill-filtration and bottled at high alcohol strength (46%), resulting in a naturally oily spirit that promises an incredible mouth-feel.

With Caol Ila spirit bringing sweetness, Bowmore the perfect balance, Ardbeg the medicinal, earthy quality and Port Ellen, a degree of elegance, Big Peat represents all that is Islay in a bottle. Fred Laing tells us that of course, there are a couple of Blender's Secrets in Big Peat too – but even after a few drams, he won't share that info – and so it remains our peaty little secret!
Big Peat Whisky price, ABV, age and other details
Region: Islay
Distiller: Various (incl Caol Ila, Bowmore, Ardbeg, Port Ellen)
Blender: Douglas Laing
Mash Bill: 100% Malted Barley
Cask: Various
Age: NAS
ABV: 46%
Non-Chill Filtered | Natural Color
Price: $65
Big Peat Whisky Tasting Notes
EYE
Light gold
NOSE
Peat, vanilla, minerality, malt, citrus, wax and tart apples.
PALATE
Peat, vanilla, minerality, malt, Necco wafers, citrus, wax and tart apples.
FINISH
Long -> Peat, lemon oil and vanilla.
BALANCE, BODY & FEEL
Good balance, medium body and a warm feel.
Big Peat Whisky Review: OVERALL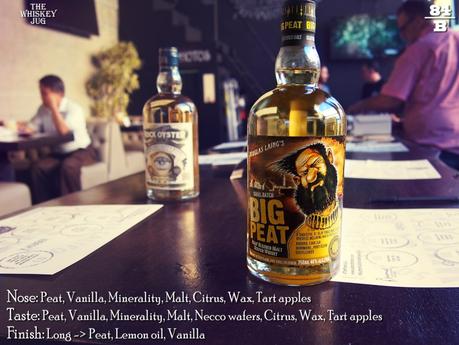 Based on the rest of the line, I had low expectations going into the Big Peat Whisky but they were happily surpassed. After a few sips, I found myself finally sinking into a whisky from this lineup. Could be the complexity the peat adds, could be the desire for something a bit more savory after all the sweet, or it could just be that this is a good whisky. All of the above is possible, but I'm leaning towards the later.
SCORE: 84/100 (B)
Big Peat Whisky Review
Nose -

85

Palate -

84

Finish -

84

Balance, Body & Feel -

84
84.25
Big Peat Whisky Review Summary
Big Peat Whisky is a nice tasty whisky with an elegant peaty punch.