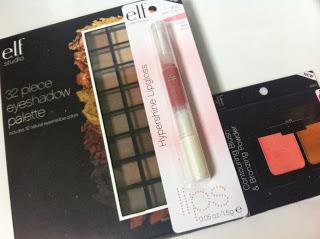 Hello lovelies! 
Today I have an ELF Haul for you, I mentioned on twitter about the 30% discount I used on checkout to pick up these lovely products. First product I chose online, was the 32 piece neutral eye shadow palette. This product was my way of introducing myself to using more eye shadows. I chose this particular palette as I don't wear bright eye looks and prefer neutral tones. This product retails at £5 on the ELF website, which is a steal for 32 eye shadows. Below I have photographed the colours included in this product: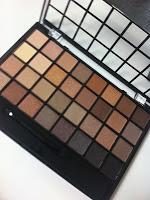 The colours included come in a variety of different finishes. There are many matte shades and a few with a shimmer running through them. All of these shadows apart from the two in the top left corner are highly pigmented. It comes with a sponge applicator, which I will most likely not use although is a good bonus to have in the kit. The palette also comes with a wide length mirror which is a bonus, although I'm not sure how I would use this whilst applying the eye shadow. I can imagine it to be extremely awkward to hold the palette and apply product in the mirror at the same time.
I also purchased the Contouring Blush and Bronzer Powder duo in St Lucia from ELF for £3.75. This product has been hyped all over You-Tube and the beauty blogging community. I am new to trying out different bronzers so I thought this may be a good product to start off with. Both of the products in this duo are highly pigmented and appear easy to blend. I have swatched both colours below to show you how they apply: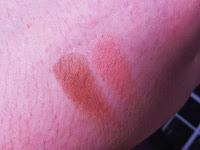 As you can see the bronzer is very dark, although when blended out it creates a healthy glow. I would say for fair skinned girls like myself that the bronzer could be a touch too dark, but the blusher shade is perfect. The blush is a matte peach shade, which looks beautiful with fair skin tones. I also purchased the Hypershine Lip-gloss in Berry Cherry, which is a beautiful tinted non-sticky lip-gloss that comes in a retractable brush applicator. This lip gloss only cost me £1.35 which is great for a product that I can keep in my handbag to apply throughout the day.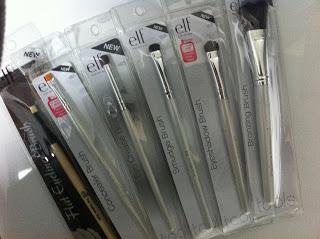 My last purchase was 6 makeup brushes: The Bamboo Flat Eyeliner Brush, Concealer Brush, Eye Crease Brush, Smudge Brush, Eyeshadow Brush and Bronzing/Blush Brush. I haven't tried the brushes yet as I only received them today. These brushes all retailed at £1.50 apart from the Flat Eyeliner Brush which was £3 in the sale section of the site. All of these brushes, are soft and great quality for such an affordable price. I bought these with the intention to use them to start creating different eye looks. 
All of these products with discount and shipping came to £17.37.
Have you tried any ELF Products recently?
https://eyeslipsface.co.uk/
Thanks for reading!

x