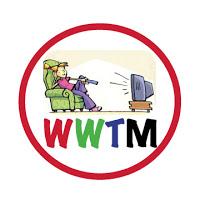 THE ANSWER TO WEDNESDAY'S TRIVIA QUESTION: Curb Your Enthusiasm + Rules of Engagement = Larry David Spade FIRST FIVES: Mike O'Dea, Megan Quirk, Phyllis DiCesare, Justin Jones & Jim Carter HONORABLE MENTION: Larry Price
THE NUMBERS 
Tuesdays Broadcast Top 5
All Star Game-FOX 3.0/10.9
America's Got Talent-NBC 2.0/8.4
The Night Shift NBC 1.2/6.2
Celebrity Wife Swap-ABC 1.0/3.3
NCIS-CBS .9/7.9
Tuesday's Cable Top 5 American Dad- Adult Swim 1.1/2.3
Big Bang Theory-TBS 1.0/2.7
Deadliest Catch-Discovery 1.0/2.8
Pretty Little Liars-1.0/2.1
Haves and the Have Nots-OWN .9/3.1
Tuesday's Twitter Top 5 Primetime Ratings  Pretty Little Liars-ABC Family 261,000 Tweets Finding Carter-MTV 81,000 Tweets Bad Girls Club-Oxygen 60,000 Tweets America's Got Talent-NBC 19,000 Tweets Daily Show with Jon Stewart-Comedy Central 6,000 Tweets
THE SHOWS  Big Brother 
Thoroughly enjoyed Nicole, aka outlet snout, in her frog costume. It's much better than the unitard or the banana suit

Thanks for the clarity Donny, I wouldn't have guessed that you and Amber were JUST friends. 

I had to look up Donny's age. I keep thinking he's younger than he is because of his childlike innocence, or maybe it's just the southern drawwwwwl, but he's 42! 

Has anyone ever been sick in the Big Brother house before? 

I really didn't need to see Jacosta without makeup or her vomiting, but worse than both of those was the horrific sound of her crying. Who cries like that? She was NEVER going home. 

Caleb was so sweet and cute with Jacosta. I love him pretty much no matter what he does. Yes, even as a sheik with a scarf on his head and even pouting about Amber not loving him as much as I do.  

Amber WHY don't you like him??? 

Ohhhhh, Amber likes Cody. I get it now. 

New nickname alert: Home Skillet…try using it today. 

I officially freaked out when Cody suggested getting Caleb out of the house. You're dead to me Cody. 

Team America Zac is Amanda's cousin challenge: SUCCESS 

SHOCKER OF THE EPISODE!!!! Victoria was in the show last night 

Donny is the MAN isn't he? 

Team America's mission this week is tough. Get either a floater or physical threat put up on the block. Good Luck Team America

The dice POV challenge was tough. Who thinks of these things?  

The sets this season are over the top. I really want to know how long it takes to set them up 

Cody made a great pit boss and then a great stripper. I could see why Amber has a thing for him, but he's no Caleb. 

Loved that Donny kicked Devin's ass in the final POV

Was Donny kidding about being Kelly Pickler's janitor? 

Did you catch the giant bandage under Devin's arm? What was that about? 

"You may not be the brightest crayon in the box but at least you're in the box". Is that a complement? I don't get it. Caleb's Mom will explain it to me when he brings me home to meet her. 

Last night's hilarious hashtag: #oldmanbeatdown 

Jacosta's second round of crying was even more ridiculous 

How many times did Devin say daughter last night? We made it a drinking game and I lost count. 

Donny's Harvard Medical T-shirt cracks me up. Wouldn't it be awesome if he really was  a doctor? 

Veto meeting was anti-climactic. Did we even need all the speeches? Jacosta came off  the block and Devin went up. Done roll credits. Unfortunately we had to deal with more of Jacosta's nails-on-a-chalkboard crying before we got to flip over to the ESPY's. 
The ESPY Awards
Sports clip packages are so awesome to watch. Chills that just don't go away. I wonder how long it took to put the ESPY's opening package together? Well done! 

Drake is one of the most comfortable people on a stage don't you think?  

Hard to tell if the athletes in the house actually enjoyed being there? Rough crowd. Not a lot of enthusiasm. Was it me? 

Cameron Diaz and Jason Siegel actually seem like a married couple to me and I haven't even seen Sex Tape yet

Best Breakthrough Athlete-Richard Sherman. Man, the other athletes just didn't look happy for him. 

I had to look it up: LOB = Legions of Boom (Seattle's secondary) First I thought he was saying LL Bean  

The Drake & Blake (or Blake & Drake) bit was really pretty good. Blake Griffin's a lot funnier than I thought

I still can't stand Chris Brown

Jessica Alba is GORGEOUS 

Best Moment: tears watching Mariano again, tears watching Kevin Durant again, no tears for Ghana vs. the US (I was one of the few Americans who didn't watch one second of the World Cup). USA vs. Ghana? No way that moment was better than Mariano or Durant. BS

I love Jeff Bridges.

Pat Tillman Award for Service: Josh Sweeney. Thank You Josh! Amazing story. 

Drake's introduction of Floyd Mayweather and Maria Sharapova was good, but just the two of them together at the podium would have gotten laughs. She could have picked him up and stuffed him in her handbag. 

Best Game: Auburn vs. Alabama

Dan Marino was WAY too tan. 

Kevin Durant looked like he could barely walk didn't he? Those giant legs are probably really hard to maneuver 

Best Record Breaking Performance: Peyton Manning

Drake came out in my grandmother's PJ's to perform "Honorable Mention" You know that one's going viral right? 

The Rock (give me his real name for some bonus points) presented the Arthur Ashe Award for Courage to: Michael Sam. I got the chills and shed some tears all over again. Standing O. 

Damian Lillard sportin a plaid jacket.  

Who played Bernie Champion in the Manny Paquino sings "Let it Go" sketch? BONUS POINTS!

Victor Cruz and Jim Parsons were an interesting pairing. 

Best Play: All of them were CRAY CRAY!  But the winner was Chris Davis from Auburn

More R2SPECT hat tipping for Jeter at the ESPY's.  

I need to follow Drake on Instagram. He apparently has a thing for WNBA star Skylar Diggins 

Chrissy Teigen must have had super glue on that jacket to prevent a MAJOR wardrobe malfunction from occuring

How long do you think it takes Colin Kaepernick to shave and shape that beard? Is a special razor needed? 

Best Female Athlete: Rhonda Rousey 

Lundquist!!!! I hate hockey but he's hot. Jordana Brewster looked terrible, didn't she know she was going to be with Lundquist?

Best Comeback Athlete: Russell Westbrook in a very interesting pajama top. We froze our screen and can confirm that those were roses on his shirt. 

Chris Berman honored Tony Gwynn. I'm glad he did. I was sort of annoyed it wasn't done at the All Star Game

Jack Bauer just saved the planet, but I guess the Russian's are going to begin the torture after the ESPY's he presented the 

Jimmy V Perseverance Award went to Stewart Scott. His story killed me. I forget he's sick. Once his daughter started crying, so did I.  I love that he loves Jack Bauer as much as we all do. Impressive speech Mr. Scott. Anyone NOT cry?

Danica Patrick bugs me

Best Male Athlete: Kevin Durant who still seemed to have trouble maneuvering those ginormous legs to accept his award. 
Melo and Dr. J. together presented Best Team to: The Seattle Seahawks
THE OTHER STUFF
-Hey Big Bangers (Is that what fans of BBT are called? If not, they should be)  There's some trouble brewing.  A bit of a salary standoff happening right now. Johnny Galecki, Kaley Cuoco and Jim Parsons are looking for a 700K  raise per episode AND a piece of the back end. The other guys are looking for raises too, just not as much. Filming starts in 2 weeks. I'm betting they reach a VERY good deal somewhere in the 700-750 per episode range. What do you think? 
Thursday's Trivia Question

: This one was sent in by loyal reader, Justin Jones. It's a REALLY good one! Seinfeld + True Blood=?

WWTM-Kristy

Like me on Facebook at Watching Way Too Much

Follow me on Twitter at [email protected]

http://watchingwaytoomuch.com

[email protected]