I look forward to making breakfasts.
It's the only time i get to play in the kitchen and prepare a meal.
I can never prepare dinner. Because by the time i get off work and reached home, dinner would turn to supper.
Breakfasts are different.
No one dictates what time i wake up. I can get up really really early if i wanted to.
Then proceed to my wonderland of a kitchen.
Today, the wonderland seen some chocolate.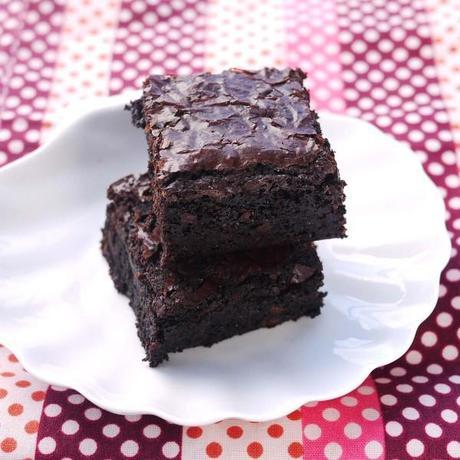 And if these brownies already look perfect with their shiny, crackly top and deep, fudgy insides,
they are made even better, because they have hidden surprises.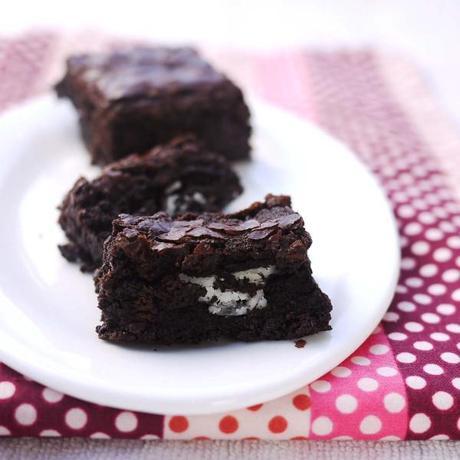 See the whites in the brownies?
They are none other than oreo cookies, the nation's favourite cookies!
Brownies for breakfast. That's a load of fun isn't it?
But of course, we can't only have brownies for breakfast. Cause we are grown ups and we do not want  tummy aches.
Here is a grown up breakfast,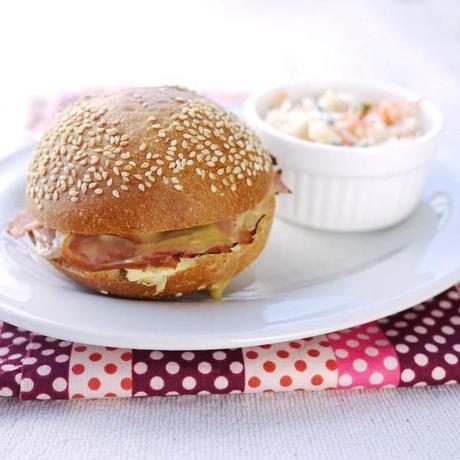 A ham and cheese sandwich.
I took a store-bought bread, sliced it into half, spread cream cheese on either side, slapped on some ham and cheese.
I wrapped the whole sandwich in foil, then placed it in the oven to get the cheese melting. I like warm sandwiches more than cold ones.
And of course, no meal should come unaccompanied by your greens.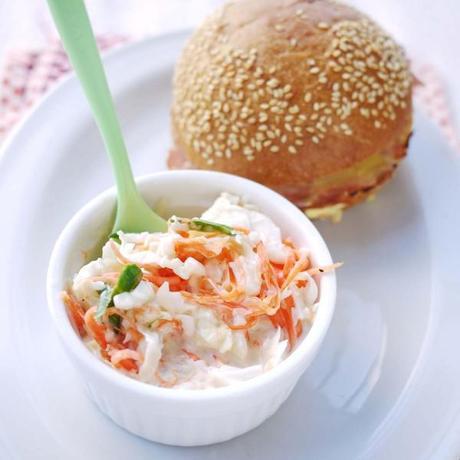 Or whites in this case.
Doesnt matter, cause i am pretty damn sure white cabbage is part of the green family.
I am also quite surprised at how easy to make coleslaws are!
I shredded half a cabbage, and a whole carrot. And instead of red onions, i decided on the milder scallions as i didnt think anyone would like morning onion breath.  
As for the marinade, all it took was some mayo, some white vinegar, sugar, salt and pepper! Nothing fancy at all in this ingredient list.
I let my greens (or whites) sit in the  marinade overnight in the fridge, just to get the max flavour out in the cabbage. =)
So yupp, that was breakfast.
And here's the whole crew hanging out together like a happy family.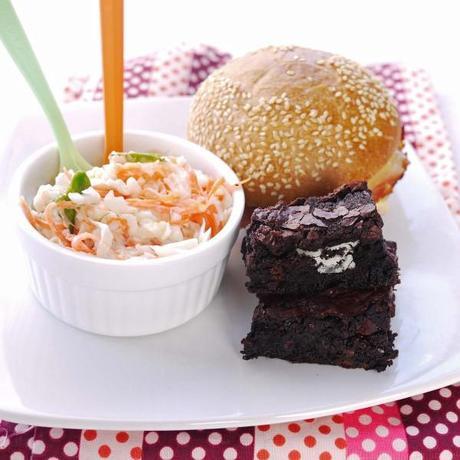 Oreo-Stuffed Brownies
Recipe taken from Sing for your Supper
1 cup (2 sticks) unsalted butter
2 1/4 cups sugar
4 large eggs
1 1/4 cups cocoa powder
1 teaspoon salt
1 teaspoon baking powder
1 teaspoon espresso powder, optional
1 tablespoon vanilla extract
1 1/2 cups flour
1 cup chocolate chips
1 package Oreos (Double Stuff is best!)
Preheat the oven to 350 degrees. Lightly grease a 9×13 pan.
In a medium-sized microwave-safe bowl, or in a saucepan set over low heat, melt the butter, then add the sugar and stir to combine. Return the mixture to the heat (or microwave) briefly, just until it's hot, but not bubbling; it'll become shiny looking as you stir it. Heating the mixture a second time will dissolve more of the sugar, which will yield a shiny top crust on your brownies.
While the sugar heats a second time, beat the eggs, cocoa, salt, baking powder, espresso powder, and vanilla until smooth. Add the hot butter/sugar mixture, stirring until smooth.
Add the flour and chips, again stirring until smooth.
Spoon half of the batter into the greased pan. Place the Oreos in even rows across the batter (as many as you can fit). Pour the remaining batter over the Oreos and gently spread to the edges of the pan. Bake for about 35-40 minutes, until a cake tester inserted into the center comes out clean. Cool the brownies for at least 10 minutes before serving.
Coleslaw
Half a head of cabbage
One Carrot
One Scallion blade
Coleslaw Marinade:
1 C mayonnaise (I used Best Foods Mayonnaise)
1/4 C White Distilled Vinegar
1/4 C Sugar
Salt and Pepper to taste
Shred the cabbage and carrot (I used a mandolin slicer). Chop the scallions. Mix them together.
Rinse and drain the vegetables.
In another bowl, whisk the mayonnaise, vinegar, and sugar.
Pour the mayonnaise mixture into the vegetables, season with salt and pepper, and let it sit overnight in the fridge.  
Serve chilled.