Bicol Express: Day 6. April 30, 2012. 11:00+AM. 
Hello Mayon Volcano.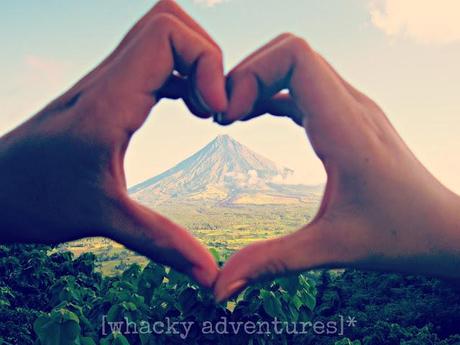 We [heart] Bicol.
Since we live down south [Cebu], Mayon Volcano was just a product of our colorful imagination back when we were still graders. It was just a part of the postcards we need to collect for our Civics and Culture class. So imagine our faces when we finally saw the famous
Mayon Volcano
from 
Cagsawa Ruins.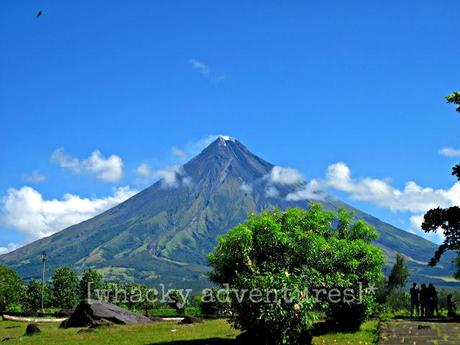 Cagsawa Ruins
The Cagsawa Ruins (also spelled as Kagsawa, or Cagsaua) are what remains of an 18th century Franciscan church [Cagsawa church] which was built in 1724. It got destroyed by the 1814 eruption of the Mayon Volcano.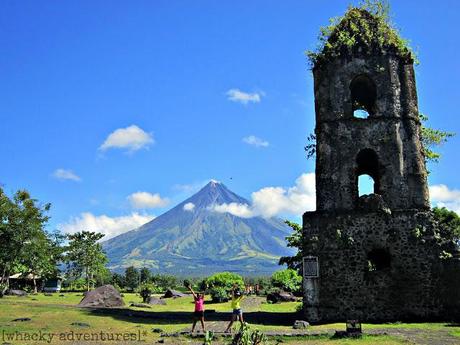 Imagine how destructive it must've been that only the bell tower was left uncovered by volcanic debris.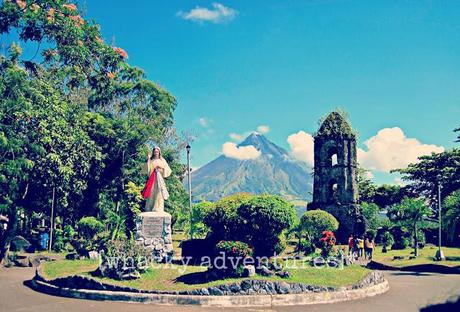 This serves as a reminder of how destructive the beautiful and seemingly calm Mayon Volcano can get.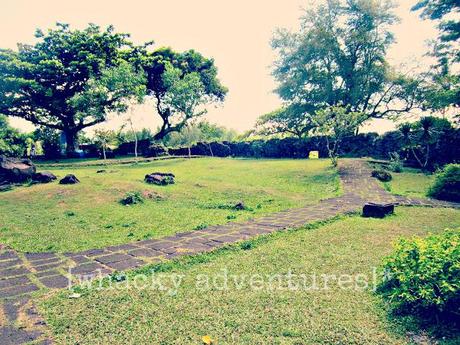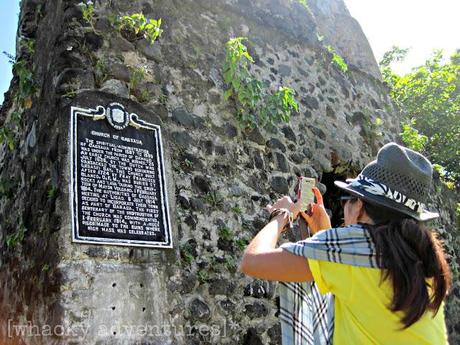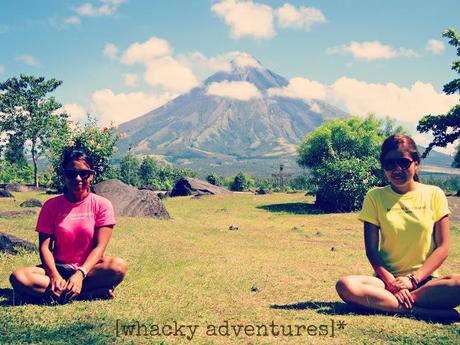 Aside from just taking pictures and getting mesmerized by Mayon's grandness, you can opt to take the tour package which will bring you to the foot of the volcano through
ATV.
 Just like what Chyng and Hannah did in one of the episodes in #Phl360.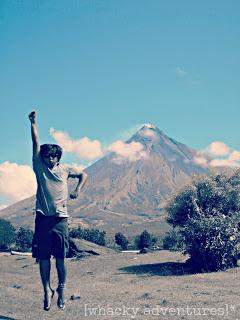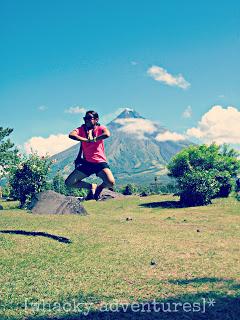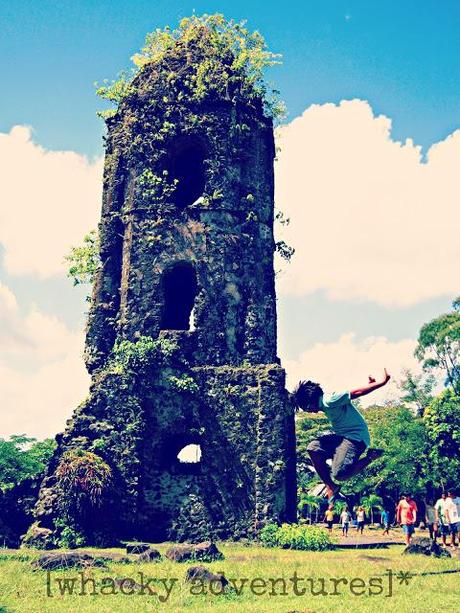 POINT A to POINT B: Getting to Cagsawa Ruins from Lignon Hill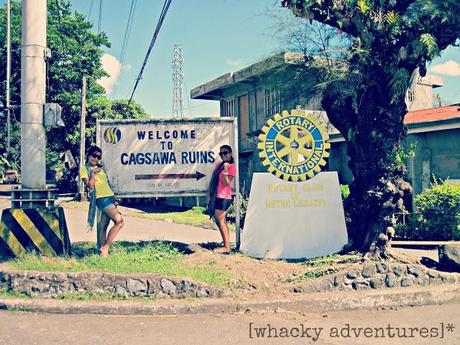 From the entrance of Lignon Hill, take a jeepney bound for Binitayan. Check the jeepney placards or ask the driver before boarding. Ask the jeepney driver to drop you off at the Elementary School.
From Binitayan, take another jeepney going to Cagsawa. Just inform the driver to drop you off on the corner going to Cagsawa Ruins. Be on the look out for Oas or Polangui on the signboard. To be sure, ask before boarding the jeepney.
When you see the big wheel with the Cagsawa Ruins sign, hail a pedicab going to the actual site.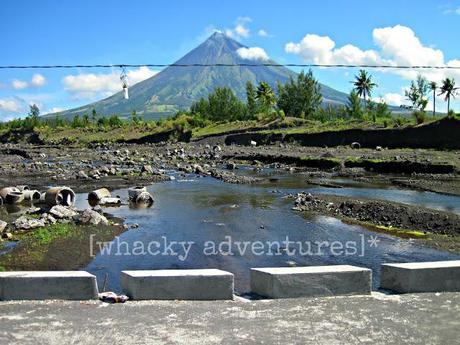 view of the towering Mayon Volcano on the way to Cagsawa Ruins.
Bicol Express: Day 6. April 30, 2012. 1:00+PM. 
HOMEWARD BOUND.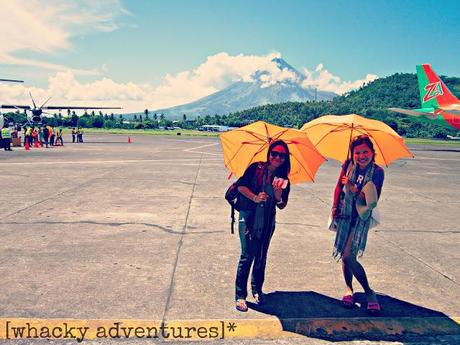 With the help of Ate Daisy of Island Wonders, we were able to score window seat on our plane back home to Cebu. Our final walk going to the plane was bitter-sweet. Happy with experience, but sad for finally it was time to wake up to reality. The turbines turn and the flight attendant started their airplane safety spiel, marking the end of that wonderful trip.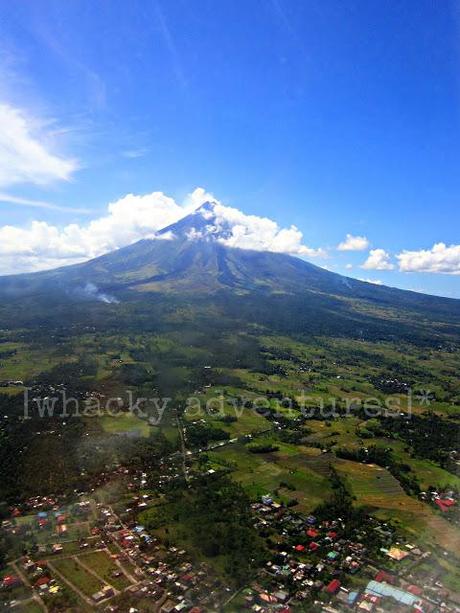 Aerial view of Legazpi + Mayon Volcano.
Dios Mabalos Bicol!
[Thank you Bicol!]
Whacky Adventures* recommends:
Your Brother Travel & Tours [ATV Tour]
(052) 820.3629
0922.898.7071 | 0905.455.7594 | 0915.938.6451
[email protected]
Bicol Department of Tourism
(052) 482.7012 | (052) 481.5593
[email protected]
www.bicol.com
Whacky Notes: [
EXPENSES]
Lignon Hill to Binitayan Elem School [Jeepney] = 24.00 / 3 = 8.00 each
Binitayan Elem School to Cagsawa Ruins drop-off 
[Jeepney] = 24.00 / 3 = 8.00 each
Cagsawa Ruins drop-off to Cagsawa Ruins proper 
[Pedicab] = 24.00 / 3 = 8.00 each
Cagsawa Ruins Entrance Fee = 30.00 / 3 = 10.00 each
Brunch = 180.00 / 3 = 60.00 each
Cagsawa Ruins proper to 
Cagsawa Ruins drop-off
[Pedicab] = 24.00 / 3 = 8.00 each
Cagsawa Ruins drop-off to Sampaguita Inn
[Jeepney] = 27.00 / 3 = 9.00 each
Sampaguita Inn to Legazpi Airport [Pedicab] = 300.00 / 3 = 100.00 each
Bicol Express Series:
Roadtrip up north [teaser]
Day 1: Vamoose! to Camarines Sur, we go! Day 2: Arya! Dolphin sightings on the way to Sorsogon
Day 2: Larga! Multi-stop over Sorsogon to CamSur
Day 2:
 Sun-less wakeboarding at CamSur Watersports Complex
Day 3:
 Caramoan bound: Getting to Caramoan in 1 piece.
Day 3:
 Caramoan West Peninsula Villas Day 3: Spending one lazy afternoon in Caramoan
Day 4: Caramoan Islets 1: Long wait finally over!
Day 4: Caramoan Islets 2: Long wait finally over! Day 5: Sea to Summit: Caramoan Island  to Mayon Volcano
Day 5: Mayon Volcano from Cagsawa Ruins