April 26, 2012. 11:30+AM. Pilar Port, Sorsogon
Touchdown Sorsogon!
after 4 hours++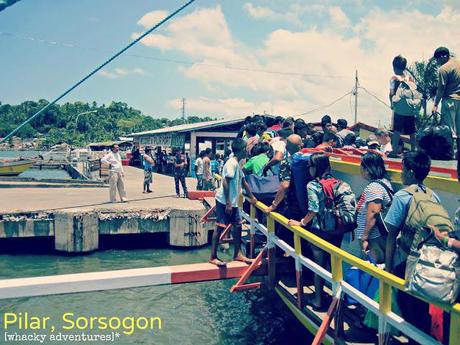 babaan na!




Sorsogon is at the tip of the Bicol Peninsula and faces the island of Samar to the southeast across the San Bernardino Strait and Ticao Island to the southwest. Sorsogueños is how the people of Sorsogon call themselves. --from Wikipedia
 

Famous for Donsol's Whale-shark encounters. :] 
Like the trip to Masbate, this is just a stopover to our main destination -
Camarines Sur. 
Since we haven't had a formal meal in over....something hours, we decided to grub on cooked meals over a local diner.
Naks!
This also would buy us time to map out how to get to CamSur from Sorsogon.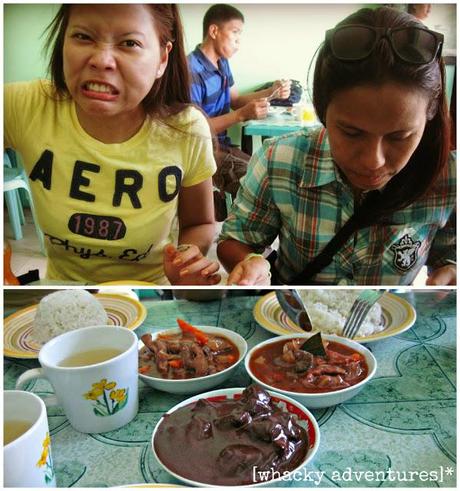 caption this.
We asked the lady
servidora
 for directions, while answering their basic questions - where we came from, where we're heading, why are we doing this..etc. We initially planned to visit some local churches in Sorsogon but this won't fit in our tight schedule. No whale shark watching for us as Donsol's a considerable distance from Pili.
Kaya,
we decided
na dire-diretso na 'to sa jackpot round.
Rommel, a policeman local to Naga but got assigned to Cebu, helped us map our way to Naga.
Option 1: Bus going to Cubao, Manila
.
Advantage
= No cutting trips as the bus will pass by Naga. Less hassle because we just have to wait 'til we reach Naga.
Disadvantage
= A bit longer travel time considering the bus needs to pick up some passengers on the way. Travel time = approx 4 hours.
Option 2: Cutting trip via van [vhire] from Pilar to Daraga, Albay to Naga, CamSur.
Advantage
 = Lesser travel time. No stop-overs. No passenger pick-up along the way. Cheaper over-all fare.
Disadvantage
 = We have to cut trips. Hassle.. Over-all travel time = approx 3 hours.
We chose to option 2 because of the travel time and fare. Nevermind the hassle, we already briefed each other regarding this. Hopped on a van across the local diner, then....
Off to Daraga Albay, we go!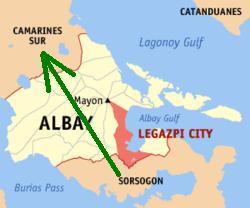 Time Check: 12:00PM ++.
Pilar Port, Sorsogon - Daraga Terminal, Albay
Estimated Travel Time: 1++ hour
No pictures. Too busy sleeping. ;]
Time Check: 1:30PM ++.
Touchdown Daraga, Albay!
Near Daraga Terminal, there was this temple that caught my attention - Macho Temple. I would have wanted to explore the place but due to time constraint, I have to drop off what my curiosity begged. 
We wasted no time and hopped on another van to Naga City Terminal.
Time Check: 1:45PM ++.
Daraga Terminal, Albay - Naga City Terminal, CamSur
Estimated Travel Time: 2++ hour
Thanks to Bob Ong's books and Glaire's iPhone [temple run]  for saving my sanity. I can't contain the excitement evident in the picture below.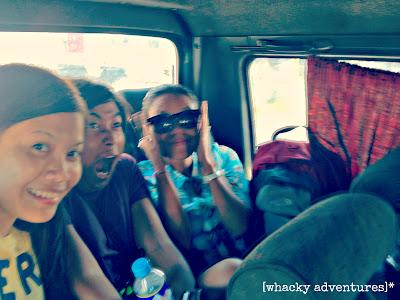 lol guy in the house, yoh!
Everything is big in Albay. Saw a giant sardine can, soy sause and vinegar bottle.
Naisip ko tuloy, baka pwedeng dalahin yon pauwi. Saktong isang buong taon ko na hindi pro-problemahin ang ulam. ehehehe..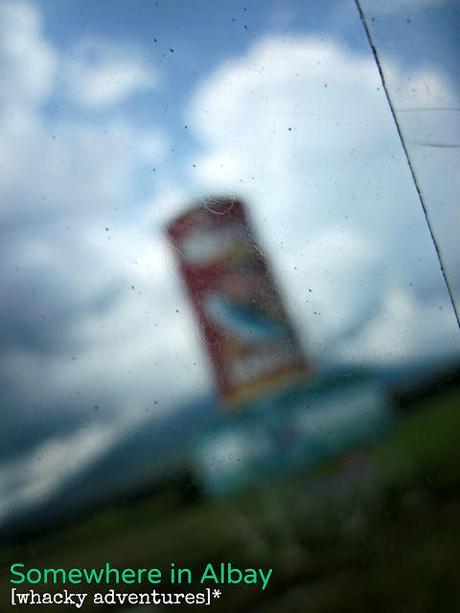 hulaan mo anong brand.
Mayon peeked once in awhile. Wondered what it would be like to actually climb it. Can't stop but feel intimidated and at the same time, amazed with its size. It's scary to think that it might blow up any time.  
Noon, sa postcard ko lang ito nakikita. Ngayon, abot kamay ko na siya. Ows.:]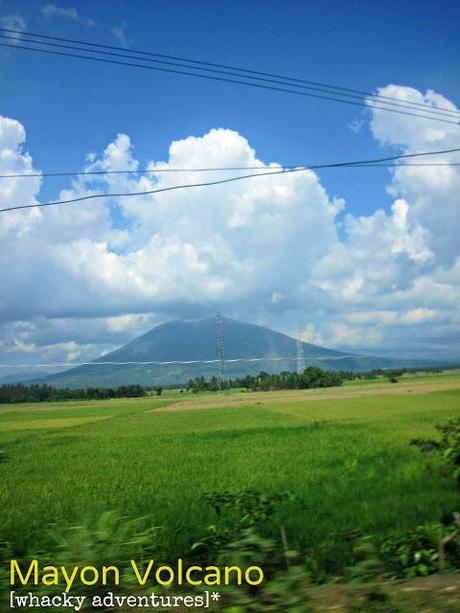 April 26, 2012. 04:00++ PM. 
Touchdown Naga City!
after almost 3 hours ++
...aft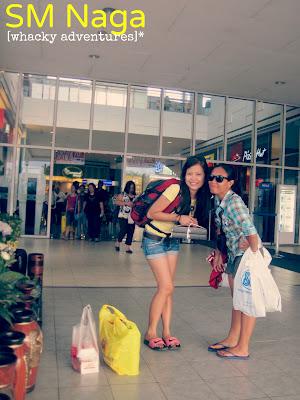 The van terminal is right across SM Naga. We took for a quick stop for supplies and dinner then off we go to our next stop.....
..to be continued.

Bicol Express Series:
Roadtrip up north [teaser]
Day 1: Vamoose! to Camarines Sur, we go! Day 2: Arya! Dolphin sightings on the way to Sorsogon
Day 2: Larga! Multi-stop over Sorsogon to CamSur
Day 2:
 Sun-less wakeboarding at CamSur Watersports Complex
Day 3:
 Caramoan bound: Getting to Caramoan in 1 piece.
Day 3:
 Caramoan West Peninsula Villas Day 3: Spending one lazy afternoon in Caramoan
Day 4: Caramoan Islets 1: Long wait finally over!
Day 4: Caramoan Islets 2: Long wait finally over! Day 5: Sea to Summit: Caramoan Island  to Mayon Volcano
Day 5: Mayon Volcano from Cagsawa Ruins