No, we didn't actually drove up to northern Philippines. For one, I don't know how to drive and two, I don't own a car. :]
The Plan.
Get to Camarines Sur the old fashion way - that is, to travel via boat, bus, v-hire,
habal-habal, 
tricycle, bike, or by foot from Cebu to Camarines Sur in one piece.
It started out as a dream vacation but it ended as a would-be backpacker's adventure. Unanimously, Riz, Glaire and I agreed on this getaway with a special twist - booked a flight one-way only.
Obviously, all us wanted to be in our comfort zone when having a vacation. But what makes it all worth-it are the twists, turns, bumps and bruises we gather on each journey; much more like life.
That's what we aim for - more 
bruises and insect bites
 memories we'll have at the end of the trip.
Magutom na ang magutom, madapa na ang lampa, basta walang aayaw. >:]
mandatory traveller shot. #tryinghardbackpacker
Day 1. April 25, 2012. 6:48PM. Tourist Cabin 97. TransAsia Shipping 2. Cebu Port.
Cebu -Masbate City
Estimated Travel Time: 11+ hours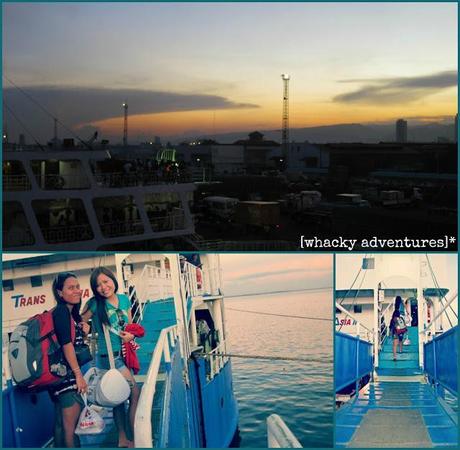 a journey has to start somewhere.
Bound for Masbate City and cramped in my own little bunk amidst 2 other travelers [Riz and Glaire], I write this entry to start off our adventure. We already have an itinerary planned out for us but we're all up for anything that would happen which is not part of our original plan.
We simmer the night with endless chuckles and updates about our personal lives. With a Jollibee Yum Burger [light plugging] on my hand and seeing the two girls catch up,  I couldn't wish for any other place I'd rather be than here. Paranoid as these girls are, we tuck in with our bags right beside us. While they were all busy chatting, I write this entry as an attempt to document this trip.
Both excited and tired, my mind flies off to what things await us tomorrow. I smile at the thought of frantically catching time and rides to arrive in our destination as scheduled. Tomorrow is going to be a busy day. :]
Curtains closed. Sleeping bags zipped. Bags secured. I'm all ready for slumber. Goodnight and goodbye Cebu. Hello Masbate-Sorsogon-Camarines Sur tomorrow.
It's going to be a haaaaaaaaaaaaaaaaaaaaaaaaaaaaaa......... ZZZzzzzZZZzZZZzZzzz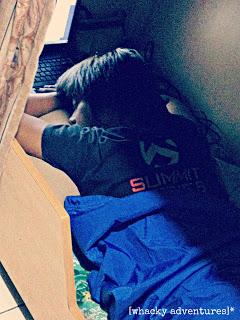 kung sa tingin mo natutulog ako, pwes, tama ka. :D
Whacky Notes: [
EXPENSES]
Taxi to Pier 5 - 200.00 Terminal Fee - 25.00 Boat Fare Cebu-Masbate - 860.00 Dinner. fastfood. - 200.00 /  3pax = 67.00

Bicol Express Series:
Roadtrip up north [teaser]
Day 1: Vamoose! to Camarines Sur, we go! Day 2: Arya! Dolphin sightings on the way to Sorsogon
Day 2: Larga! Multi-stop over Sorsogon to CamSur
Day 2:
 Sun-less wakeboarding at CamSur Watersports Complex
Day 3:
 Caramoan bound: Getting to Caramoan in 1 piece.
Day 3:
 Caramoan West Peninsula Villas Day 3: Spending one lazy afternoon in Caramoan
Day 4: Caramoan Islets 1: Long wait finally over!
Day 4: Caramoan Islets 2: Long wait finally over! Day 5: Sea to Summit: Caramoan Island  to Mayon Volcano
Day 5: Mayon Volcano from Cagsawa Ruins