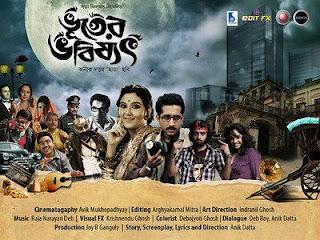 Contemporary
Bengali cinema
has finally moved beyond those prosaic storyline and other nuances of modern film-making. The result of which are movies like Antaheen, Autograph, Moner Manush, 22 Se Shrabon, Memories in March et al. Bhooter Bhabishyat is one such effort from Anik Dutta.
The unusual storyline of Bhooter Bhabishyat follows the lives of a group of spirits who have found a resting place in their afterlife in a dilapidated mansion called Chowdhury Palace. When an unscrupulous builders, Mr. Bhutoria, decides to break it down in order to erect an artifact of modern monstrosity (a shopping mall in this case), all of them take a stance against him. Now what they do to save their habitat is what makes up the rest of the story of of this movie.
Bhooter Bhabishyat
, which means the future of the past, also portrays the dying spirit of Calcutta, where old, heritage buildings are being torn apart everyday to build shopping malls, high-rise apartments etc.
Whether you enjoy Bhooter Bhabishyat as a rib-tickling surreal
comedy
, or whether you decide to ponder over the satiric undertone is upto you. But either ways, you are sure to find enough moments in this movie to cherish afterwards. Anik Dutta, a fresh face in the Bengali movie industry, whose next venture called
Hemlock Society
is due release in a few days, has taken enough care to paint each screen with its appropriate color. It was not at all easy since this movie spans various eras, from the 60s to the 70s, 80s and the 90s, and Anik's task was to depict correctly the spirit(!) of that era. From Kadalibala Dasi (played by
Swastika Mukherjee
), a movie star of the 60s and a muse of a Babu who had abandoned her a long time back to Pablo Patranabis (played by Samadarshi Dutta of Ichhe), a guitar playing activist who died of a drug-overdoes or Koel Dhar (played by the beautiful belle Mumtaz Sorcar) of modern India who committed suicide because of losing the love of her life only to realize after her death that he has cheated on her, the characters are pretty colorful. The music by Raja Narayan Deb is quite refreshing, especially when Pablo and Mr. Ramsey (George Baker) of the British India Company starts playing Purano Sei Diner Kotha and Auld Lang Syne together deserves a special mention. Also we have some versatile actors like
Parambrata
, Paran Banerjee, Saswata Chatterjee as Haath Kata Karthik and ofcourse Mir as Mr. Bhutoria. The story of Chowdhury Palace is narrated by Sabyasachi Chakraborty in his ethereal self.
Towards the beginning of the second half of the movie, Mr. Bhutoria (Mir) meets Promod Prodhan (Kharaj), a local political hoodlum. The dialogue that follows would make you laugh till your jaws ache. And such scenes are interspersed throughout the movie so that you just can't stop laughing. The credit goes to, once again, Anik Dutta for such a hilarious screenplay.
Bhooter Bhabishyat is supposed to be a tribute to one of the masters of Bengali cinema,
Satyajit Ray
. It somewhat reminds us of
Goopi Gayen Bagha Bayen
's Bhooter Raja. So in that way, it an aptly paid tribute to the legend himself. Now we will wait for Hemlock Society to entertain us once again like Bhooter Bhabishyat did and would continue to do every time we would watch it.