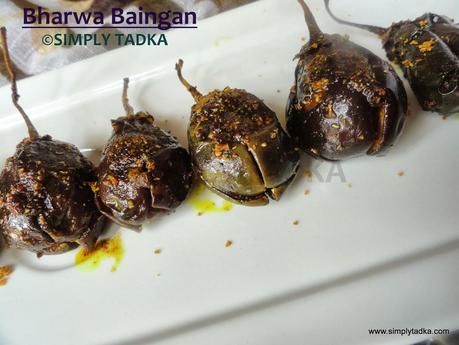 I love baingan and "Bharwan Baingan" is my favorite recipe which very popular in North India, completely spicy and dry brinjal recipe which sauté in spices and mustard oil. It is a simple way to cook baingan with spices and serves as side dish with parathas, gravies and curd in lunch or dinner menus. 
You need baby eggplants for this recipe. I love to cook stuffed recipes especially eggplants in mustard oil which gives smoky taste and enhance the taste of recipe. You can call this recipe bharwan baingan, stuffed baingan, masaledaar baingan and spicy baby eggplant too.
Eggplant not only serves delicious recipes but has a high nutritional value. Eggplants are rich source of vitamins and minerals. The macro nutrients found in eggplants are copper, manganese, magnesium, calcium and potassium. Like other vegetables, eggplants are also laden with multiple nutrients.
Preparation Time: 15 minutes
Cooking Time: 20 minutes
Servings: 3
Category: Veg Curry
Ingredients:
250gm Baby Eggplant
2 Tbsp. Oil/ ghee
1/2 Lemon Juice
3 Tbsp. Coriander Powder
1 1/2 Tbsp. Raw Mango powder
1/2 Tbsp. Turmeric Powder
1 1/2 Tbsp. Red chili Powder
Salt to Taste
2 Tbsp. Mustard Oil, for frying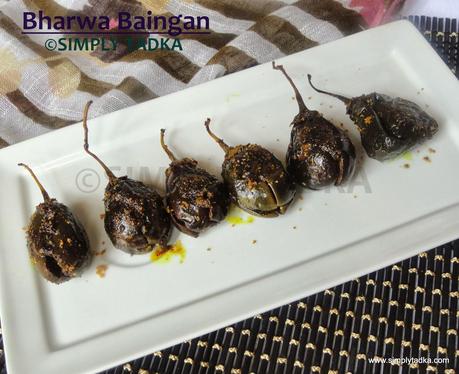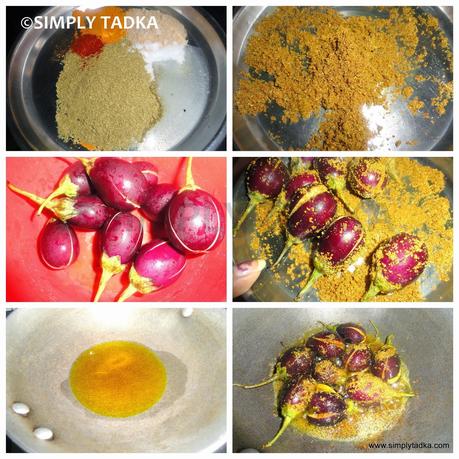 Instructions:
Wash and clean the baby brinjal. 
Cut them in to criss-cross slits, without removing segments.
Combine all ingredients together except eggplants, lemon juice and mustard oil.
Stuff the slits with prepared spices and keep aside.
Heat the mustard oil in pan when oil starts burning, place brinjal one by one.
Sprinkle remaining masala on the top of brinjals.
Cover and cook for 15 minutes at least until to soft.
Add lemon juice and garnish with coriander. Serve it with chapatti.
Note:
Adjust the spices as per your taste. You can replace the mustard oil with canola oil but mustard oil 
enhance
 the taste and gives smoking look.
Tags: How to cook baingan, baingan recipes, brinjal recipes, bharwan baingan, stuffed spicy brinjal recipes, dinner meals, easy eggplant recipe, spicy eggplant curry, how to prepare baingan, stuffed brinjal or eggplant recipe at home, step by step brinjal or baingan recipe, maincourse recipe, easy main course vegetarian meals, stuffed baby baingan, masala baingan recipe.
Enter your email address:
Delivered by
FeedBurner