April 24, 2011. The day Sri Bhagawan Sri Sathya Sai Baba, the embodiment of love, peace, and sanctity left us. The day the color 'saffron' lost its brilliance, the day the color 'white' lost its abode, the day the humanity lost its leader.  The day I lost my life.
"You are seeking joy and peace in far-off places. But the spring of joy is in your heart. The haven of peace is in yourself" …………………………Bhagawan Sri Sathya Sai Baba
I have lost my heart, my Bhagawan, My Lord, and My Life – Please come back and lit the joy in my life.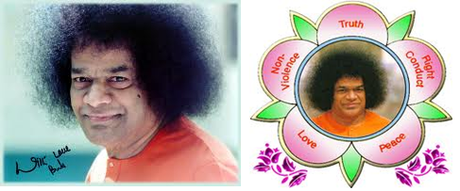 Bhagawan Sri Satya Sai Baba
Today, when I recall many sweet chantings like "Krishna Jai. Krishna Jai.  Krishna, Krishna, Krishna Jai" from His electrifying tone and as chorused by His disciple world, I am lost in myself.  My soul weeps at every thought, at every glance and at every sound representing my Bhagawan.  When can again I experience the loving gait of Him?  When can I enjoy the Godly, peaceful smile of Him?  When can I enjoy His every flowery movement and gestures addressing His disciples?  When can I listen to the invigorating, honeyed tone of Him?  When can I find His abode being ornated with His presence again?  When can I experience the sight of active spiritual corridors, sacred chants, loving thoughts, service hustles, and flourishing environs of Puttaparthi?
The true Leader of Humanity!  The true Leader of Reformation!  The only savior-being of this era!  Hey Bhagawan!  Will you appear back for us?  Will you again fill the holy moments of love, peace, and sanctity with your divine presence?  Can you hear our agony?
I am lost.  Do I need to prolong this life of mine when My Dear Lord, My Life and My Soul, Sri Bhagawan Sri Satya Sai Baba left me?  My heart weeps and my state of mind says:
"When you are lost in emotional warmth, when tears drench your body, when your heart goes heavy, when your voice is choked and when your tonal chords turn the sweetest ever, he has occupied you.  Let the moment not leave you.  Make it eternal.  Let the life be taken over by Him".
My mind left me for Him.  My body doesn't want to feel its weight.  I am not able bear the loss.  I twice had a close glimpse of Him in my life.  Luck didn't favor me again.  I am so unfortunate that I couldn't experience the living God while he was present.
I will follow His preachings through my life.  I know this is the only way to connect with Him.  Bhagawan ke bina anand nahi.  Still, I want to live my life just to remember Him every moment and to spread around me the love, peace and joy.
Sai Ram, Sai Ram, Sai Ram