Beyoncé brings her new album Lemonade's political and personal messages of feminine empowerment and self-acceptance to life in her Formation world tour kicking off in Miami, Florida end of April. Following the celebrated leather warrior jacket Dsquared2 created for Beyoncé's electrifying Super Bowl performance earlier this year, the opening look for the Formation World Tour embodies Dsquared2's signature design and Beyoncé's enigmatic new style.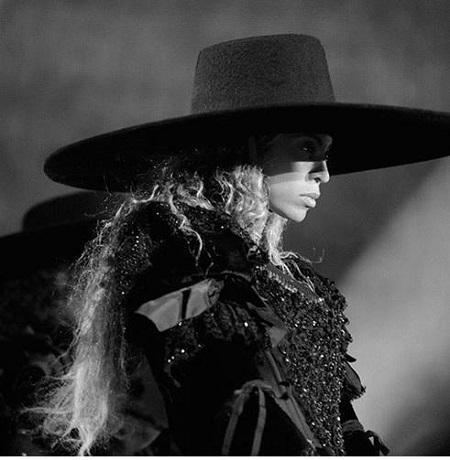 Beyoncé opens formation world tour in custom Dsquared2
Dsquared2 also designed the complimentary looks for her 20 female dancers. "We are crazy about Beyoncé, and working with her to create this opening look for the Formation tour is such a huge thrill and honor. The look tells a story, drawing from the motifs of our recent women's runway collection while, at the same time, visualizing the powerful themes in her new music.
It's really exciting to see it come to life on stage – especially since she opens the show in full Dsquared2," said Dan and Dean Caten.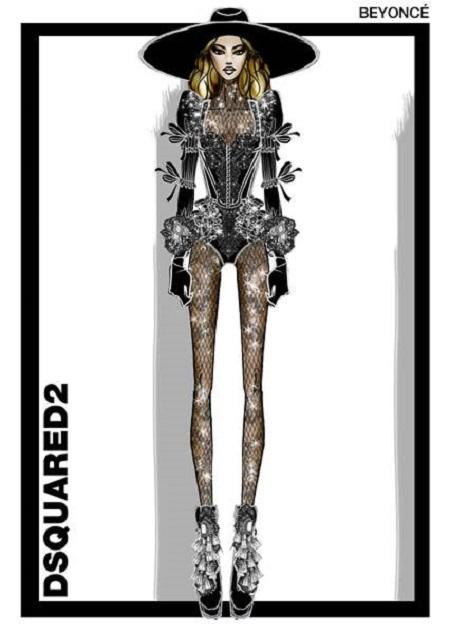 Beyoncé opens formation world tour in custom Dsquared2
Beyoncé wears an elaborate Victorian-inspired outfit comprised by a black crystal embroidered bustier with velvet, puff shouldered embroidered sleeves, broad brim hat, and lace embellished leather gloves. A tattoo lace bodysuit creates an embroidery effect on the skin while a crystal mesh fishnet bodysuit brings light to the look. Ruffled and jeweled black ankle boots finish off the look.
Beyoncé opens formation world tour in custom Dsquared2
Beyonce' s dancers complement her in a Victorian style black lace bodysuit with leather and lace gloves, a broad brim hat, and ruffled capelet with a bow at the neck. The Formation World Tour will visit 22 cities in North America and 16 cities in Europe and the UK until August 2016.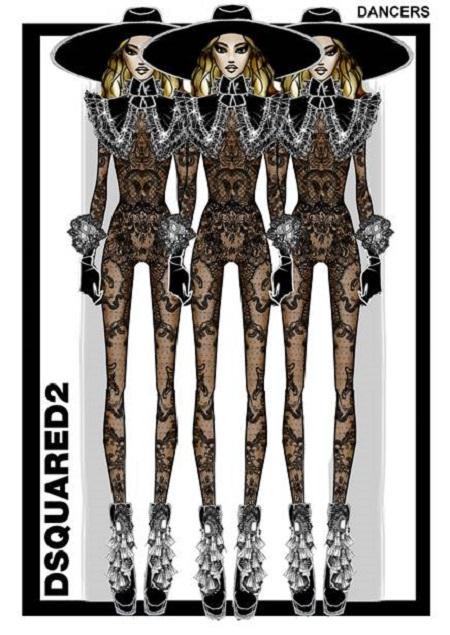 Beyoncé opens formation world tour in custom Dsquared2
Dean and Dan Caten, twin brothers from Willowdale in Toronto, started their path in fashion at the Parson's School of Design in New York City in 1984. Eight years later, the Canadian duo moved to Italy with their sights set on creating their brand. After collaborating with some of Italy's most celebrated fashion houses, in 1995 the designers presented their first men's collection under the label Dsquared2. The presentation marked the debut of Dsquared2's runway show extravaganzas, which captured the attention of journalists and buyers from around the world.
Dsquared2's philosophy is an edgy mix of Canadian iconography, refined Italian tailoring and playful sensuality. The collections are a seamless melding of contrasts: sporty and glamorous, laidback and extravagant, masculine and feminine, creating a distinctive concept of alternative luxury. Recently the Dsquared2 collections have gained a sophisticated edge while maintaining the sexiness embedded in the brand's DNA. Dean and Dan Caten divide their lives between Milan and London, and the Dsquared2 collections are produced in Italy, giving rise to the brand's motto of "Born in Canada, Living in London, Made in Italy".