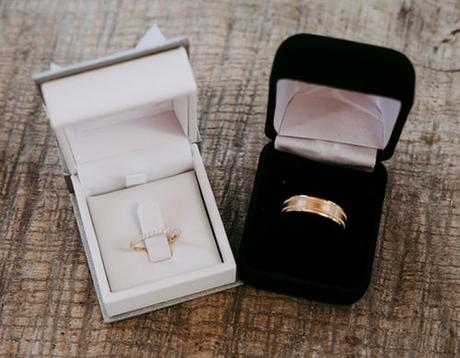 ​​Best Wedding Ring Engraving Ideas
Looking for a unique way to personalize your wedding rings? Considering getting it engraved? Engraving your wedding bands with something traditional, funny, romantic, or religious is a meaningful way to personalize your wedding ring. And since most rings get engraved on the inside, you can keep it private between you and your partner. It's almost like a thoughtful inside joke.
Below are some of the best wedding ring engraving ideas for you and your partner to get creative and find an engraving that works for you.
Traditional ring engraving ideas
Some of the most popular and traditional types of ring engravings are:
I love you/I love you always
Your anniversary date
My beloved
Until death do us part
Initials
Nicknames
Children's names
The title of "your" song
King/Queen
Funny ring engraving ideas
A few funny ring engraving ideas are:
Let's see how this goes
A deals a deal buster
Now you're stuck with me
Non-refundable
Romantic ring engraving ideas
If you're looking for a more romantic engraving consider these:
Deeply in love
Forever Yours
Forever mine
Love, honor, cherish
You are so beautiful to me
I promise to love you with all my heart
Soulmate
Heartbeat
Religious ring engraving ideas
Last but certainly not least, here are some religious ring engraving ideas:
Joined together under God
Bless this union
Together we are one
Holy grail
Get your ring engraved at RLJ
If are considering having your ring engraved, you need to consider whether or not your jeweler does ring engraving. And you also need to take into consideration the number of words and the size of the ring. Once you have those two components figured out you'll be ready to go ahead and get your ring engraved.
If you'd like to talk to us about getting your ring engraved chat with us during regular business hours, we can be reached by phone, email, or live chat. For after hour inquiries, please fill out our contact form and we will get back to you next business day.
Looking for more fun articles and tips on buying jewelry? Be sure to check out our latest 2018 holiday engagement ring buying guide here.
Areas we serve
We are located in southern Florida in the city of Boca Raton. We proudly serve Boca Raton and the surrounding following areas: Palm Beach, Fort Lauderdale, Miami, Broward, and Miami-Dade. Stop by and talk to one of our experts about engraving your ring today.