It doesn't matter whether you're going to spend the weekend at grandma's house or you're heading out for a trip around the world, you want to be comfortable, and you want everyone with you do be comfortable too. That includes even the smallest kids, which often necessitates bringing along their own bedding. In order to do this many parents opt to use the best travel crib.
Even when parents rely on hotels to provide beds, cribs are not always available, and in some places, the safety standards are not what they should be. Regardless, many parents take matters into their own hands by bringing a portable crib, which allows them to ensure that it is safe and decreases the chances that a child can come into contact with viruses and bacteria from previous users. Bringing a portable crib also gives your child a familiar place that is his own.
Things To Consider Before Selecting The Best Travel Cribs
Type:

There are many types of travel cribs available. Some just look like a miniature crib. Others resemble a tent or even cocoon. Some are very easy to fold up and carry, while others are so small that a child would feel too confined. You need to find a balance between these two extremes.

Ease of Use:

Another important factor in selecting the best travel crib is how easy it is to set up and put away. Especially if you spend a lot of time on the move, you won't want to be troubled with complicated assembly and disassembly.

Portability:

Weight and size of a portable crib is always important, but it is also important to know how you plan to move it around. For example, if you want to keep it in a bag or put it in the trunk of a car, you will need to have a crib that fits these intents.

Comfort:

When it comes to comfort, not all portable cribs were created equal. Some have mattresses that are too thin. Others simply don't allow air flow, which makes them stifling.

Age Range:

Although some portable cribs are large enough for nearly all small children, some are only appropriate for specific age ranges. This should be an important consideration for your selection.

Safety:

Safety is obviously one of the most important considerations in selecting a portable crib. Some brands make a special issue of meeting American standards. Others do not. You should make sure that the crib you select meets safety standards, such as not having a space between the mattress and side bars, and how sheets are held in place.
Recommended Best Travel Crib Reviews
Admittedly, these are a lot of things to consider when selecting a portable baby crib, but in the long run, but watching for these points you will be buying a crib that you will be satisfied with as the one best suited to your baby's needs and your peace of mind.
1. BABYBJORN Travel Crib Light, Silver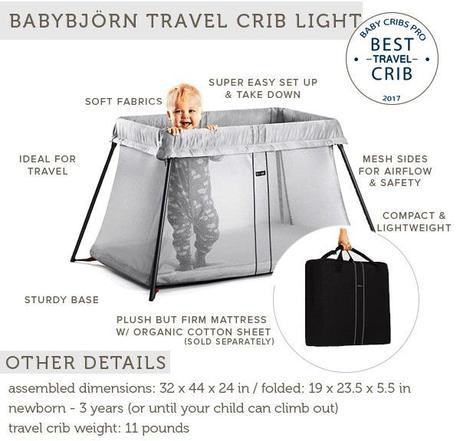 Editor Rating:

The BABYBJORN Travel Crib Light, Silver is the first on our list simply because it is one of the best travel cribs on the market today. Not only is it well designed, but it is also lightweight and comfortable. Not only is it built to be a travel bed, but it is also big enough to be used as a playpen. This portable crib is great for families who need a portable crib that is very durable and can be taken anywhere. This crib is also easy to assemble and can be taken apart for storage. This one is also easy to buy sheets for.
Pros:
Weigh is only 13 lbs that means you can easily carry it.
No loose parts to attach that means easy to setup.
It is made of soft and airy mesh fabric which allows baby to breathe through the fabric.
Cons:
Only BABYBJORN Fitted Sheet can be used for BABYBJORN Travel Crib Light.
Features:
Built to be lightweight and comfortable for baby
Can be used as a bed as well as a play area
Durable and can be taken anywhere
Best Price - Buy Now on Amazon
2. Lotus Travel Crib and Portable Baby Playard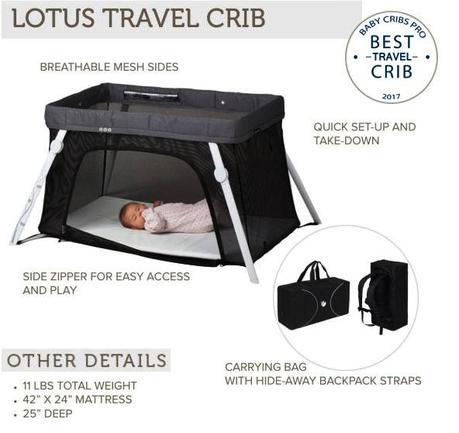 Editor Rating:

For ease of use and portability, there are few that beat the Lotus Travel Crib and Portable Baby Playard. It quite simply is easy to use and meets a lot of important standards. You can put this one together and set it up practically anywhere you want, and once you have it up, it's convenient for all uses. Baby can take a nap in this one while parents can have an eye on them at all times. Then, once naptime is over, the Lotus Travel Crib and Portable Baby Playard is a great play space. This one comes with sheets, a mattress, and a backpack for convenient carry.
Pros:
It takes only 15 second to setup with backpack portability
The Crib is certified to the GREENGUARD GOLD standard.
You can use it as baby playard also.
Cons:
There is a side door which can be zipped.
Features:
Portable and easy to use
Versatile for many uses
You can see baby all the time
Best Price - Buy Now on Amazon
3. Graco Travel Lite Crib with Stages, Manor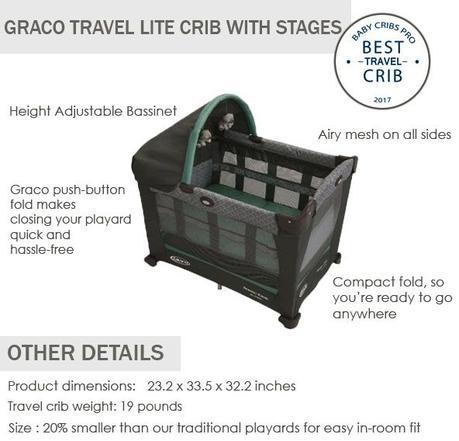 Editor Rating:

For a portable crib that is built to grow right along with your child, there are few that can beat the Graco Travel Lite Crib with Stages, Manor. With this travel crib, you don't have to buy new equipment every time your child grows. With this one, all you need to do is lower the level of the crib platform to keep your baby safe as they grow. This crib also converts to a play area when sleep time is over. It also has wheels on the bottom, which make it easy to move wherever you need it. It has everything, including a nice, thick mattress for comfort and wall as a bonnet to keep the light out of baby's eyes. And at less than 20 lbs., this one is easy to move.
Pros:
The crib has height-adjustable bassinet that means it grows with your baby.
It has a canopy on the bassinet to protect your baby from bright lights.
The crib is integrated with a cute toy bar to engage your little one.
Cons:
The crib comes with fixed wheels and feet.
Features:
Versatile, grows with your child
Converts to a play area on demand
Wheels mean it can be moved anywhere
Best Price - Buy Now on Amazon
4. Chicco Lullago Travel Crib, Chestnut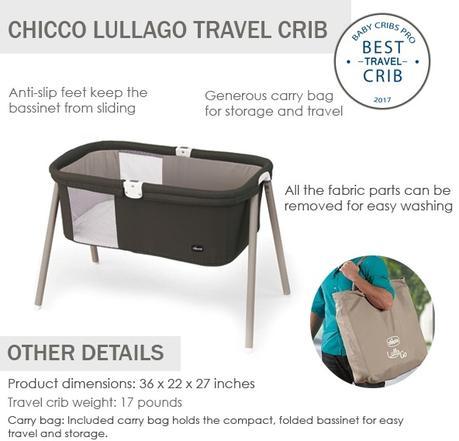 Editor Rating:

The Chicco Lullago Travel Crib, Chestnut is a slightly different and perhaps more traditional design for a portable crib but incorporates all of the important concepts discussed above. Not only is this crib lightweight, but the legs can be removed and a crib folded for easy carrying and moving. Despite this, it's easy to snap together and set up. It has a nylon screen that allows air to circulate, and all fabric parts can be removed and washed. There's even a bag for easy transport.
Pros:
The crib takes few seconds to setup.
The crib has anti-slip feet which keep the bassinet stable.
Cons:
Chicco Lullago Travel Crib is smaller than any other travel cribs.
Features:
Lightweight and durable
Easy to break down and moved
Easy to assemble too
Best Price - Buy Now on Amazon
5. Graco Travel Lite Crib, Winslet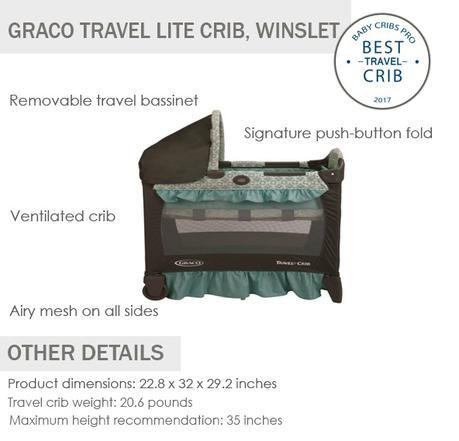 Editor Rating:

The Graco Travel Lite Crib, Winslet is another travel crib that is essentially two parts, with a sleeping crib and separate play area below. The crib is not only comfortable for baby to lay in, but it also rocks for you to sooth him in. There are also handles on each side so you can move baby to wherever you want him quickly and easily. Both the rocking seat and the bassinet are equipped with gentle vibrating fingers that comfort baby.
Pros:
The crib has soft fabrics to cuddle your baby.
The crib be used for newborn to infant to toddler.
It provides maximum ventilation to your child.
The crib has canopy with toy bar.
Cons:
Graco Travel Lite Crib has fixed wheels and feet.
Features:
Sleeping and play area in one
Handles make moving easy
Vibrating fingers make seat and bed soothing for baby
Best Price - Buy Now on Amazon
6. KidCO Travelpod Portable Bed, Cranberry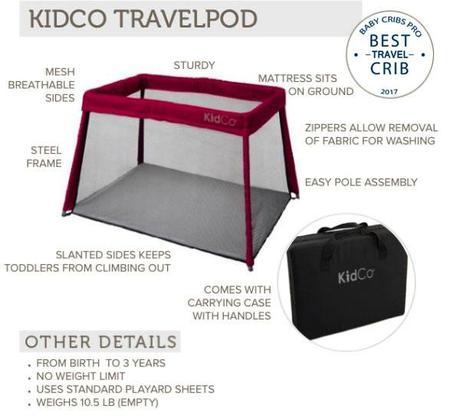 Editor Rating:

If you are looking for the best travel crib, the KidCO Travelpod Portable Bed, Cranberry is another one that is sure to get your attention. Not only is it roomy to ensure that your baby has a safe place to sleep and play, but it has maximum area with mesh to make sure that air circulates to keep them comfortable and cool too. This crib has a steel frame, which makes it strong and durable for the maximum life of the product, but everything is also covered with cloth and padding to make it safe as well. The mattress is water resistant, which makes it easy to clean too.
Pros:
The crib can be used as portable play yard.
Most lightweight crib – only 10.5 pounds.
It comes with water repellent covered mattress.
The crib is constructed with sturdy steel frame.
Cons:
Full mesh sides which provides maximum airflow.
Features:
Roomy enough for baby and sleep and play
Mesh sides make it circulation friendly
Cloth covers all surfaces, so it's cool and comfortable
Best Price - Buy Now on Amazon
Final Verdict
If there is good news to know about this crop of travel cribs, it's the fact that each of these is a quality product and is well made and works the way the manufacturer intends. There's no shoddy workmanship among this group. There is, however, room for opinion. As a father, I can say that I have had considerable experience with products like these, and all of them are good products that are safe and easy to use and transport, which should be your greatest concerns. Using the considerations list at the top of this article, you should narrow down what you need and compare your needs with each product. The result will be the best travel crib product that you can live with for years to come.
Read Our Reviews