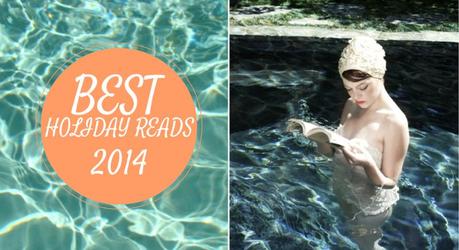 I don't need excuses to read… I do so ferociously all the time, but any excuse and I'm always looking for new books and recommendations to add to my library. Some of these I have read, some of these are still on my list, but all of them  make excellent summer holiday reading in my book (pun intended). Take a pick, set up your hammock and while away the hours… ahh…summer holiday.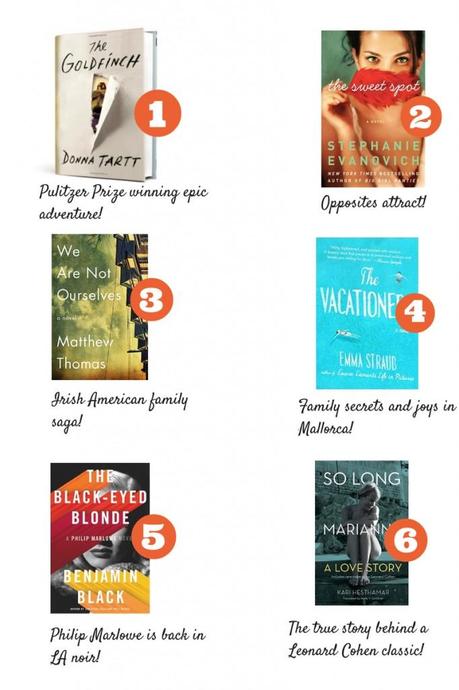 1.
The Goldfinch
- Donna Tartt. Aged thirteen, Theo Decker, son of a devoted mother and a reckless, largely absent father, survives an accident that otherwise tears his life apart. Alone and rudderless in New York, he is taken in by the family of a wealthy friend. As he grows up, Theo learns to glide between the drawing rooms of the rich and the dusty antiques store where he works. He is alienated and in love – and his talisman, the painting, places him at the center of a narrowing, ever more dangerous circle. Pulitzer Price winner for fiction in 2014. This year's must read!
2. The Sweet Spot – Stephanie Evanovich.  An unlikely love match between a pro baseball player and an independent-minded entrepreneur causes a media sensation. Hot! Fab beach read!
3. We Are Not Ourselves- Matthew Thomas. With this debut novel Matthew Thomas apparently got a six-figure advance… and We Are Not Ourselves is living up to the hype. The product of a stormy upbringing in an Irish Catholic enclave of New York City, Eileen craves stability. Coming of age in the early Sixties, she meets and marries a young scientist named Edmund Leary…and so the family saga begins.
4. The Vacationers - Emma Straub. Two weeks in a remote island villa with America's most dysfunctional family – what could possibly go wrong? Lots. And a lot of it is funny!
5. The Black Eyed Blonde – Benjamin Black. Legendary LA detective Philip Marlowe is back! It is the early 1950s. In Los Angeles, Private Detective Philip Marlowe is as restless and lonely as ever, and business is a little slow. Then a new client arrives: young, beautiful, and expensively dressed… so starts a classic LA noir detective story where the martinis are cold and the women are hot…
6. So Long Marianne – Kari Hesthamar. At 22, Marianne Ihlen traveled to the Greek island of Hydra with Norwegian writer Axel Jensen. While Axel wrote, Marianne kept house, until Axel abandoned her and their newborn son for another woman. One day while Marianne was shopping in a little grocery store, in walked a man who asked her to join him and some friends outside at their table. He introduced himself as Leonard Cohen. The beginning of a love story and the true story behind one of the most famous songs in rock'n'roll history.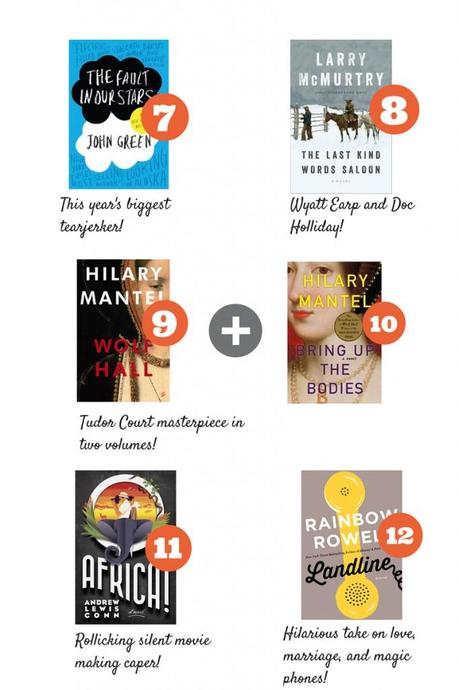 7. The Fault In Our Stars - John Green. If you have not heard of The Fault Our Stars by now, I don't know under which rock you've been living, however, if you've only seen the film… read the book!
8. The Last Kind Words Saloon- Larry McMurtry The friendship of Wyatt Earp and Doc Holliday from Buffalo Bill's Wild West Show to Tombstone…by one of my all time favorite writers.
9 + 10. Wolf Hall and Bring Up The Bodies- Hilary Mantel  tell the story of Henry VIII and his dissolution of marriage to Katherine of Aragon and the courtship and eventual tragic marriage to Anne Boleyn, all through the eyes of Thomas Cromwell, Henry's Chief Minister. Cromwell, one of the most influential statesmen of English history, is a master courtier in Hilary Mantel's Man Booker Prize winning books. The language is so beautiful, I often ended up reading the same page twice. Must read historical fiction!
11. O'Africa- Andrew Lewis Conn. During the final days of silent film, American twin brothers head for Africa to make a movie in the jungle to pay off a gambling debt. This book is a great escape.
12. Landline- Rainbow Rowell. A TV writer tries to fix her troubled marriage by means of a magic phone that allows her to speak to her husband — in the past. Sci-fi romance!
Images: Glamour Magazine, Amazon, LA Times.